Opinion: St. Patty's Arrests Prove OWS Hibernation is Over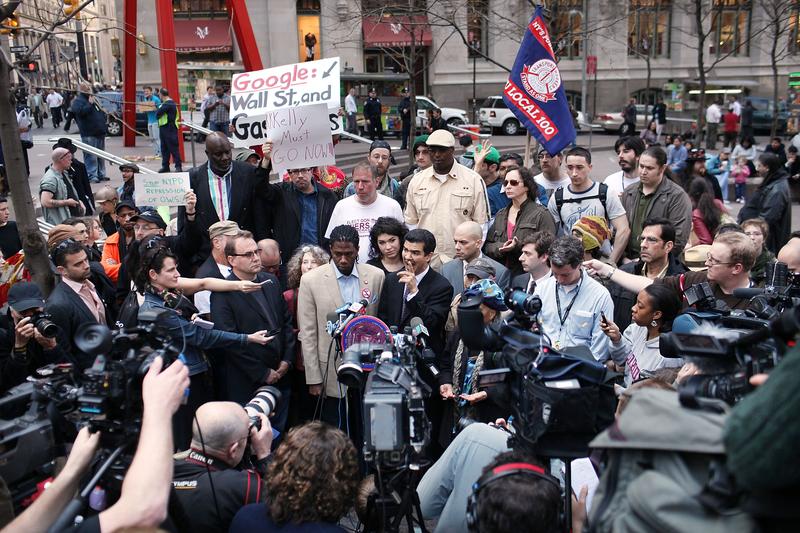 "If you want to get arrested, we'll accommodate you," retorted Mayor Bloomberg on Monday, in response to questions about the NYPD's handling of Occupy Wall Street's six-month anniversary protests over the weekend. While St. Patrick's Day revelers drunkenly swarmed the city Saturday night, it was the sober protesters who faced arrest during the Occupy movement's biggest action in months.
We'll find out just how accommodating Mayor Bloomberg will need to be in the weeks and months ahead, as OWS promises to return with a new season of public and passionate challenges against corporate control of our society.
The NYPD actions are already facing criticism from elected officials, including Congressman Jerry Nadler, who expressed concern for civil liberties, and Council Member Jumaane Williams, who stated, "We are asking the Mayor to rethink the use of his personal army."
Following recent revelations of NYPD surveillance of Muslim student groups beyond city limits and with questionable cooperation from area authorities, and continued discussion of the racial elements of the city's stop-and-frisk policies, the NYPD is finding its way into an uncomfortable media spotlight.
When he's not defending Commissioner Ray Kelly, the Mayor is speaking up for the real targets of the Occupy protests: his friends among the one perecnt. Bloomberg made a point of advocating for Goldman Sachs last week as the corporation faced negative publicity following a New York Times op-ed by a former executive, who decided to call out the bad behavior of his former employer.
The Mayor needs to defend corporate abuses one day, and police actions the next, making him the best recruiter Occupy Wall Street could ask for.
There had always been speculation that as the weather heated up, protests would too; this weekend demonstrated that the Occupy hibernation is over. Some have suggested that OWS's dwindling bank account marked the end of its organizing. Others have offered that it already had the impact of injecting wealth disparity into the public debate, and would now yield to more institutional efforts to elect progressive candidate and train direct action protesters. But this six-month mark didn't look like a movement that was ending or yielding—it looks like one that had been planning, learning and preparing.
The work of Occupy is far from over. There is a Republican presidential front-runner who can't stop bragging about his wealth. The Mayor of New York is the richest man in the city. The influence of corporate donations has become a bigger and bigger part of the political conversation over the past few months.
The questions that the occupations demanded we ask in the fall are as relevant this spring, and we want a loud, unapologetic movement keeping those questions fresh and alive in the national conversation.
Part of what made Occupy effective in the fall was that it chose a new route that captured the attention of the media, which was bored with pre-scripted press conferences and predictable rallies. The question is whether Occupy can keep surprising.
While Zuccotti Park will remain a powerful symbol and the battle for it an ongoing fight, it may not matter whether the warmer weather leads to tents, a library, a kitchen and an outdoor General Assembly. What may matter more is how else Occupy stirs supporters into action and startles passive observers into taking notice—because more important than Occupying Zuccotti is Occupying Our Attention, which is more challenging as well.