Fine Tuning 26.2 Miles Over a Year
Turning 26.2 miles of roadway through the city's five boroughs into a race course for 45,000 and planning for the millions of cheering spectators in what is one of the largest, single day, event revenue generators for New York City is a challenge that takes military-like precision.
For the ING NYC Marathon, there are 8,000 volunteers, hundreds of contractors, and 150 staff who help distribute 2.3 million paper cups, 368 portable toilets, 62,370 gallons of water, thousands of bananas, signs, gels and clocks, and organize and move the 72 UPS trucks filled with runners' belongings to the start and finish lines.
"It goes up and it has to come back down. That is the challenge," said Peter Ciaccia, senior vice president of event development and production and the ING NYC Marathon technical director. "We're like vampires. We appear overnight, do our thing, hang for the day and then take it all down."
With the exception of the start at Fort Wadsworth and the end in Central park, set up and break down happens overnight.
Preparations for the half marathon are scaled down but still impressive: 15,000 runners, 500 volunteers, 11 fluid stations where 17,250 bottles of water and 8,208 gallons of Gatorade will be dispersed and 450 portable toilets spread out between the start area, the course and the finish area.
Every year since 1970, the New York Road Runners has been coordinating the NYC Marathon.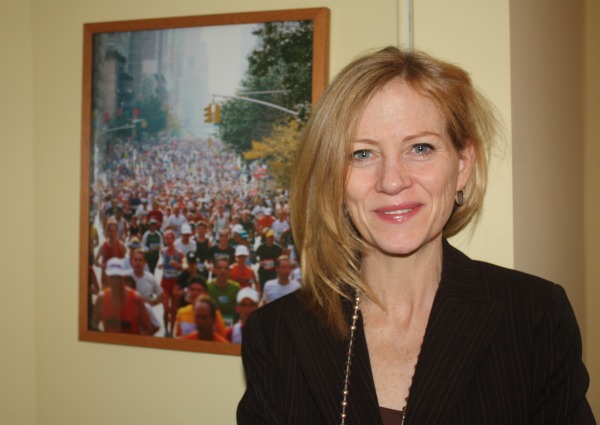 "It's a bit like the common man's Mt. Everest," said Mary Wittenberg, president and CEO of NYRR. "It's our Olympics or Super Bowl Sunday, where people come out, go to brunch, run, or go out to cheer."  
Wittenberg calls the marathon as "a spectacle."
It is also a huge money-maker for the city. The race generated $340 million of economic impact for the city and $34 million for charities in 2010, according to NYRR.
(Photo: NYRR President Mary Wittenberg standing in front of picture of the NYC Marathon.)
To really understand the size and scope of the race, look at its growth. In its first year, the marathon involved 127 starters, 55 finishers and a $1 entry fee. The course didn't include all five boroughs until 1976. Last year, 47,763 runners started, 47,323 finished and the entry fee was $196 (less if you were a NYRR member).
Race Fees vs. Race Costs
NYRR's Wittenberg would only say it costs "tens of millions" of dollars to produce the marathon. Race fees and sponsorship deals cover the costs.
The Boston marathon, which caps its race at 27,000, costs as much as $10 million and charges $150 for U.S. runners, according to the Boston Athletic Association.
But supplies and use of city streets and resources also cost the city. In January, NYRR announced a large marathon registration fee increase — almost $60 — to $255 because the NYPD was going to charge for police costs incurred due to the race.
It's not unusual. Many large races in other cities — from Boston to Washington, D.C., — had been paying fees. The first Ironman to take place in the NY/NJ area will also be paying fees.
"We would like to have more big events, but at the same time, with a limited budget, the police department's first priority has to be making sure that we keep terrorists from attacking us and keep street crime down," Mayor Michael Bloomberg said at the time, noting the city has to use its resources wisely.
Wittenberg, whose organization holds races that cost as little as $18, said she realizes the marathon fee is high "but the reality is to have the privilege to run on city streets, it's going to cost more…because that's what it costs."
Increased fees haven't discouraged runners. As fees have increased, so have the number of runners. Similarly, the down economy hasn't stopped sponsorship deals for the marathon, she said.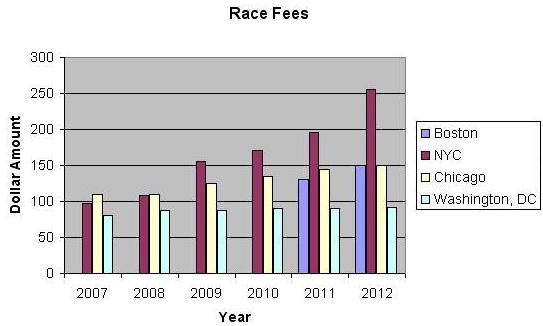 (Chart: Shows how race fees for the Boston Marathon, NYC Marathon, Chicago Marathon and Marine Corps Marathon have increased.)
Planning a Marathon is Like Running One
Most race directors say it doesn't matter if this is the first year or 40th race, changes happen all the time, — from having a sidewalk built in the middle of the course to having to change the entire course altogether.
"It's not the same thing every year. I wish it was, then I could stay at home and watch it on TV," Ciaccia said.
It's not just New York City.
Rick Nealis, race director for the Marine Corps Marathon in Washington, D.C., has been putting on that race for 19 years and jokes that he's still "trying to get it right."
For the 2002 MCM, he had to completely redesign his course after the Pentagon made the roads around the building off limits. The former marine made lemonade out of lemons and changed the start of the course, which also "let us double the size of participation."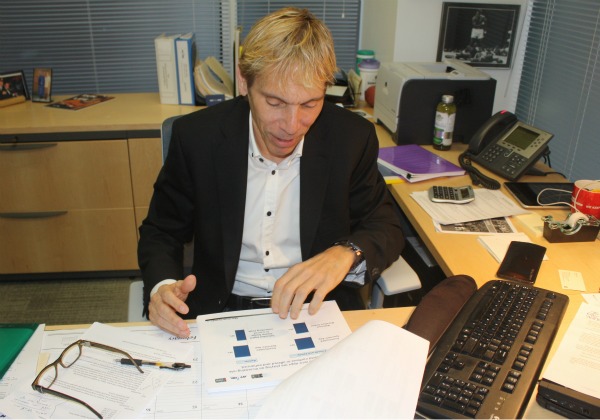 NYRR's Ciaccia said the real work on the next marathon starts the day of the current one.
"As the marathon is going off, we're looking at things and saying, 'Gee, that looks like that didn't work. We have to fix that,'" he said.
There is also an in-depth critique post-marathon, then meetings within the organization and with the city over the course of the year.
(Photo: Technical Director Ciaccia studies an inch thick analysis of a runner satisfaction survey to see what areas need improvement. Last year, over 98% of NYC marathon runners were very satisfied.)
The half marathon, like NYRR's other races, give the team a chance to see what does or doesn't work, what needs to be tweaked or what can be improved — from water station set up and baggage pick-up to volunteer assignments.
As race week approaches, a war room is set up at NYRR offices.
"No plan is foolproof, as much as you put it down on paper, something can and will go wrong. We just want to limit the impact of that," said Ciaccia.
Working with city, state and federal partners is also important for security and runner's safety.
"We have a whole level of intel that's put to this to make sure the event is safe, like any big event. It goes across all those agencies," Ciaccia said. Especially when high profile runners take to the streets.
On race day, the race director's job description changes slightly from war planner to orchestra conductor who puts the score in motion.
"That's why we're so plugged into the city," he explained. "A truck might get stopped by a cop and that truck has critical supplies on it and we can't get it to the next point. Our comms kick in and we're able to talk to NYPD Ops people to release that truck. And it has to happen quickly. It's all part of a big orchestrated symphony."