Walter Reuther Takes the Long View: Community Good and Labor Issues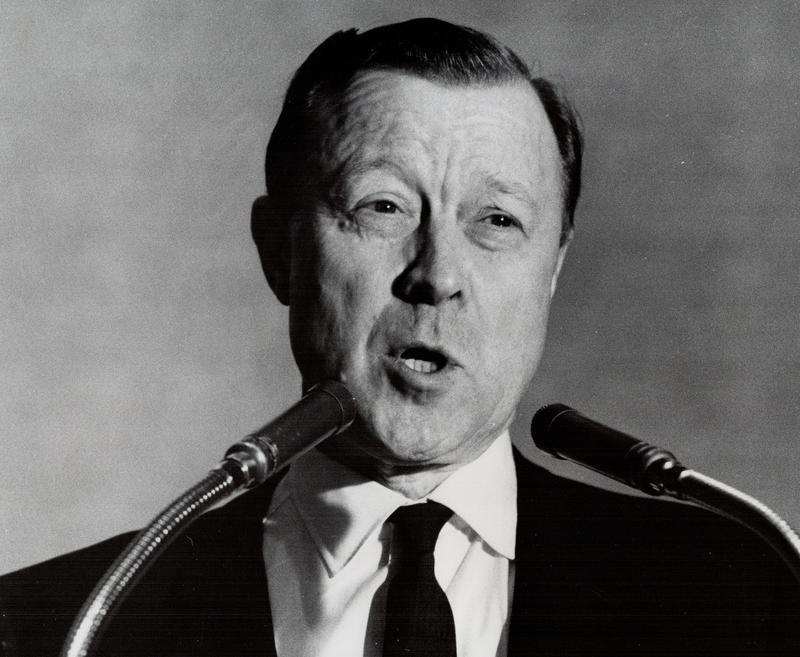 A vivid snapshot of the days when Labor reigned supreme in America, this 1963 meeting of the Overseas Press Club features United Auto Workers President Walter Reuther being introduced by his protégé and sidekick, the journalist Victor Riesel.
Riesel leads off with what almost amounts to a stand-up comedy routine, reminiscing about the time when "milk came from cows, not Jimmy Hoffa." He chides a woman for offering Reuther a drink. "Walter doesn't smoke. Walter doesn't drink. Walter makes speeches."
Reuther then addresses not what one thinks of as typical labor issues: the possibility of nuclear war, the struggle with Communism, and the problem of world poverty, tying them all together in a proposal for "Waging Peace" through public works expenditures with the aim of eradicating economic inequality and achieving full peacetime employment. This, he maintains, is the way to defeat the Soviet Union. Certain sections of his argument, despite being a half-century old, bear an eerie relevance.  "There is a growing gap," he claims, "both moral and cultural and social, between…unprecedented progress in the physical sciences and our lack of making comparable progress in the human and social sciences." Sounding less like the head of the autoworkers and more like a world leader, Reuther calls for a global assault on poverty and disease, as well as increased foreign educational aid.
During the question period he gives his opinion on the 1964 election, the possibility of "Red China" developing nuclear weapons, the labor movement's attitude towards the recent March on Washington, and his recent dinner with Khrushchev. Throughout, he emphasizes a link between economic progress and social advances, because "…only an economic moron believes that you can rely only upon the blind force of the marketplace." 
Reuther was born in 1907. His father was a committed Socialist who took the young Reuther to visit the jailed Socialist leader Eugene V. Debs. Along with his brother, the labor leader Victor Reuther, Walter traveled first to Germany, where he claimed to have aided the anti-Nazi underground, and then to the Soviet Union, where he worked in the massive Gorky auto plant. Although initially praising industrialism under the Marxist system, he later came to regard it as yet another form of tyranny. In Detroit, Reuther became a skilled machinist for the Ford Motor Co. while also engaging in organizing and other union activities. In 1937, he took part in the famous Battle of the Overpass, when:
Walter Reuther and other UAW organizers passed out leaflets at a pedestrian overpass next to the Ford Rouge factory complex in Dearborn, Mich. … Ford's private police organization, euphemistically called the Service Department, attacked the UAW group. "After they kicked me down all the stairs," Reuther recalled shortly after the battle, "they then started to hit me again...driving me before them." The incident was a public relations disaster for Henry Ford, but he continued to resist the UAW until April 1941, when a massive strike shut down the Ford Motor Co.
During World War II, in contrast to other union leaders, like John L. Lewis, who represented the United Mine Workers, he threw his support behind the war effort, assuring that manufacturing continued to run smoothly. He was rewarded for this later, when his brilliant negotiating skills enabled him to take advantage of the postwar boom. As the UAW website summarizes:
In 1948, GM agreed to a historic contract tying wage increases to the general cost-of-living and productivity increases. Over the next two decades, the union negotiated model grievance procedures, safety and health provisions, pensions, health benefits, and "supplemental unemployment benefits" that enabled UAW members to earn up to 95 percent of their regular paycheck even if they were laid off. 
But as this talk illustrates, Reuther was not content with flexing his power solely within the sphere of contract and benefit negotiations. Despite his distrust of Communism, he maintained a strong interest in social issues, global politics, education, and the civil rights movement. Indeed, one senses this is how Reuther maintained the "legitimacy" of organized labor, which, without its Marxist underpinnings, he foresaw could all too easily degenerate into a movement motivated solely by self-interest. In his exchanges with the journalists one hears him fending off attacks both from the right (from George Meany, for example, who refused to allow the AFL-CIO to endorse the Rev. Dr. Martin Luther King Jr.'s march) and the left (in his harsh criticism of Khrushchev and the U.S.S.R.). Reuther seems to be pushing for unionism to be seen almost as a way of life rather than as a means to a higher standard of living. In time, this extremely broad approach put him at odds with the U.S. labor movement as a whole. He took the UAW out of the AFL-CIO, marched with the United Farm Workers, and was critical of the country's involvement in Vietnam, stances which even his rank-and-file did not fully support. 
In 1970, Reuther was killed when his small plane crashed on its approach to the union's recreational facility at Black Lake, Mich. His distinct talent for uniting the disparate aspects of the labor movement was recalled by The New York Times:
Reuther was at his best when fusing thought to action; when agitation, education, and organization were all one, instead of separate departments within the union.
Riesel, who introduces and occasionally heckles Reuther during this talk, was a well-known journalist who covered labor issues. Born in 1913, Riesel, like Reuther, was a staunch anti-Communist. It was his investigation of mob influence on union activities, though, that led to the incident for which he is most remembered today. In 1956, Riesel had sulphuric acid thrown in his face, supposedly in retaliation for his reporting on corruption in the International Union of Operating Engineers. The attack, ensuing investigation, and subsequent trial, which implicated members of the Genovese crime family, received widespread publicity. Riesel was left practically blind. However, his column, with its accompanying photo,  showing the journalist in dark glasses, continued to appear. At its height it was syndicated in 356 newspapers.  Riesel died in 1995.
Audio courtesy of the NYC Municipal Archives WNYC Collection.