Humorist Sam Levenson's Childhood: 'Poor, With Books'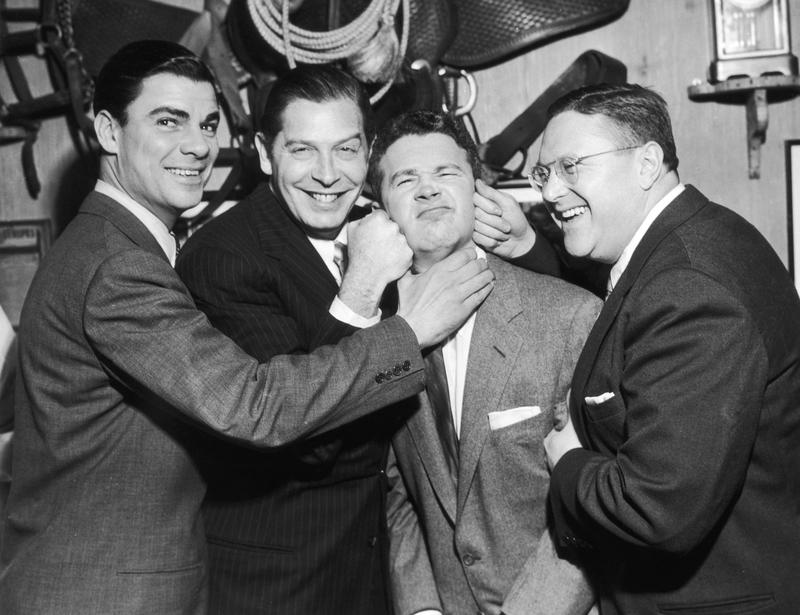 Everything But Money is both the title of Sam Levenson's autobiography and the theme in this 1966 appearance at a Books and Authors Luncheon. 
The youngest of 10 children raised in a slum, Levenson nevertheless paints a glowing portrait of family life. "This is the story of living without money and saying the thing which nobody really wants to say: that not all poor people are miserable." His mother kept the "environment" at bay. Work was the way out, with education valued above all else. Even meals were sometimes skipped so money could be spent on books. 
In this classic recounting of the immigrant experience, the children were told to go from "undesirable to indispensable." While the broad outline of this narration is in many ways timeless, the particulars root the story firmly in a particular historical period. "We were the Puerto Ricans of that time," he proclaims. Another telling statement is when he describes the respect teachers were held in. "Teacher said; the world trembled." Now, Levenson, a successful comedian, describes his middle-class life as the very opposite of all he was raised to believe in. He is supposed to make his children happy, instead of the other way around. While his parents fought against poverty, he fights against the "opulent environment" so his children won't become shallow materialists. Finally, referring obliquely to the anti-Semitism he and his family encountered, he says he wrote the book as a way of standing up and describing the Jewish experience in America; to be proud, not ashamed. 
Levenson was born in 1911. As he describes in the above-cited talk, his upbringing was one of extreme poverty. After graduating from Brooklyn College he taught high school Spanish. Another career path awaited him, though, in what was then the thriving borscht belt community of upstate summer resorts. As the website Catskill Institute reports:
During the summers, the young pedagogue ventured up to the Catskills…where he discovered another vocation: "comedy tonight."  Among the hotels that Levenson listed in his résumé were the Arrowhead, the Copake Country Club, Maud's Summer Ray …Fallsview, Kutcher's, the Flager, Paul's, the Pines, Raleigh, Windsor, Tamarack, and Klein's Hillside.
Samples of Levenson's routines from those early days show it to be closer to "folk comedy" than classic stand-up, with a heavy reliance on parodying American show tunes and patriotic rituals in a fractured Yiddish-English. For several years Levenson both taught and performed, during which time his act became more polished and mainstream. Finally, he realized he was making more money as a part-time comic than a full-time teacher. In 1956 he hosted the TV game show "Two for the Money." From 1959-64 he starred in "The Sam Levenson Show." For the rest of his career he was a frequent guest on such variety shows as "Ed Sullivan" and "The Tonight Show." He also published more books, including In One Era and Out the Other (1973) and You Can Say That Again, Sam! (1976). As the titles indicate, Levenson was known for his gentle, unthreatening humor, more a poking fun than a disquieting attack. At times his "jokes" seem to abandon humor entirely and strive for something closer to wisdom. His best known achievement in this area is "Time Tested Beauty Tips" which, bizarrely, is sometimes attributed to Audrey Hepburn, though there seems to be no dispute that Levenson wrote it:
For attractive lips, speak words of kindness.
For lovely eyes, seek out the good in people.
For a slim figure, share your food with the hungry.
For beautiful hair, let a child run their fingers through it once a day.
For poise, walk with the knowledge that you never walk alone.
People, more than things, have to be restored, renewed, revived, reclaimed, and redeemed. Remember, if you ever need a helping hand, you will find one at the end of each of your arms.
As you grow older, you will discover that you have two hands, one for helping yourself and the other for helping others.
Despite attaining a national stature, Levenson never "went Hollywood," remaining a New York resident and maintaining his ties to the community he evoked so well. Here is a New York Times description of a Thanksgiving Day visit to the Jewish Institute for Geriatric Care:
Mr. Levenson waded through the crowd, hugging women who remembered him when he lived in Brooklyn, men who had heard him in the Bronx, pausing to be told by the center's purchasing agent that she was in his Spanish class at Tilden High School.
Levenson died in 1980 at the age of 68.
Audio courtesy of the NYC Municipal Archives WNYC Collection.