Robert F. Kennedy Announces His Senate Candidacy, 1964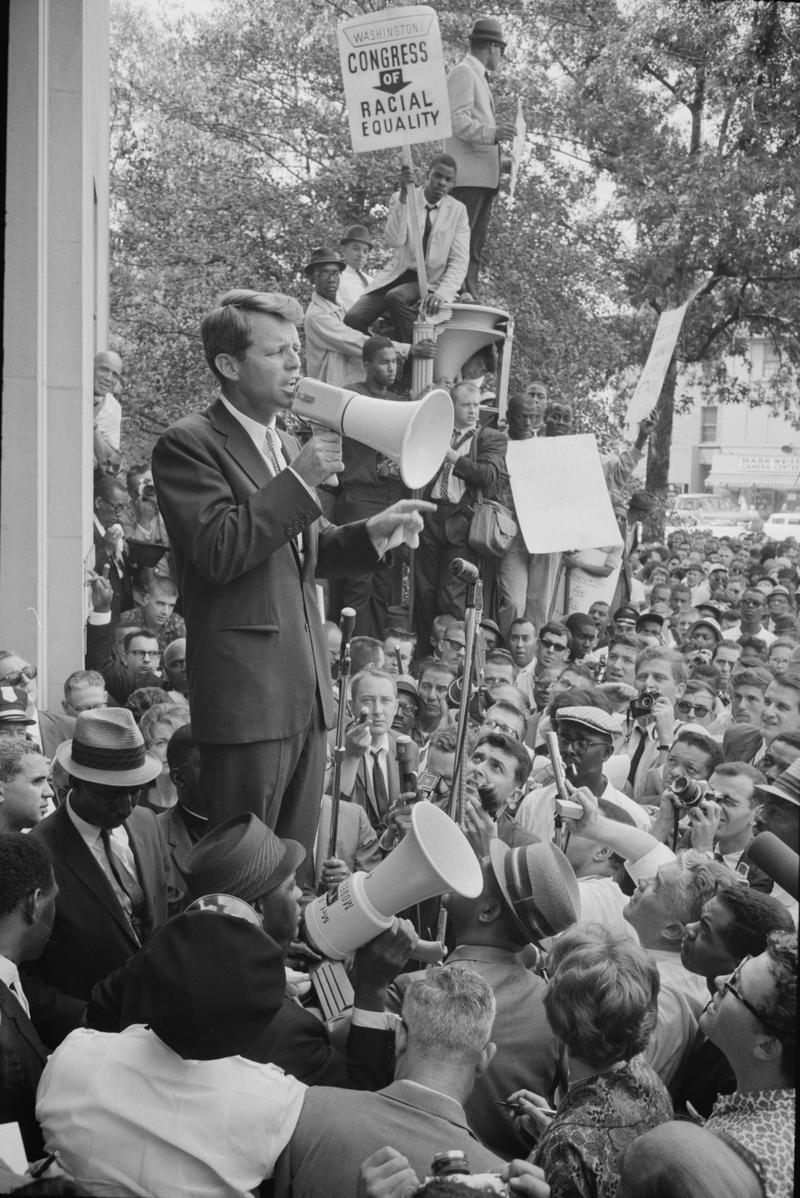 Nine months after his brother's death, Attorney General Robert F. Kennedy enters the New York Senate race, appearing before the media to announce that "I have decided to make myself available for the nomination."
After listing the problems that he feels New York faces -- the need for racial harmony; lower unemployment; "youth" education; and the  quality of urban and suburban life -- he goes on to confront what will clearly be the biggest obstacle, the fact that he is from Massachusetts and has only recently established residency in the state. He points out that his mother and father have owned a house in New York since 1926, that he attended New York schools for six years, and that he is legally qualified to run for political office as a New Yorker. To counteract the prevailing sense that he is "a carpetbagger," he touts his national and international prestige, arguing that "When Senator Lehman or Senator Wagner spoke in the Congress, the whole nation listened." If nominated, he will resign as attorney general, which he had intended to do anyway, in November. He also promises to move to New York regardless of the result of the convention or the subsequent election. 
During the question period, Kennedy admits "it's going to be tough to win" against Sen. Kenneth Keating. He says he would be "glad" to see Mayor Robert F. Wagner Jr. chosen as President Lyndon B. Johnson's vice-presidential candidate. (The mayor, having just endorsed Kennedy, is standing next to him.) He points out that Rufus King, New York's first senator, was originally from Massachusetts. Asked what the current president's feelings about Kennedy's run were, he answers, "You'll have to ask him." Deflecting any questions about his own presidential aspirations, when asked if he's already looking beyond New York, he flatly answers, "No." At the end of the press conference  Wagner and Mrs. Kennedy respond to a few questions.  
Born in 1925, Robert F. Kennedy spent the majority of his political career in the shadow of his more famous brother. This press conference in many ways marked his "coming out" after a period of grief and introspection following John F. Kennedy's assassination. Robert differed from John in many ways, though. As the American Experience program "RFK" notes:
Rose Kennedy was a devout Catholic, and Bobby absorbed her religious intensity. He made his first communion when he was 7, and went on to become an altar boy and attend a school run by Benedictine monks. Bobby Kennedy grew up with a strong sense of right and wrong, good and evil. Like his brothers, he was toughened by the rigorous demands of his father, but he disguised, as well, a gentler nature. Bobby, a friend said, was "truly in touch with his emotions."
Kennedy managed his older brother's campaigns for both the Senate and the presidency, during which he gained a reputation for tough political infighting and unwavering loyalty. As a reward for his services, he was appointed attorney general, despite objections that he was inexperienced and unqualified. He proved uniquely suited for the job, "emerging," according to the website biography.com:
…as a statesman of the law, improving the lot of many. Learning on May 20, 1961, that a hostile mob threatened the civil rights leader the Rev. Dr. Martin Luther King Jr., and about 1,200 of his supporters in Montgomery, Ala., Attorney General Kennedy sent 400 federal marshals to protect them. In subsequent racial crises he used long telephone sessions to work out the strategies of peace officers in the South. He also led a tough and imaginative drive against organized crime. One of his proudest achievements was assembling the evidence that convicted Hoffa. On Robert Kennedy's departure from the Department of Justice, The New York Times, which had criticized his appointment three years earlier, said editorially, "He named excellent men to most key posts, put new vigor into protecting civil rights through administrative action, played a pivotal role in shaping  the most comprehensive civil rights law in this country..."
Although at the time of this press conference Kennedy is still Attorney General, his power had diminished under Johnson, with whom he did not get along. He defeated Keating, despite being railed against as a carpetbagger, helped by Johnson's landslide 1964 victory over Barry Goldwater. His time in the Senate, though brief, was marked by his championing of liberal causes, particularly in the area of desegregation and civil rights. In 1968, Kennedy announced his candidacy for president. He had just won the California primary when he was shot and killed. The assassin's motives were never made fully clear, giving rise to many conspiracy theories. In summing up his achievement, one of his biographers, Evan Thomas, wrote:
He lives on in our imagination of what might have been. Robert Kennedy is one of history's great what-ifs. He was a Zelig of power — at the vortex, it seemed, of every crisis of the 1960s, a decade that sometimes felt like one long crisis. He was centrally engaged in most of the great epics of the postwar era — McCarthyism, the civil rights movement, the superpower confrontation, Vietnam. He was an essential player in the most severe test of the Cold War, the Cuban Missile Crisis. He had vast influence when JFK was in the White House. His brother gave him virtually unlimited discretion — and he exceeded it. Sure of his standing with the president, he scorned yes-men and surrounded himself with confident achievers. He did overreach at times, and he could be a bully. Yet in tight spots, under pressure, he often demonstrated that rare and ineffable quality, good judgment. He was at once honorable and cunning. At certain critical moments in his brother's presidency — and the nation's history — he both connived and stood fast to advance the causes of peace and justice. Nonetheless, he never had the chance to develop and carry out his own vision. 
At the time of his death, Kennedy was 42.
Audio courtesy of the NYC Municipal Archives WNYC Collection.