Sammy Davis Jr. Writes His "Emotional Soul" in Yes I Can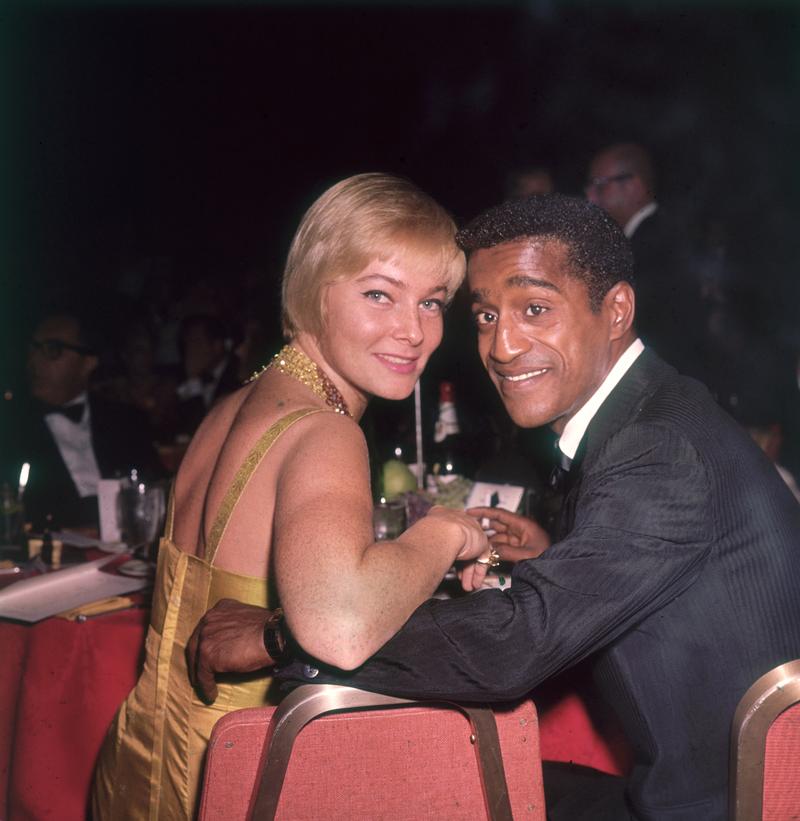 Overcoming a life of hardship, Samuel Davis Jr. became a major performer in Las Vegas and a member of the legendary Rat Pack. In a quiet, moving tone, Davis, author of the just-published Yes I Can, speaks at a Books and Authors Luncheon in 1965.
After explaining why he is wearing a neck brace (he had been injured during a performance of the musical production "Golden Boy"), he goes on to talk about why he wrote the book, focusing in particular on two aspects of his personal life -- his conversion to Judaism and his marriage to a white woman -- that the public does not seem to understand.  "I wanted to let them know I was not a kook." Of his conversion, he speaks of "how frustrating it is to believe something, simply and deeply in your heart, and have to joke about it to make it acceptable." As for his marriage, he recounts leaving the house with his wife and hearing black people say, "Well, he thinks he's white."
He goes on to praise the ability of the people in this country to change attitudes toward race over time and says that it is a misconception among black expatriates in Europe that they will be able to really "make it" there. He talks about his friend Richard Wright, who was unable to produce, who "didn't have the point of view, didn't have the bitterness" once he left America. He touches on the frustrations of trying to get sponsorship for a television show, despite his being one of the most successful entertainers in the country, because of his color but then adds the prescient remark that "all of this is starting to change and it's marvelous." He ends with an important question: "It is not the extremist we have to worry about, whether he be black or white…I want to know what happens if your child and my child never get to know each other on any kind of a level, what happens in the world, what happens in our society?" 
Born in Harlem in 1925, Sammy Davis, Jr was considered one of the great all-around entertainers of his day. His father, Sammy Davis Sr., was a vaudeville tap dancer. When Davis was 3, his father took him on the road, eventually incorporating him into the act. After serving in the Army, Davis resumed performing and began to receive recognition on his own, releasing several albums and appearing on Broadway in the play "Mr. Wonderful" (1956).   Peter B. Flint, writing in The New York Times, spoke of Davis's
…talents as a mime, comedian, trumpet player, drummer, pianist and vibraphonist as well as singer and dancer [that] were shaped from his childhood and made him one of the nation's first black performers to gain mainstream acclaim. With heavy jewelry around his neck and on his fingers, and clad in a snug jumpsuit or tuxedo, the short, slim showman with a broken nose, defiant jaw and big, crooked smile had a rakish charm that energized stages for decades. He sold out leading nightclubs and concert halls, won personal triumphs in such Broadway musicals as ''Mr. Wonderful'' (1956) and ''Golden Boy'' (1964), illumined movies and television and made scores of hit recordings with such signature songs as ''What Kind of Fool Am I?,'' ''Candy Man,'' ''Mr. Bojangles'' and ''I've Gotta Be Me.''
Davis's marriage to the Swedish actress May Britt in 1960 shocked many Americans. At that time interracial marriage was forbidden by law in 31 states. Davis received virulent hate mail. One person wrote, "Dear Nigger Bastard, I see that Frank Sinatra is going to be the best man at your abortion."
Yes I Can was not treated as just another celebrity autobiography but regarded quite seriously as an exploration of racism and one man's unique experience confronting the highest and lowest experiences American society had to offer.  Reviewing it, the distinguished historian Martin Duberman wrote:
…what gives this autobiography special fascination is that it presents a man who seems to sum up in his person so much that is contemporary in the American style — and the pieces are taken from all levels of our culture.
Davis's path in the years that followed this appearance was not an easy one. He lost much of his credibility with the Civil Rights movement. Marjorie Rosen, in People Magazine, recalls:
A onetime staunch Democrat and Kennedy friend, he later appeared to grow more conservative. When in 1972 he threw his support behind Richard Nixon, Julian Bond, then a young Georgia legislator, called it "unbelievable, an irrational act."
Alcohol and cocaine abuse, as well as battles with the IRS, sapped his strength. He estimated he had gambled away over $50  million  in 20 years. Toward the end of his life, though, he overcame his addictions and took part in a successful world-wide tour with Sinatra and Liza Minnelli, as well as producing a second volume of autobiography, Why Me? (1989) 
Sammy Davis Jr. died in 1990. He was 64.
Audio courtesy of the NYC Municipal Archives WNYC Collection.