The "Overpoweringly Witty" Fiction of Noël Coward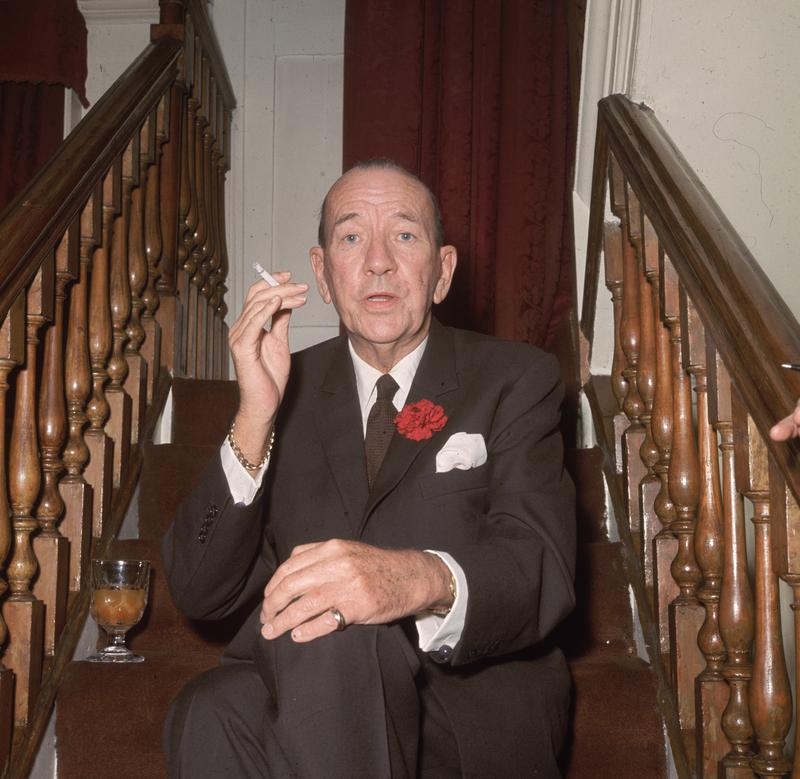 Celebrating the appearance of his first published novel, Pomp and Circumstance (1961), Noël Coward coolly rebuts those critics calling him "antiquated, snobbish, and belonging to an earlier, more complacent age." 
Not so, the world famous dramatist, song-writer, actor, and cabaret performer demurs, in this meeting of the Books and Authors Luncheon. On the contrary, "…when our present is so ominously shadowed, and our future is less assured than it ever has been since the beginning of mankind, the talent to amuse is not a gift that should be dismissed too contemptuously." 
He goes on to demystify the creative process, attributing much of the novel's composition to various health and housing catastrophes which incapacitated him for long periods of time. He urges his audience to buy their copies, rather than resort to libraries — "I cannot warn you too strongly against this parsimonious approach to literature" — pointing out it is unhygienic and that one's copy may have unsuitable comments scribbled in the margin. This is a typical polished performance by a master showman, but it also more than that. Coward is a determined defender of the entertainer's, rather than the brooding artist's, creed. "There is a great deal of emphasis on truth these days," he notes, "…but who can say that there is any more truth in tears than there is in laughter?" 
Born in 1899, Coward brought new meaning to the word "precocious," making his theatrical debut at 11 and his entrance into high society at 14. At 20, his first play was produced. An indefatigable worker, he quickly became one of the highest-paid entertainers of the day. His dramas and songs, appearing on both sides of the Atlantic, to a great extent defined the Twenties and the Bright Young Things of that era.  Among his successful plays are "Hay Fever" (1925), "Bittersweet" (1929), "Cavalcade" (1931), "Design for Living" (1932), and "Blithe Spirit" (1941). He also wrote such classic songs as "A Room With a View," "I'll See You Again," and "Mad Dogs and Englishmen." Commenting on his influence at this time, the theater critic John Lahr wrote:
We're talking about a style that became a way of being for a lot of people. English cultural history between the world wars is, in some extremely large part, Noël Coward. He put himself into the narrative the English tell themselves about their struggles, their suffering, their triumphs. In the first half of this century he wrote the songs that homogenized, as it were, English public sentiment; he wrote the great historical pageant of the time ("Cavalcade") and the era's great romantic story (the film "Brief Encounter," 1945).
With the coming of World War II, Coward continued to travel and make public appearances. Reviled by some for seeming to maintain his frivolous, globe-trotting lifestyle during a more serious time, he was in fact engaged in doing covert work for British Intelligence. Alexandra Mullen, in The Wall Street Journal, sees this paradox as illustrating the guiding metaphor of Coward's professional life.
He once remarked about his wartime spy work in Paris: "Celebrity was wonderful cover. My disguise would be my own reputation as a bit of an idiot." Something similar might be true about the way his life and his work have been perceived — his versatility, and the boulevardier image he cultivated, misled people into thinking him facile. 
After the war, Coward's career went into what seemed to be an irreversible decline. But in a surprising twist, the late 1950s and '60s brought a renewed interest, what he jokingly called "Dad's Renaissance." In particular, his 1955 album Noël Coward in Las Vegas redefined him for a new generation. And the novel he mentions above as "clambering doggedly up the best-seller list" met with critical success as well. Reading it almost 50 years later, the critic Jonathan Yardley found it
…a small gem…a deliciously witty and ingenious entertainment that puts on full display his "talent to amuse." …Pomp and Circumstance reminds us, as if any reminder were necessary, that Coward was a master entertainer in the very best sense: an immensely intelligent, witty, resourceful man who took endless delight in the human comedy and managed to make it even funnier than it already is. He brought a great deal of light to what was in many respects a dark century, and that light shines on.
Coward continued to work in a variety of fields until his death in 1973, at age 73. In a 1970 interview, when Dick Cavett asked, "You're, you...what is the word when one has such terrific, prolific qualities?" Coward simply replied, "Talent."
Audio courtesy of the NYC Municipal Archives WNYC Collection.