Bracket | Most Memorable GOP Debate Moments (Round 1, Day 4)
On the last day of Round 1, Newt Gingrich goes toe-to-toe with himself in the Dust-Ups Division, then faces off with Rick Perry in a sound bite battle.
Yesterday saw Mitt Romney's $10,000 bet advance over Jon Huntsman speaking Chinese in the Gaffes division. In the Audience Participation division, the booing of a gay soldier proved more memorable than that of Ron Paul when he argued that the United States has been treating Muslims unfairly.
Voting closes at midnight tonight, and Round 2 match-ups begin tomorrow.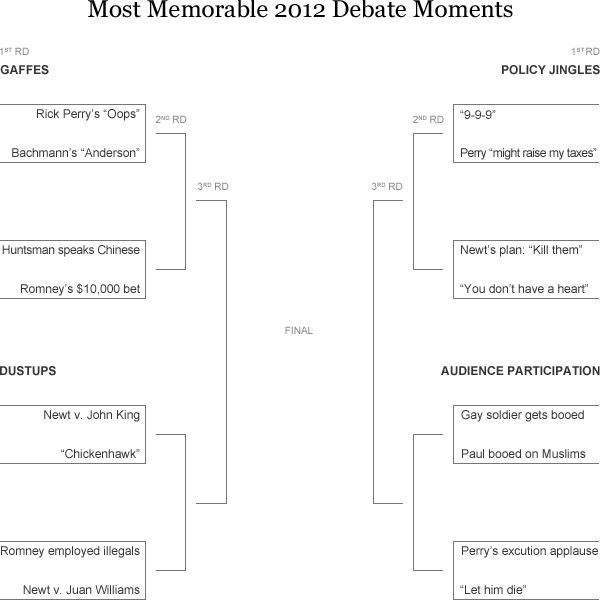 Round 1
Dust-Ups Division: (1) Newt v. John King vs. (4) "Chickenhawk"
Was this the juiciest start to a presidential debate ever? Drama.
January 19, 2012 — CNN South Carolina Debate
Newt was on the business end of a slam, however, when Ron Paul challenged his lack of military service. The former Speaker plays indignant pretty well for a while, but it's obvious who got the better out of the exchange.
January 7, 2012 — ABC News Yahoo Debate
Policy Jingles Division: (2) "You Don't Have a Heart" vs. (3) Newt's Plan: "Kill Them"
This one could have easily been filed under Gaffes; but among GOP candidates, is there a more memorable catch phrase in favor of a little leniency for the children of illegal immigrants? One could argue that this was Perry's boldest, bravest moment on a debate stage—but it did more harm to his candidacy than good.
He also pronounces it "die-scenting."
September 22, 2011 — Fox News Google Debate
In case you haven't noticed yet, most Newt clips on the bracket come from the South Carolina debates. He was on for this one, answering a question about how to deal with the Taliban with a question of his own: what would Andrew Jackson do?
January 16, 2012 — Fox News South Carolina Debate