Bracket | Most Memorable GOP Debate Moments (Round 1, Day 3)
Halfway through the first round of our Memorable Debate Moments bracket, Mitt Romney's $10,000 bet squares off against Jon Huntsman's Chinese showboating, and it's a battle of the boos in the Audience Participation Division. 
In the last set of match-ups, "9-9-9" easily beat out Ron Paul's tax talk to make it to the second round in the Policy Jingles division. Meanwhile, the first upset of the tournament happened in the Dust-Ups division, where Mitt Romney being accused of hiring illegal immigrants narrowly edged out Newt Gingrich's tiff with Juan Williams.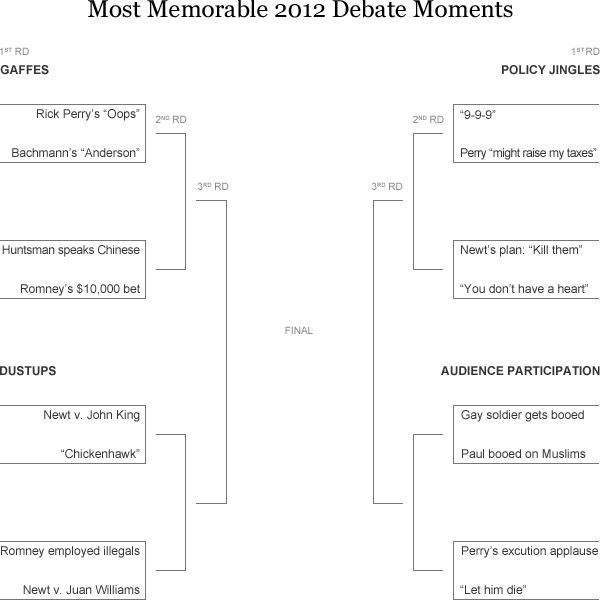 Round 1
Gaffe Division: (2) Romney's $10,000 bet vs. (3) Huntsman Speaks Chinese
"Hey Mitt, me and some of the other campaign staff were thinking, you haven't drawn enough attention to how rich you are. It'd be nice if you could find a tone-deaf way to do it, you know? Maybe something flip involving what might be a lot of money to some people, but chump change for a guy like you."
December 10, 2011 — ABC News Iowa Debate
Our own Karol Markowicz once called Jon Huntsman "easily the most obnoxious candidate in the race." We think this clip is the kind of thing she's talking about—has a presidential candidate ever spoken a whole sentence in a language besides English during a debate? And did he really think speaking Chinese would help him with Republicans?
January 7, 2012 — ABC News Yahoo Debate
Audience Participation Division: (1) Audience Boos Gay Soldier vs. (4) Paul booed for Muslim answer
You know it's a weird campaign season when you've got Republican voters booing a currently-serving member in the United States military. But that's exactly what happened when Stephen Hill introduced a question about "Don't Ask, Don't Tell" by identifying himself as a gay soldier.
This moment served as an interesting precursor to Santorum's rise in the polls and the renewed focus on social issues over the last few months. Also, how about his argument that we shouldn't "inject social policy into the military" by...repealing a social policy that applies to the military?
September 22, 2011 — Fox News Google Debate
Applause from supporters gave way to a longer chorus of boos from detractors as Ron Paul argued against the idea that "the whole Muslim world was responsible" for the September 11th attacks, and that we were attacked "because we're free and prosperous."
And then, he brings up unfair treatment of Palestinians and Iraqis...
September 12, 2011 — CNN Tea Party Debate