Bracket | Most Memorable GOP Debate Moments (Round 1, Day 1)
March Madness is upon us and no one is safe, not even political junkies.
We're getting in on the action with a bracket of our own. Who—or what—will compete The most memorable moments of the 2012 GOP debates thus far.
Help decide which of these 16 moments will be the one we're most likely to remember four years from now.We've divided the contenders into four categories: Gaffes, Dust-Ups, Policy Jingles, and Audience Participation. The moments are seeded just like NCAA teams. ("Oops" is a #1 seed, in case you were wondering.)
Starting Thursday, we'll have two match-ups per day for you to decide. Watch the clips, re-live the memories, think carefully, and cast your vote for which moment should advance to the next round.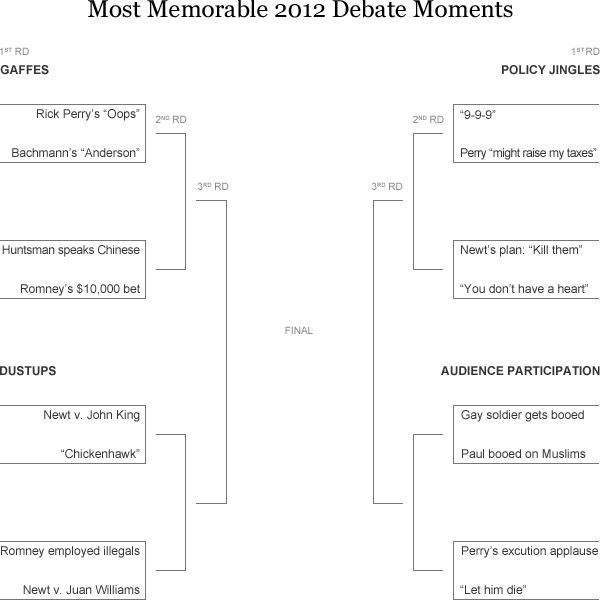 Round 1
Gaffe Division: (1) Rick Perry's "Oops" vs. (4) Michele Bachmann's "Anderson!"
Rick Perry couldn't remember the third federal agency he'd eliminate as president, putting an exclamation point on a string of tough debates that effectively turned him from a front-runner into an also-ran.
December 9, 2011 — CNBC Michigan Debate
Michele Bachmann wasn't even given a chance to remember her lines. As she struggled to get debate moderator Anderson Cooper's attention, Bachmann came off like a kid in a classroom, desperately stretching their arm into the air hoping the teacher would call on them.
October 18, 2011 —CNN Las Vegas Debate
Audience Participation Division: (2) "Let him die" vs. (3) Execution applause
When Wolf Blitzer asked Ron Paul to clarify what he thinks should happen to a young, uninsured man who contracts a terminal illness—"Are you saying society should just let him die?"—he probably wasn't expecting the audience to answer.
September 12, 2011 — CNN Tea Party Debate
Brian Williams was just throwing out a statistic regarding Rick Perry's record of executing more death row inmates than any other governor in modern times. But the audience's reaction was surprising enough that it became the subject of a follow-up question.
September 7, 2011 — MSNBC Politico Debate