The Lodown
Object #5: 18th-Century Ship Excavated from WTC Site in 2010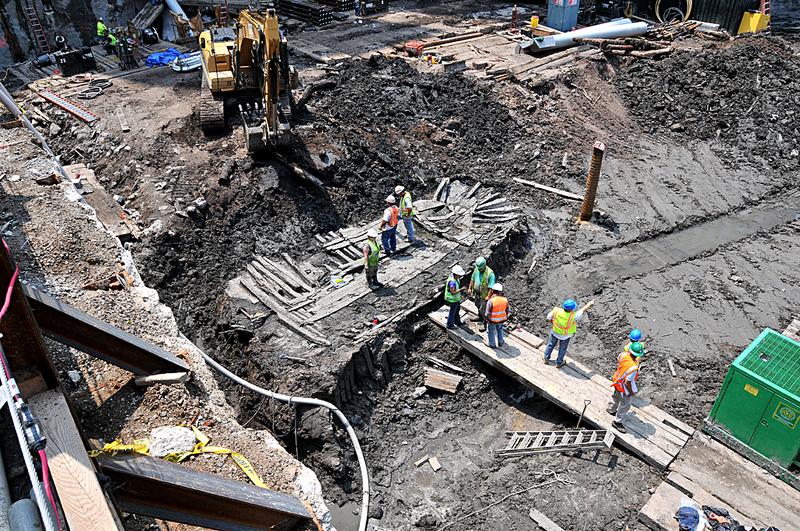 This object is an example of New York's past colliding with its present.
"We've never seen a boat like this before," Warren Reiss a maritime historian and archeologist at the University of Maine explained. "There are a number of things about how this vessel was built that we are still scratching our heads about." Reiss was the principal investigator of a ship the New York Times dubbed the "S.S. World Trade Center."  "We don't even know if it had one mast or two," Reiss said. (continue reading)
We do know that it was around 55-feet long, flat bottomed and constructed in the 1770s near Philadelphia. A few tantalizing clues about the ship and its purpose were found in the remains: a very small cannon ball and a tiny button belonging to a British infantry unit that was stationed in New York during the revolution. "Whether that means [the vessel] was carrying British soldiers or that this button just happened to be in someone's pocket—we don't know," Reiss said. It's very likely the ship was involved in trade, but the "in what" or "with whom" are anyone's guess.
After the American Revolution, New York was transformed from a mid-sized Atlantic city into the sprawling metropolis we know and love today. The port of New York played a key role in that change. "The city was developed with these types of trading vessels," Reiss said. "It was the backbone of commerce." In the centuries since, Lower Manhattan swapped piers and shipping warehouses for financial firms and condos. The fact that a trading ship was found underneath the new World Trade Center is just a glaring example of that transformation.
The ship itself is estimated to have sunk in 13 feet of water in an area that was eventually claimed by landfill. While this vessel is only one of four that have been discovered in Manhattan, Reiss estimates that there are at least 30 or 40 more underneath the island.
Currently, this particular ship is being preserved and studied in the conservation lab at Texas A&M University.