Play About Japan Tsunami First Responders Staged for Anniversary
To mark the one-year anniversary of Japan's devastating earthquake and tsunami on Sunday, a play honoring the first responders who tended to victims of the natural disaster and nuclear meltdown will be staged at the Ailey Citigroup Theater.
"Hikobae" is produced by actor and filmmaker Toshi Shioya (Futatabi, O kara no kaze). The cast is made up of Japanese actors who graduated from Shioya's Toyko-based company, The Actors Clinic, alongside American graduates from the New York-based Stella Adler Studio of Acting.
"Hikobae. It's a meaning of rebirth," said Shioya, who said the name comes from the Japanese word for sprouts growing from a tree that fell during a natural disaster. "Now in Japan, it's a process of rebirth. New York, too, after 9/11. It's rebirth."
"Hikobae" is fiction — it was written by Ryosei Kajiwara, Itaru Era and Yuki Maeda — but it is based on interviews with first responders who were working at the Soma Central Hospital in the aftermath of the disaster. At the time, the medical center, which is in the Fukushima evacuation zone, had no water, food or electricity. Doctors, nurses and patients were, like many in the area, exposed to high levels of radiation. More than 19,000 people are thought to have died.
The play will be performed in Japanese and English, and subtitles of both languages will appear onstage behind the actors. "Hikobae" will also be staged Monday in the Dag Hammarskjöld Library Auditorium at the United Nations headquarters. The mayor of Soma City, Hidekiyo Tachiya, is expected to attend the performance.
"It's an opportunity to give voice to the voiceless," said Tom Oppenheim, who is president and artistic director of Stella Adler. "And really experience the power of art and of theater to do that."
Oppenheim (pictured right with Shioya) said his company and The Actors Clinic had plans to work together before the earthquake and tsunami struck on March 11 last year.
"We decided to link arms where we would train Japanese actors," he said. "And then 3/11 happened — March 11."
Shioya also plays a doctor in "Hikobae" whose character is based on a real doctor who transported his patients to Soma Central Hospital after his own medical center was closed due to the meltdown at Daiichi Nuclear Power Station. The American actor Adam Gerber plays the lead role -- that of an American doctor named Alan Parker who is stationed in the Soma Central Hospital.
Writing an American doctor into the script was a nod to the first responders of 9/11, according to Shioya.
"The firefighters who came into the Twin Towers to sacrifice their lives to save the victims and Japanese firefighters and medical site workers did the same thing," he said. "I call it 'Extremity of Dignity', 'Extremity of Virtue.' The same spirit. They are The Braves."
The director and co-writer of the play, Ryosei Kajiwara, introduced Shioya and Oppenheim two years ago. He says in addition to being a tribute to the 3/11 and 9/11 responders, "Hikobae" is a love story.
"It's actually a story about wanting somebody," he said. "Whether it's under that kind of critical situation or not."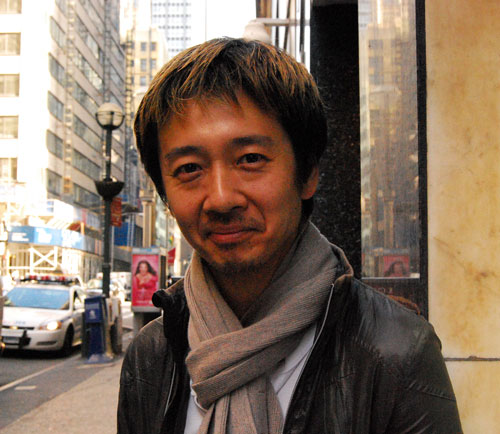 Kajiwara (pictured left) said after the 3/11/11 disaster, he knew he had to write the play.
"When the earthquake happened, after that, I couldn't do anything," he said. "I was suffering some sense of guilt maybe because I couldn't do anything. And I still feel that way whenever I go to Soma City ... I wrote this play for myself to ease my mind. Because I don't think I can heal the victims."
Kajiwara says in addition to interviews with Soma City first responders, he met orphans who had lost their parents in the tsunami. One of the orphan's words still sticks in his head.
"What he said was, 'I'm going to be a firefighter because my dad was a firefighter -- to help people and save lives,'" Kajiwara recalled. "And when I knew that was a real story, I couldn't help crying."
The moment made it into the play's script.
After "Hikobae" has its New York premiere, it will be staged in Japan at Tokyo's Ginga Theatre, Oita's Oita Cultural Hall, and finally on March 31, at Hamanasu Kan in Soma City.
"That should be memorable -- in front of the mayor and all the sufferers, the people there," Kajiwara said. "That should be something really unforgettable."
"Hikobae" will be performed on Sunday at Ailey Citigroup Theater at 7 P.M. Get tickets here. Proceeds will benefit the Soma City Earthquake Disaster Orphan Scholarship Fund.