Last Chance Foods: Bed-Stuy Bok Choy
The Tristate area may be enjoying unseasonably warm weather lately, but for the most part, farmers' markets still reflect the fact that winter will be around for a few more weeks. At Bed-Stuy Farm in Brooklyn, though, Reverend Devanie Jackson is using hydroponics to provide needy families with fresh, local produce.
Through the use of the water-based growing system and a greenhouse, Bed-Stuy Farm is currently harvesting crisp, fresh bok choy — a leafy green that is usually grown in fields in spring and summer.
"It [has] always been my vision to grow the food year around," said Jackson (pictured below). "We were growing it conventionally, you know, no fertilizers or chemicals but outdoors in the soil. It was working fine up until November. People need to eat year-round, and they need fresh food year-round."
That's why she invested in the hydroponic system to help feed the families and seniors who visit the Brooklyn Rescue Mission, where Jackson serves as the director of programs.
She started Bed-Stuy Farm in 2006 with her husband, Reverend Robert Jackson, in what was an abandoned lot behind the mission. 
These days, Jackson is feeding bok choy to about 4,000 people a month. She notes some people in her community were already familiar with the vegetable. In Caribbean cultures, it's also known as pok choy or joy choy, explains Jackson.
"[But for] the rest of the people, we had to cook it, serve it up and let them taste," she said. "But they actually fell in love with bok choy. And so what we found ... on our farm was that it's really easy to grow."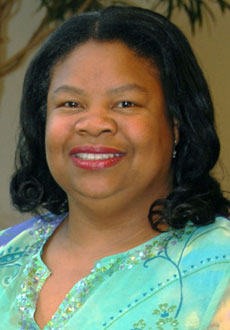 Bok choy is not particularly fussy, Jackson adds. At the Bed-Stuy Farm, they germinate the seeds in grow cubes, let the sprouts grow under lamps until they are about one-inch high, and then place them in the hydroponic system.
"They get some plant food, and the water is re-circulating, so it gets pumped, goes through a tube and comes down through the hydroponic system," she said.
The system is placed on a slight tilt, so the water flows down to one end before being pumped back around.
Jackson adds that the bok choy has flourished this year, and that they have only used grow lights sparingly since the weather has been mild. Since the bok choy is sheltered in the greenhouse, it's been safe from pests and disease.
The process of growing the vegetable also provides a learning experience for many of the youth who volunteer on the farm. Jackson describes many of them, particularly those who have grown up in urban environments, as "vegetable-ly challenged." But once she has them try the bok choy — raw, unwashed and straight from the farm — they begin to understand its appeal.
"It brings such a smile to their face, like, 'Oh, this is delicious. I've got to take it home for my family to try,'" Jackson said. "I go by the faith that they're going to like it because it's fresh. But they actually like it, and they eat it."
Jackson adds that boy choy can be eaten sauteed or in soups. Try the recipe below that she provided for Hot-and-Sour Cold Cabbage and Baby Bok Choy Salad.  

Hot-and-Sour Cold Cabbage and Baby Bok Choy Salad
by Abra Morawiec
(Recipe adapted and modified from "The Illustrated Step-by-Step Chinese Cookbook" by Paul C. Huang)
½ head of Chinese cabbage
3 small heads of baby bok choy
4 ½ tablespoons of olive oil
⅔ cup rice wine vinegar
½ teaspoon crushed red pepper
2 teaspoons sugar
2 tablespoons flour
1. Cut off the stem of the cabbage, about 1 ½ to 2 inches from the end. Wash cabbage leaves in cold water.
2. Bring together the leaves, bunch them up, and cut into 1 ½ inch slices.
3. Repeat previous steps with baby bok choy.
4. Put olive oil into a large frying pan or wok and turn the flame up high. Once the oil is hot, add the cut cabbage and bok choy. Stir for one minute.
5. Sprinkle the salt over cabbage and bok choy, stir well, then add the rice wine vinegar and crushed red pepper. Stir for about 30 seconds and reduce flame to low.
6. Cover the pan/wok and simmer for 2-3 minutes.
7. Add the sugar and stir until incorpoated.
8. After the sugar has dissolved, add the flour a little bit at a time to thicken the sauce.
9. Remove from heat and serve it up! This salad can be enjoyed hot or cold.