Keith Haring's 'Once Upon A Time' Bathroom Mural Restored and Open to the Public
FULL DISCLOSURE: The photos that accompany this article contain graphic images that may be upsetting to viewers.
Pop artist Keith Haring painted his signature lines and squiggles in many places throughout New York City, but one of the most unique may have been the men's bathroom at the Lesbian Gay Bisexual & Transgender Community Center.
In 1989, just nine months before he died of AIDS, Haring painted the walls of the restroom with playful, phallic images in a mural called "Once Upon a Time."
After more than two decades of wear and tear, parts of the walls had cracked, paint had peeled and dirt had accumulated on the walls of the former restroom, which is these days a meeting room. But last October, the Center received a donation to clean and restore the mural. Harriet Irgang Alden, a professional conservationist, painstakingly restored every inch of the piece, and the newly restored mural opened on Wednesday to members of the public.
In Haring's signature style, black curlicues intertwine to form various shapes in the mural.
Petr Kramar, a tourist visiting from Prague, said when he first looked at the work he saw phallic images. Then he saw, "Babies, animals, sperm. It's actually all on the walls here."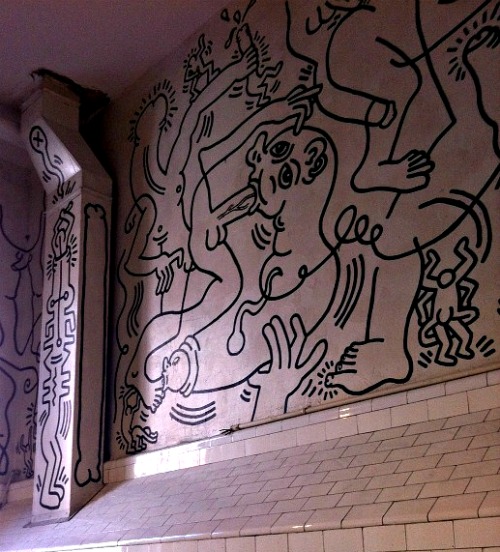 "The first time I walked into the room, I really thought, 'Wow, I have never seen so many penises in my life,'" said The Center's executive director, Glennda Testone. "And that may be the experience of many people."
But Testone added that the graphic nature of the mural pays tribute to an earlier era of sexual freedom during a time when the gay community was facing a crippling HIV and AIDS epidemic.
"There was a lot of fear and shame about gay male sexuality but Keith showed us that it could be different and that ultimately gay male sexuality was something to be celebrated, not feared," she said.
The bathroom will be open to the public at The Center, which sits at 208 W. 13th St. in Manhattan, during its operating hours through the end of March.