Opinion: Remembering Selma From Super Tuesday to Bloody Sunday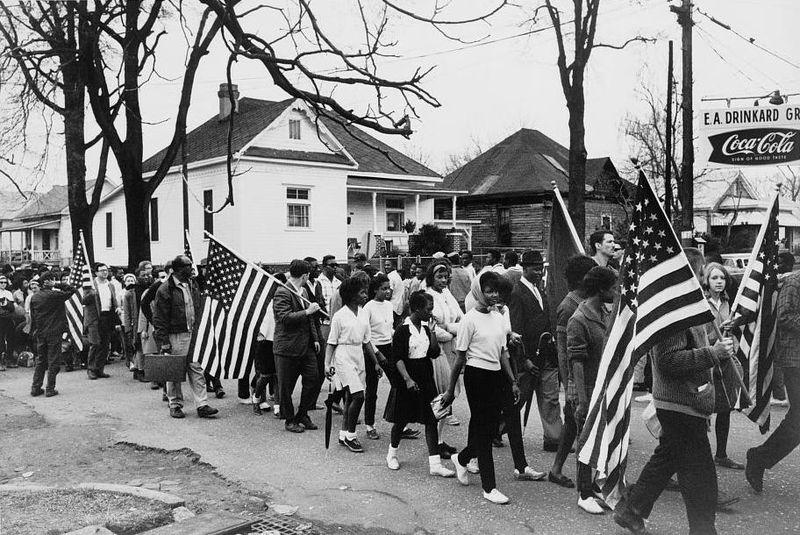 Forty-seven years ago today, a multiracial contingent of about 600 civil rights activists attempted to cross the Edmund Pettus Bridge, across the Alabama River, in Selma, Alabama. They were marching for voting rights, but they never made it across. Alabama state troopers and local police officers, upholding the racist laws of that time and place, met the peaceful marchers on the bridge with brutal force - clubs, attack dogs, tear gas.
It took two more marches— a second effort two days later saw 2,500 marchers crossing the bridge and turning around, and a third march had the federal protection of 2,000 soldiers and 1,900 National Guard members—for the civil rights activists to finally succeed in their journey from Selma to Montgomery, the Alabama state capitol.
Ultimately, the Selma to Montgomery marches were, in fact, three marches in 1965. They marked the political and emotional peak of the Civil Rights Movement. Today marks the anniversary of the first Selma to Montgomery march for voting rights, which came to be known as Bloody Sunday – the day on which those first 600 Americans, fighting for civil rights were attacked by their fellow citizens with clubs and dogs and gas.
After the protestors' suffering was witnessed by our nation - and the world - Congress responded by passing the 1965 Voting Rights Act, a companion to others of that era, to grant African Americans full citizenship rights. Now, nearly 50 years later, it's a cause for inviting tourists to Selma, to celebrate.
The Annual Bridge Crossing is held every March to commemorate Bloody Sunday, the March from Selma to Montgomery and the passing of the Voting Rights Act of 1965.
Several years ago, I traveled to Alabama, to walk with one of our greatest American heroes, John Lewis, who was one of the organizers and leaders of the March on Selma who was very nearly killed on that Bloody Sunday. Despite more than 40 arrests, physical attacks and serious injuries, since then, John Lewis remained a devoted advocate of the philosophy of nonviolence. He has served our country as a member of Congress (D-GA), since 1986. 
Still, every year he returns to Selma to march, and I was honored to march with him, as have been so many other Americans - black and white and brown and yellow, Democrat and Republican and Independent, young and old - over the years. As we walked, politics fell away, for we were reminded of our purpose as Americans, how far we have come in pursuit of our democratic ideals, and how far we have yet to travel.
During that commemorative march, which Alabamans call the Annual Jubilee, I also met a dignified stately woman named Amelia Boynton Robinson who had marched 47 years before. I met civil rights pioneer Reverend F.D. Reese. And I met the daughter of Viola Liuzzo, a white civil rights worker gunned down by the Ku Klux Klan, just hours after participating in the 1965 March on Selma.
This week, Congressman Lewis is marching again. They began last Sunday, with the commemorative march across that bridge. Today, as the 50-mile trek from Selma to Montgomery enters its third day and twentieth mile, many are protesting to demand civil rights for immigrants and people of color. Many walk in response to Alabama's harsh new immigration law, the Beason-Hammon Alabama Taxpayer and Citizen Protection Act, H.B. 56, which is among the toughest in the nation. This year's march also comes on the heels of the introduction of strict voter identification laws in many states that would make is more difficult for people of color to vote. For many, they are reminiscent of the poll taxes of the 1960s.
After all, voting was always the core issue. As every year, the 2012 march is following the route John Lewis took with Dr. King and other pioneers of the civil rights movement. 1965 was a long time ago, but not that long ago. In organizing the Freedom Rides, Lewis risked his life simply by sitting in seats reserved for whites. He was beaten severely by angry mobs and arrested by police for daring to challenge the injustice of Jim Crow. During the height of the Movement, from 1963 to 1966, Lewis was named Chairman of the Student Nonviolent Coordinating Committee (SNCC), which he helped form. SNCC was largely responsible for organizing student activism in the Movement, including sit-ins and other activities. 
While still a young man, John Lewis became a nationally recognized leader. By 1963, he was dubbed one of the Big Six leaders of the Civil Rights Movement (together with Dr. King, Whitney Young, A. Phillip Randolph, James Farmer and Roy Wilkins). By the age of 23, Lewis was an architect of and a keynote speaker at the March on Washington in August 1963. Senator John McCain (R-AZ) once said, "I've seen courage in action on many occasions. I can't say I've seen anyone possess more of it, and use it for any better purpose and to any greater effect, than John Lewis."
I have encountered Congressman Lewis on several occasions and have met many other congressmen and women, over the years. But no other honor has stayed with me, as has the meeting of congressman Lewis in that place, Selma – a place of honor, conscience, courage and change. I have heard many other people, of all political stripes, say the same. Instead of watching the horse race of election cycles, perhaps March 7 would be better spent reflecting on our collective conscience.