FBI Head in Newark Says NYPD Surveillance Has 'Strained' Relationships With Muslims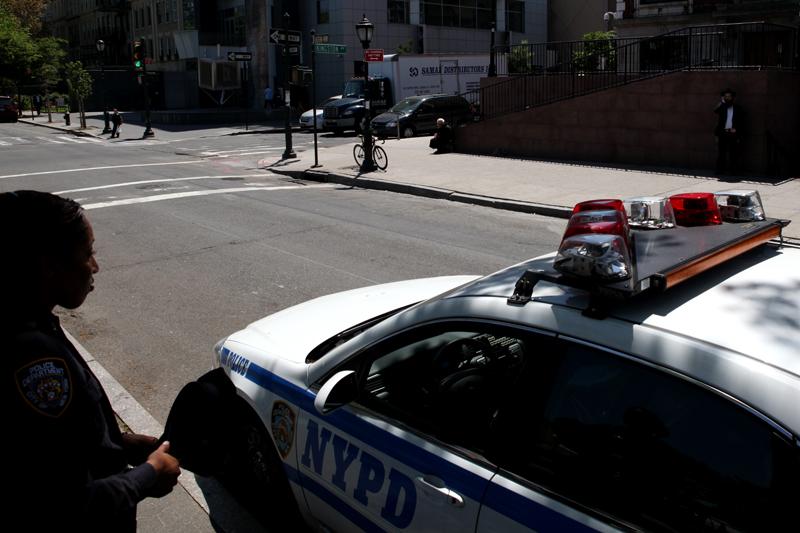 The FBI special agent in charge of Newark's office said the NYPD's secret surveillance of Muslims in the city has undermined long-standing relationships that his office and state counter-terrorism personnel have worked hard to develop over the past decade.
In a wide-ranging hour-plus briefing Wednesday, Michael B. Ward said he decided to break his silence on the NYPD's far-reaching intelligence measures to dispel reports that such wide-ranging operations were necessary because the FBI and New Jersey's counter-terrorism intelligence programs were inadequate.
The FBI's New Jersey Joint Terrorism Task Force  is designed to help local and regional law enforcement coordinate their investigations. Ward says his JTTF includes two NYPD detectives who are also deputized  as U.S. Marshalls to avoid any jurisdictional conflicts like the ones that have cropped up with the NYPD's operations in Newark.
But it's not just issues of jurisdiction that have now become problematic. Ward said the NYPD's unilateral operations undermined the FBI's credibility with the Muslim community.
He's now planning to redouble his outreach to the Muslim community to rebuild his agency's rapport with that community and has accepted an invitation to visit a Paterson. N.J., mosque this week.

"I feel that the best way to regain our credibility, to regain the confidence is to go right out on public and openly address the issue and that is what we are going to do," Ward said.
Ward said evidence that the NYPD covert operation had eroded trust in the community was clear during a meeting last weekend with the state's top federal law enforcement officials, state Attorney General Jeff Chiesa and a delegation of the state's Muslim community leadership.
"When I was describing what the FBI knew and what the FBI didn't know, I had members of the community looking at me saying 'Why should I believe you?' which we have never had before," Ward said. "These are leaders in the community, people of influence."
He added: "These are people that are our friends. These are people that have embraced law enforcement, embraced the mission that we have in counter-terrorism. You can see the relationships are strained."
New York City Police Commissioner Ray Kelly and Mayor Michael Bloomberg have repeatedly said that all of the NYPD's covert activities are within the law and are constitutional.
They have also said Newark police were fully apprised of the 2007 operation, something former Newark Police Director Gary McCarthy confirms.
Both Newark Mayor Cory Booker and Governor Chris Christie have said they were not aware of the NYPD activities.
Ward did say that he would not have approved the kind of covert mapping of Newark that the NYPD undertook in 2007.
"I would not task our folks to go out and identify the locations of any houses of worship regardless of religion," Ward said. "I don't know of a correlation between just the fact that a business is owned by someone of a certain race or background to an investigative activity."
NYPD Deputy Commissioner Paul Browne disputed Ward's assertions that his department's actions had hurt law enforcement relations with the Muslim community.
"Contrary to [Ward's] assertions, the NYPD has established strong, ongoing relations in the Muslim community, and our intelligence gathering has led to the capture of the radical converts Almonte and Alessa in New Jersey," Browne said in a statement.
Mohamed Mahmood Alessa and Carlos Eduardo Almonte were charged and plead guilty of planning to join the terrorist group Al-Shabaab and conspiring to commit an act of international terrorism overseas.
Browne said the demographic survey done by the NYPD in Newark was well within the FBI's own guidelines as defined in the FBI's  Domestic Investigations and Operations Guide. The guide permits the FBI to identify locations of concentrated ethnic communities if these locations would  aid in tracking potential terrorist threats, according to Browne.
AG Cheasia is investigating the NYPD's past activities.