College-Bound Vets Face Challenges Beyond Tuition
Schools are enrolling hundreds of thousands of recent veterans and service members due to the drawdown in Iraq and Post 9/11 GI Bill. But the education benefit is not helping all of them make the transition from military life to college degree.
Seven years ago, Luiz Perez dropped out of Borough of Manhattan Community College to enlist in the U.S. Army as an infantryman. He was 19 years old when he was deployed to Afghanistan, and then later to Iraq. As a Mortar Man 11C, Perez navigated stryker armored vehicles through landmines and IEDs, or improvised explosive device, and fired mortar bombs at the enemy.
He got back to the South Bronx in 2008 and re-enrolled in school while he finished the remaining four years of his term of service.
"I came back everything being the same," he said. "So I basically, I felt like I just pressed 'Play' again. I was on 'Pause' and just ended up restarting right back from where I started."  
The skills that made Perez a good Mortar Man — like figuring out who the enemy was, being a good gunner and not getting shot — did not translate well to the classroom. He spent a year and a half taking remedial courses to catch up to his classmates, and he had trouble choosing a major. He tried engineering and accounting before settling on criminal justice.
Perez says it was frustrating watching others pass him by.
"You start seeing people graduating and moving on and you're like, 'Damn, I'm still here?'" he said. "And then you'll talk to them next semester, and they're like, 'Hey, you finished?' I'm like, 'Nah, I just changed majors.' They're like 'Yeh, and you're still here? what are you waiting on?'"
Now Perez is living in a studio apartment that a private non-profit group, The Jericho Project, rents out to him. It's part of a veterans permanent supportive housing facility the group runs in the Fordham section of the Bronx. The Jericho Project also helps him navigate the civilian world through counseling, job training and financial planning. 
Perez pays for his classes through the Post 9/11 GI Bill, which covers full tuition and fees for public school in-state veterans who served at least 90 days of service after September 11, 2001, or pays $17,500 annually for private or international school tuition and fees. The bill also includes a monthly housing allowance that varies by state and a stipend for books and supplies.
Not Your Father's GI Bill
Since the Post 9/11 GI Bill went into effect in August of 2009, some 700,000 student veterans, service members and their beneficiaries have used the bill to pay for college or training institute tuition, according to the Department of Veteran Affairs (VA). It's the most generous legislation for veterans since the original GI Bill was passed in 1944 to help World War II veterans go back to school.
Wilfred Cotto, university coordinator for Veterans Affairs at the City University of New York, says he's seen a major spike in veteran student enrollment in the last few years.
"Prior to 2009, at the City University of New York we had approximately 1,600 student veterans enrolled," he said. "After August of 2009, we saw that number double. Actually the population increased 55 percent throughout the university. So it took us to over 3,000 student veterans enrolled and at community colleges, student veteran enrollment grew by 233 percent."
Curtis Coy, deputy under secretary for Economic Opportunity at the Department of Veterans Affairs, says the Post 9/11 GI Bill gives veterans an opportunity most Americans don't have.
"In the general population, a lot of the comments are, 'If I only had the ability to take this course, that school, that technical training, I could go be this,'" he said. "And when you're a Post 9/11 GI Bill recipient or beneficiary, you have that ability. So I would suggest that veterans have a wonderfully unique and great opportunity to bridge that gap that many, many Americans in this country don't have."
He says the VA is happy to field questions on how the bill works but that veterans are very savvy when it comes to making decisions for themselves.
Making the Transition
Many student veterans, however, need more than education benefits to make a smooth transition from military to university life.
"It requires a certain amount of tricky psychological adjustment to bring soldiers, sailors, airmen, marines to the point where they can go to a war zone and carry out orders to actually kill other people," said Wilbur Scott, a Vietnam veteran and sociology professor at the U.S. Air Force Academy. He's also the author of a book called The Politics of Readjustment: Vietnam Veterans Since the War.
"Then, when you come home, a lot of the adaptations that were very, very functional in a war zone — you know, in the killing zone — a lot of adaptations that are very, very functional there are dysfunctional on the back side so they have to be undone," he explained.
Scott says there's a blizzard of programs to help veterans from Iraq and Afghanistan re-adjust but they can be very confusing to navigate and there's a stigma attached to reaching out for them.
"If you're really cut from sterner stuff you wouldn't have to reach out for help," he said. "A lot of them don't want to access the many programs that are available that could help them because they're afraid that it will reflect badly upon them and interfere with their careers in some way."
Scott says although he supports the Post 9/11 GI Bill, veteran students may not be able to focus on coursework if they haven't re-adjusted to civilian life.
According to the Department of Education's National Center for Education Statistics, just 10 percent of veterans who entered college in the 2003-2004 school year got a Bachelor's degree in six years, compared with 31 percent of non-veteran students. Roughly 40 percent of veterans who enrolled in school six years ago left without a degree.
"A lot of vets have to figure out how to make sense out of what's happened and find some resolution on their own and that's kind of the bottom line in readjustment," Scott said. "The person has to make sense of what occurred and then find some resolution for what occurred."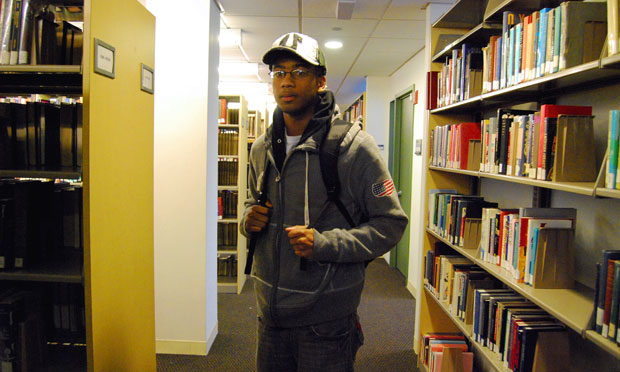 (Photo: After almost a year-long deployment in Iraq, Dwayne Gore is taking classes towards a computer science bachelor's degree at Mercy College in the Bronx. Abbie Fentress Swanson/WNYC)
One recently returned veteran just beginning his transition from the military into the classroom is Dwayne Gore. The gangly 20-year-old was overwhelmed by emotion when his plane touched down in the U.S. last December after a 10-month deployment at Joint Base Balad, which was one of the largest American military bases in Iraq.
"I didn't even care what state or city it was, I knew it was the United States," Gore said. "It felt good. I mean it's a lot of words that can describe it. But it felt good."
Gore enlisted in the Army Reserves when he was 17 years old. After graduating high school, he went through basic combat training in Atlanta and got job training there to be a Signal Support Systems Specialist, 25U. In layman's terms, that's a technician who makes sure networks, computers and radio systems are up and running on the battlefield.
Most of Gore's work took place on base, but he had his share of harrowing moments, like when a mortar bomb fell not far from where he was working.
"It was like a huge hole in the ground and a pretty deep dent," he said, adding that he knew soldiers who had been killed and whose vehicles had been hit by IEDs. "It was real realistic over there."
Gore's now staying with his aunt in Yonkers and taking classes towards a bachelor's degree in computer science at Mercy College. Since he hasn't been in an academic setting in a while, he's starting out with some basic biology and math classes.
"Right now we're learning fractions and decimals and stuff like that," he said. "Basic stuff, high school stuff."
A Degree Doesn't Always Help in the Current Job Market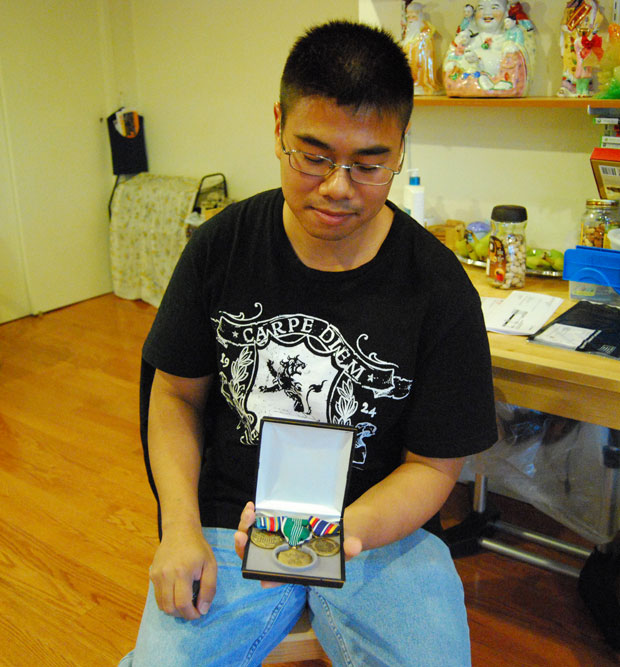 Roger Tsui, 28, tried living on his own when he got back from Iraq in 2005 but ended up moving back in with his mom in Elmhurst, Queens to save money. Tsui met an army recruiter outside his high school, Newtown, when he was 17 and enlisted.
"When I joined it was right in the beginning of 2001, before 9/11, so it basically was a promise of adventure, something different, better yourself, which it did," he said.
Two years later, Tsui was deployed to Forward Operating Base Speicher near Tikrit, Iraq. That's in the Sunni Triangle, which was one of the most dangerous parts of Iraq in 2003 and 2004.
(Photo: Roger Tsui, 28, shows off medals he got after he left the Army in 2005. Tsui now has a bachelor's degree from Queens College in Accounting. Abbie Fentress Swanson/WNYC)
As a Special Electronics Devices Repairman, Tsui fixed night vision goggles, mine detectors and other electronic devices inside trucks that were often stationed on the battlefield. He saw several people die and was in vehicles that got hit by enemy fire.
Tsui says although he wasn't diagnosed with Post Traumatic Stress Disorder, it took him a long time to forget all the bad things he saw.
"When I first left it was hard to adjust," he said. "Like I always had to carry my M16 so when I had to give it back there was something missing. Like, I would freak out in the morning, like, 'What the hell's going on!'"
When he got back to New York in 2005, the VA paid for Tsui to get his bachelor's degree in accounting from Queens College. But since graduation in 2009, he hasn't been able to find a full-time job. Tsui says he still has flashbacks of Iraq just about every day.
"It's kind of hard to ignore that kind of experience," he said. "I can still go back and like just see faces that I've worked with for like two, three years and then like over here I can barely like remember what I learned in college."
A group of legislators and advocates who lobbied to pass the Post 9/11 GI Bill, including Senators Tom Harkin, Tom Carper and Jim Webb, as well as the Iraq and Afghanistan Veterans of America, are now pushing for new legislation that would require the VA to collect degree completion data from schools in an effort to track the over $17 billion spent so far in schooling for recent veterans and service members.
If passed, the legislation would also stop for-profit higher education companies with high drop-out rates from aggressively recruiting veterans.