Cottage Campaign Industries: From Sweater Vests to TV Ads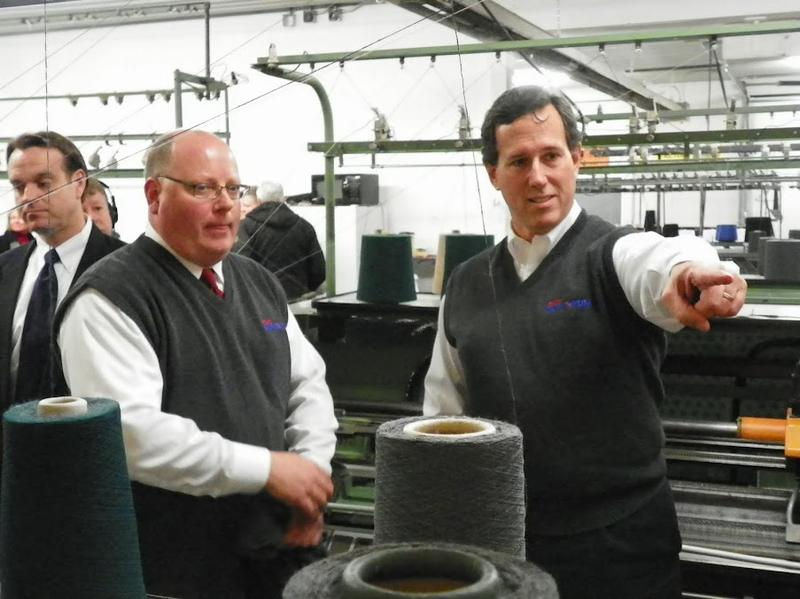 Local television stations, button-makers, and a wool mill in Minnesota—these are just a few of the unlikely beneficiaries of a record year for campaign spending, which has helped certain businesses rebound post-recession.
While the high cost of campaigning has generally contributed to popular cynicism, it's also contributed to profit, expansion, and hiring in certain niches of the private sector. This is perhaps most surprising in a place such as Bemidji, Minnesota, where a small company called Bemidji Woolen Mills recently secured a contract to produce custom sweater vests for a certain Republican hopeful.
"Back in December, Rick Santorum's campaign would come into town and go to the shopping malls and buy sweater vests and get 'em embroidered and hand 'em out to voters," said Bill Batchelder, co-owner of Bemidji Woolen Mills. "Then somebody had challenged him, talking about mainstream values and a return to American manufacturing, but why was he handing out sweater vests made in faraway lands?"
On January 12, the Santorum campaign came calling at Batchelder's company, a 92-year old family-owned business with only 12 full-time employees. In many ways, Bemidji Woolen Mills is the kind of company—a small business manufacturing American goods—that Rick Santorum says would thrive if he were in the White House.
But it's doing alright with him on the campaign trail, too. In its FEC filing for January, Rick Santorum for President reported almost $40,000 in expenditures to Bemidji Woolen Mills, which would make the sweater vests as a gift for donors. The expense was filed under "Fundraising Promotional Material." 
"It was almost surreal," Batchelder recalls. "I'm not a very big company, but I thought it was gonna be 25 sweater vests and they'd make a splash down in South Carolina, and that was gonna be the end of it. It turned into an avalanche."
Batchelder said that they were "buried" in sweater vest orders. The company has had to produce thousands of them, and Batchelder is unsure if they can continue to meet the demand.
"We went through a very painful downsizing over the last ten years because of the economy and the competitive disadvantage manufacturing has in America," Batchelder said. "But now the internet has lit up, e-mails lit up, inbound phone calls lit up. We have corporations calling to ask for custom sweater vests."
In January, Bemidji Woolen Mills had two machines that could produce the sweater vests Rick Santorum's campaign wanted. Today, they have seven machines up and running.
In addition to purchasing new equipment, Batchelder is also looking to hire again. There's now a standing opening for a full-time seamstress position, possibly two. Until he can make those hires, Batchelder's relying on two seamstresses he's brought out of retirement to help fill the orders.
"We just need help right now," Batchelder said. "All hands on deck."
Political swag
The sweater vest is a pretty novel way for a candidate to get their name out there, but items like buttons, bumper stickers, hats, t-shirts, and coffee mugs are familiar and ubiquitous. Every campaign needs them.
That demand has created a cottage industry devoted specifically to making "political swag," as Ron Simon calls it. Simon is President of Republican Depot, an Indiana-based company that manufactures campaign promotional materials and hosts online stores for candidates. 
"We'll do anything," said Simon, who keeps Republican depot open year-round whether there's a major election or not. "Small races—some governors, some senators, things like that. We'll also do local people, mayors, county commissioners."
Nothing compares to a presidential election, though. Rick Santorum's campaign shelled out over $4,000 to Republican Depot in January for signage and apparel, according to FEC filings. In 2008, Republican Depot happened to have John McCain as a client, and business really took off after he secured the nomination.
With less than half a dozen staff on hand at the moment, Simon would probably have to hire more people if Santorum's candidacy got a jolt.
"Right now it's enough," he said, "but if Rick Santorum would pull ahead of Mitt the store could spike and I could need many more people."
While Simon says his business doesn't have a ton of competition—campaign merchandise is a relatively small market—there are other companies working with other candidates, each hoping it's their client that makes it all the way to November.
Compared with the $4,000 Santorum dropped on Republican Depot, Mitt Romney's campaign spent $105,000 in January at GOP Shoppe, a similar Republican merchandising business based in Maryland.
"Whoever is luckiest enough to have the person who's going to run against Obama, they're obviously going to get a lot of business," said Simon.
Small potatoes
In addition to the esoteric investments in campaign materials, a fair amount of donor money goes to everyday expenses that the average person might incur over a month, though on a much larger scale.
Campaign staffers get hungry. Of the almost $50,000 Mitt Romney's campaign spent on food this January, much of it went to fast food and chain restaurants. Romney for President, Inc., racked up a near-$1,000 bill at a Dunkin' Donuts in Canton, Masschusetts; over $700 at Circle K stops in New Hampshire and Ohio; $321.37 at a McDonald's in Illinois.
Over $30,000 was spent on mobile phone expenses. Bank fees for the Romney campaign totaled $13,782 for the month of January.
Other industries benefiting from the largesse of Romney donors in January include event security ($101,000), audio visual services ($450,000), travel ($1.8 million), photography ($22,000), and telemarketing ($227,000), just to name a few.
TV party
Far and away, though, campaigns and SuperPACs spend the most money on television advertising.
In January 2012, the Restore Our Future SuperPAC, which supports Mitt Romney, more than tripled its spending on media buys over the previous six months, shelling out almost $11.2 million. The Romney campaign's filings show a similar trend, spending $8.5 million on placed media in January alone.
All of that money went through media consultancy firms, which are responsible for purchasing advertising time on local television stations in primary states.
"We're coming out of the worst advertising recession to hit the U.S. economy in 50 years," said Dennis Wharton, Executive Vice President of Communications for the National Association of Broadcasters.
That's thanks, at least in part, to a particularly brutal and moneyed Republican nominating season. SuperPACs run up the biggest bills: television stations are required by federal law to provide a 30 percent discount to political candidates making ad buys, but are under no such obligation to offer discounts to independent expenditure groups, which have tended to spend more on advertising anyway.
Wharton said that depending on the market and the station, SuperPAC spending can impact a station's bottom line.
"In an election year, revenues get a little bit of a bounce," said Wharton, noting that the improving economy and a resurgent American auto industry has also helped—car commercials are huge drivers of ad revenue. "Political advertising certainly does not hurt the situation."
Ironic economics
If you've donated to a presidential campaign or SuperPAC during this election cycle, this is where your money has gone: media production and consulting agencies, first and foremost, but also television stations; printing and design houses; data management experts; travel industries (including lodging, car rentals, airfare, etc.); catering services; phone banks; and nebulous-sounding "fundraising consultants."
These are the (sometimes cottage) industries and insiders propped up with the millions upon millions of dollars donated ostensibly to the cause of electing the next President of the United States. 
And with the economy adding jobs and unemployment holding steady at 8.3 percent, it's not a stretch for some analysts to imagine all that campaign money keeping up demand in places where it would otherwise be sluggish.
On a recent episode of The Brian Lehrer Show, Peter Coy, economics editor for Bloomberg Businessweek, mused on "the unintended benefits that the Republican SuperPACs are giving the economy and helping Obama's re-election chances." Indeed, there is anecdotal evidence that aggressive campaign spending translates into job creation, job retention, and revenue recovery.
In some ways, the 2012 campaign is an accidental economic stimulus program, with candidates and SuperPACs filling gaps in demand left by the recession. That they are able to make these expenditures by collecting money from private citizens and redistributing it through centralized insitutions—their campaigns—is just the least bit ironic.