A 'Lively' Rant on Popular Film, McCarthyism, and Genre Fiction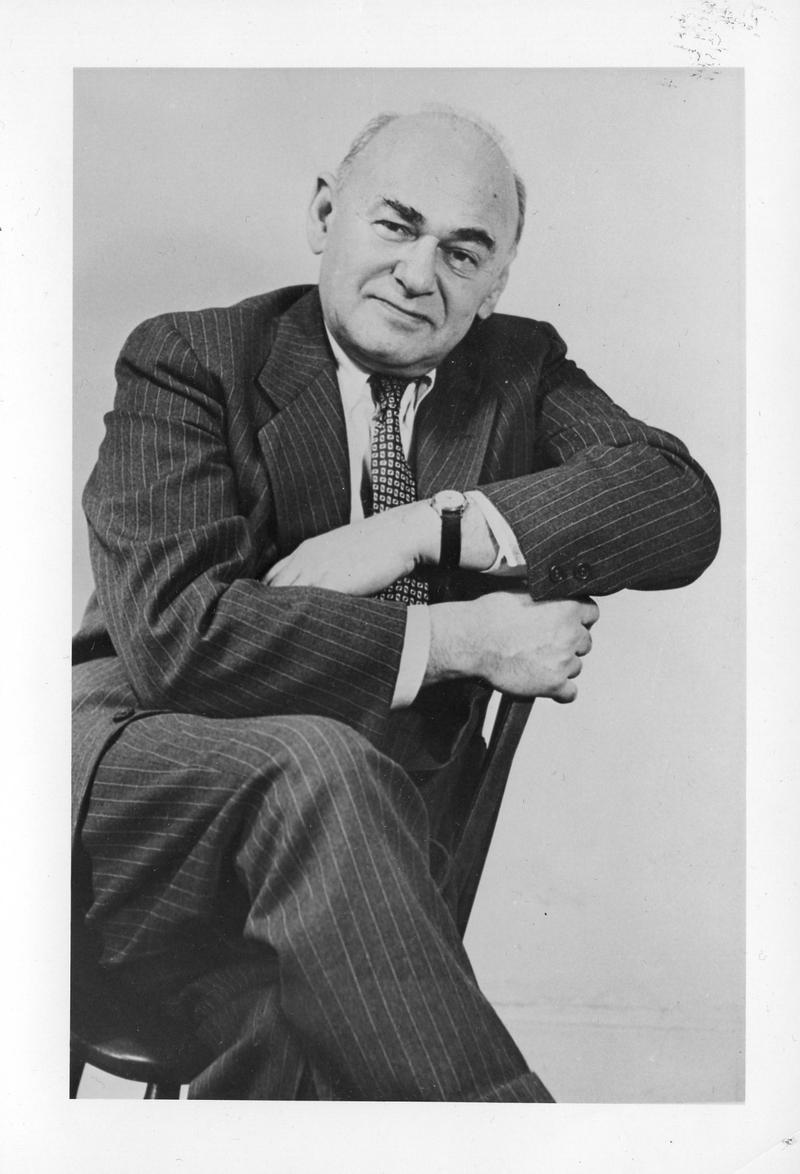 The writer, critic, editor, filmmaker, television pioneer, and broadcaster Gilbert Seldes comments on censorship, a favorite topic, in this 1953 broadcast of The Lively Arts. 
This episode centers around Seldes's thoughts on a speech made the day before by newly elected President Dwight D. Eisenhower, in which the president publicly crossed his longstanding nemesis, Sen. Joseph McCarthy. In related asides, Seldes also manages to cram comments on the following into this 21-minute show: Dartmouth's Great Issues course, the recently released blockbuster film "Julius Caesar," the general dumbing down of the culture, the use of children in advertising, the deleterious effect of mixing news and entertainment, and detective fiction (a genre he also wrote in, under a pseudonym).
By the mid-1950s, Seldes had been a respected writer for more than two decades, and had authored seven of the 21 books he would publish in his lifetime. These, along with his ongoing articles and criticism, discussed a wide range of cultural issues and media, and he used his radio show to discuss any topic that struck him. His observations, delivered in an abrupt, often impromptu, and occasionally self-referential stream of consciousness that prefigured much experimental radio of the following decades, often proved prescient.
Seldes was born in 1893 in Alliance, N.J., and is credited as the first U.S. intellectual to recognize and celebrate the artistic and cultural value of the popular (or "lively") arts. Although he grew up without electricity or running water, working on his father's crumbling farm, he became an avid fan of the theater at age 7, and recalls being "indoctrinated with the idea of individualization" early on, his father regarding conformity as a "criminal act," a betrayal of the self and consequently of society.
Seldes won a scholarship to Harvard, where he began to publish his writing, becoming the editor of the Harvard Monthly. Graduating in 1914, he published an article lamenting the decline of "every cultural activity" at the school, save The Harvard Lampoon which "alone resists." Soon after, he moved to London as a foreign correspondent, publishing his first book, The United States and the War, in 1917.
After a brief stint in the military, he was hired as an editor at The Dial, the nation's pre-eminent literary journal, whose contributors included some of most innovative and influential writers and artists of the 1920s. In 1924, Seldes published The Seven Lively Arts, his seminal collection of cultural essays, for which his radio show (and a later television show) was named. In a chapter on popular song, he wrote:
…our whole present music is derived from the negro and most composers of popular songs haven't yet discovered that the musical structure is applicable to other themes as well.
Seldes's promotion and respectful analysis of popular entertainments like ragtime, movies, vaudeville, burlesque, and comics like Krazy Kat, combined with his intellectual grounding in the classics and a lively imagination, made him a unique force in both assessing and predicting cultural trends.
It was this reputation, along with Seldes's 1937 article, "The 'Errors' of Television," that convinced William Paley to hire the writer as CBS's first director of programming. In his eight years at the network, Seldes brought much innovation to the fledgling medium, as well as programming ideas based on his own eclectic tastes.
But by the 1950s Seldes had begun to view modern pop culture as profoundly different from the flourishing of popular arts in the 1920s. In 1957 he warned that "with the shift of entertainment into the area of big business, we are being engulfed into a mass-produced mediocrity." In this 1953 broadcast, Seldes decries the increasing power of media that  "thrive on ignorance," and imagines a future in which:
…people learned to read just enough to spell out short captions under pictures,…They could be amused more easily, they could be sold in more sense than one, much more easily. No critical questioning attitude of mind would get between the comedian or the advertiser and the public….
He concludes,
The lights haven't yet gone out in our scientific laboratories, but the lamp of the scholar doesn't burn as bright or as often or as long as it used to.
Equally chilling are Seldes's comments on the Eisenhower speech, in which the president found it necessary to condemn book burning, after several American titles were destroyed at overseas U.S. Information Service libraries in response to McCarthy's insistence that such subversive works be removed. Quoting Eisenhower's response -- "Don't join the book burners. Don't think you're going to conceal thoughts by concealing evidence that they ever existed…" -- Seldes notes that the president:
…puts it under the rubric of courage: How it's always taken courage to preserve our freedom,…But the idea that you need a great deal of courage merely to think,…And the fact that there's enormous excitement about [the speech], and repercussions in Washington,…it's as if it's a new and startling thing to have a president of the United States uphold the absolutely fundamental principles upon which the United States is built.
After his radio show went off the air, Seldes became the host of his own television program, "The Subject is Jazz," on NBC. In 1959, he was appointed the first dean of the University of Pennsylvania's Annenberg School for Communication, a title he held until 1963.
In 1966, Seldes wrote, "In my own lifetime I have witnessed more changes in the modes of communication than occurred in all recorded history before."
Seldes died in 1970, leaving an unfinished autobiography whose text was used by Pulitizer Prize winner Michael Kammen to write his 1996 biography, The Lively Arts: Gilbert Seldes and the Transformation of Cultural Criticism, published by Oxford University Press.
Seldes is the brother of the celebrated journalist George Seldes and the father of the award-winning actress Marian Seldes.
Audio courtesy of the NYC Municipal Archives WNYC Collection.
Note: Some poor audio quality due to condition of original recording.