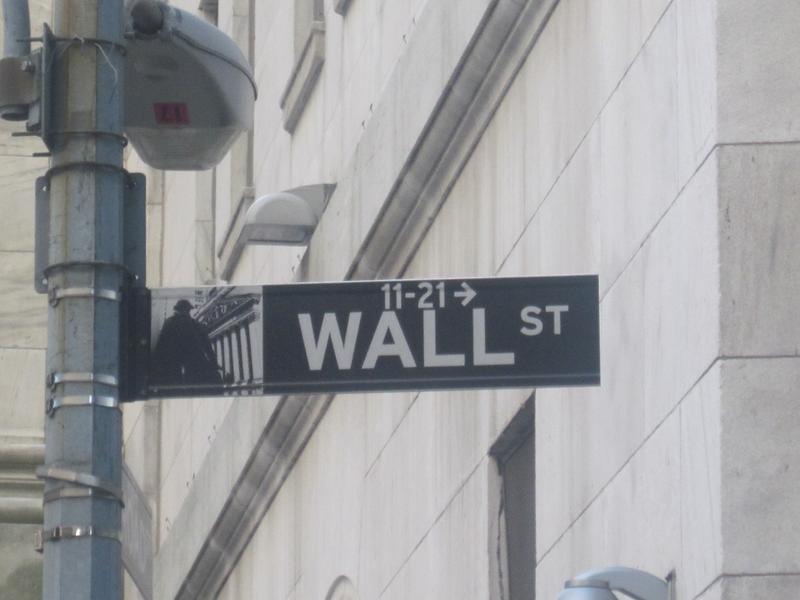 The Wall Street sign is the first object on our list that is central to both the long history of New York City and the current moment. William D. Cohan, author of Money And Power told us "You can not overstate Wall Street's importance from either a literal or symbolic point of view. It's not up there with the Statue of Liberty, but it's a symbol of what America is all about. That's why there is so much disappointment about their behavior over the last few years." (continue reading)
It's called Wall Street because, well, there was once a wall there. Dutch colonists constructed a barrier across lower Manhattan in the 1650s to protect their settlement from the Indians and the British. Eventually the wall was dismantled, but the name stuck, and the area became home to the city's burgeoning financial industry. In his 1870 tell-all book Ten Years in Wall Street William Worthington Fowler wrote, "That name [is] something more than a shadow, too, for it is in fact Wall Street, still lined with a succession of fortresses, behind whose bastions are garrisons well disciplined and alert, guarding the treasures, if not the lives of a nation...In these strongholds terms are dictated to the vanquished and treaties made." Sound familiar?
Still, much of that wealth helped transform New York into a vibrant economic and cultural center. "MoMA, The Met, The Museum of Natural History—the reason New York has so many iconic institutions is because of Wall Street." Cohan said. "At each of those institutions, they have that big wall with patrons and I bet 75-80-percent of those names are people who work in finance."
Wall Street and the rest of New York City have had their many ups and downs, but the two are deeply interconnected. Cohan said "There is a strong correlation between the wealth that was created in the early 1980s on Wall Street, the success of those firms since then, and New York's resurgence." By 2007, Wall Street was responsible for nearly a third of all wages earned in New York City and created jobs in many other sectors of the economy (though those numbers have likely come down a bit).
Today, "Wall Street" remains political shorthand for ideas that are both revered and reviled in America: entrepreneurialism and excess.  It greases the wheels of our entire economic system, but it also gave us the gold-flake-dusted hamburger.