Obama Arrives in NYC for Fundraising Blitz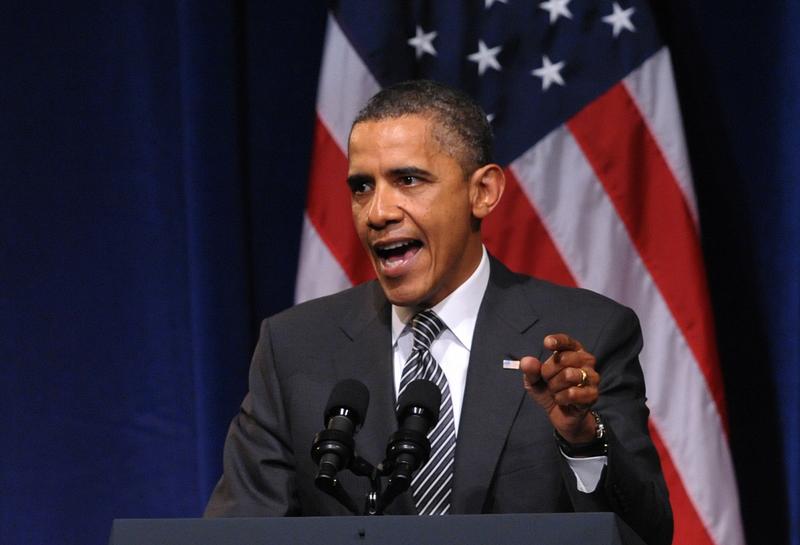 President Barack Obama switched into campaign mode Thursday night. The president hit four high-dollar fundraisers in Manhattan, after discussing the economy in New Hampshire in the afternoon.
At a $5,000 per person reception that kicked off his fundraising tour of the Big Apple, the approximately 100 guests largely ignored the appetizers of miniburgers and finger sandwiches and listened to Obama speak about the economy and foreign policy for over ten minutes.
He noted that the country had been through "three of the toughest years" but he was confident "America would bounce back."
"Now, we're not all the way back.  There is still a lot of hardship out there.  There are a lot of folks who still are looking for a job," he said. "But the good news is that here in the United States, the trend lines are good. Last month, we saw 250,000 jobs created.  We've created 3.7 million jobs over the last two years. We've seen the highest growth in manufacturing jobs since the 1990s.  Unemployment is still high, but it's been moving in the right direction."
But it was foreign policy – particularly his mention of the end of the war in Iraq and the weakening of Al-Qaida and the death of its leader, Osama bin Laden – that drew the most applause.
The president's motorcade then traveled downtown, as people lined the streets taking pictures. He headed to a $35,800 dollar per plate dinner at ABC Kitchen, where people dined on grilled fish, roasted potatoes and spinach.
Obama gave a strong defense of his foreign policy record to the approximately 80 people gathered, adding it was an area the Republican candidate could not strongly attack during the general election.
"The other side traditionally seems to feel that the Democrats are somehow weak on defense. They're having a little trouble making that argument this year," Obama told supporters
After the dinner, Obama was the main attraction at a gala hosted by Deepak Chopra, Paulette Cole, Russell Simmons, Jean-Georges Vongerichten, Reshma Saujani and Phil Suarez. The tickets to the event at ABC Carpet & Home started at $1,000 and about 900 people were expected to attend.
After that, the president was to wind up the evening at a $10,000 per person reception at a private residence with about 90 donors.
Obama did joke that the campaign this time around may not be as "fresh" and "fun" as 2008, noting that people seemed to remember it as perfect. "I don't remember it that way," he said. "I was screwing up all the time."
But, as he told the audience at the first event, "I hope you will be just as determined, just as fired up, just as ready to go as you were in 2008."
With the Associated Press