Off Off Broadway Theater Groups Celebrate 20 Years in Business
On Friday, the non-profit, Obie-winning, Off Off Broadway theater company New Georges celebrates its 20th anniversary with performances, a dance party, food and cocktails.
Artistic Director Susan Bernfield, 47, has reason to raise a glass. She founded the company 20 years ago to create a place for female playwrights and directors to produce their work and despite two recessions, New Georges is doing just fine.
"When we first started in 1992, it was also the middle of a recession and we were told, 'You know, you're never going to reach the funding levels that the theaters that started a little bit before you have, it's just not going to happen,'" she said in her office on W. 27th St. The company's permanent workspace, The Room, is 10 blocks away. "And we've done everything and planned everything in accordance with that."
Theater critic and Columbia University Journalism professor Alisa Solomon says starting a successful theater group in the early 1990s went against the odds.
"Anybody had to be out of their minds to try to start a theater company 20 years ago," she said. "It was one of the worst times for the financial health and viability of Downtown [Manhattan] theaters. Between 1988 and 1992, the funding to New York arts groups by the National Endowment went down 24 percent. Between 1990 and 1992, state funding went down 41 percent and money from the Department of Cultural Affairs went down 20 percent."
New Georges, which has produced 36 shows that have gone on to be staged at venues in and beyond New York City, is not the only Off Off Broadway, Obie-winning company that has flourished since it opened in Downtown Manhattan in the early 1990s. Target Margin Theater, which opens a series of short work at the Bushwick Starr this month that explores the Russian avant-garde, celebrated the 20th anniversary of its first production last fall. HERE Arts Center, the Soho community arts center where Eve Ensler's "The Vagina Monologues" and Basil Twist's "Symphonie Fantastique" were developed, is planning its 20-year birthday party next spring.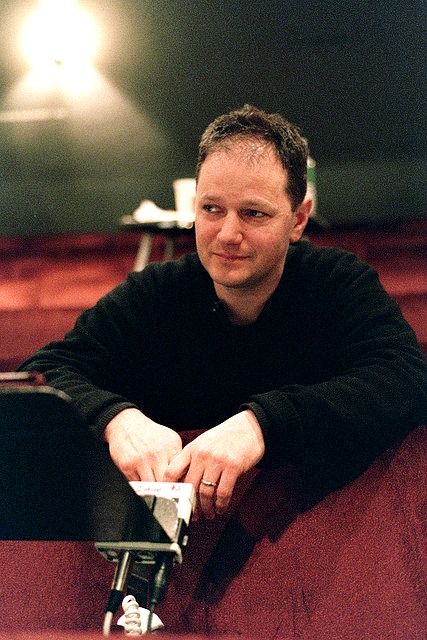 Solomon added that in addition to the economic downturn in the late 1980s and early 1990s, many theater and dance companies brought in a corporate management model that moved them to expand, hire and show a line of economic growth. As a result, many arts groups floundered because they became more focused on raising money than making art.
Artistic Director David Herskovits, 49, who founded Target Margin in 1991 after training with Richard Foreman, said the arts crisis in part moved him and others to start a new wave of theater. But it had its challenges.
"We needed to find new ways to work," he said. "There weren't going to be big NEA (National Endowment for the Arts) grants. There weren't going to be big corporate sponsorships anymore, which has of course continued to be the case. I think that duress and that cycle of the field created a feeling of needing to make new work in different ways and together."
Photo: David Herskovits founded Target Margin Theater in 1991. (AOP Images)
Artistic Director Kristin Marting, 45, remembers how tough it was to get HERE Arts Center -- a then 13,000 square-foot space on Sixth Ave. between Spring and Dominick with three theaters, a gallery and a cafe -- renovated and opened in 1993.
"We knew we had an obstacle getting people to come west of Sixth Avenue and we had to really do everything by the seat of our pants," she said.
Actors, friends, technicians and volunteers pitched in to do the construction work and Marting helped lead a fundraising effort to raise the $350,000 they needed for the renovation. What they didn't raise, they borrowed. In 2005, the company bought the space at 145 Sixth Ave. and HERE Producing Director Kim Whitener says that's when the company's finances began to turn around.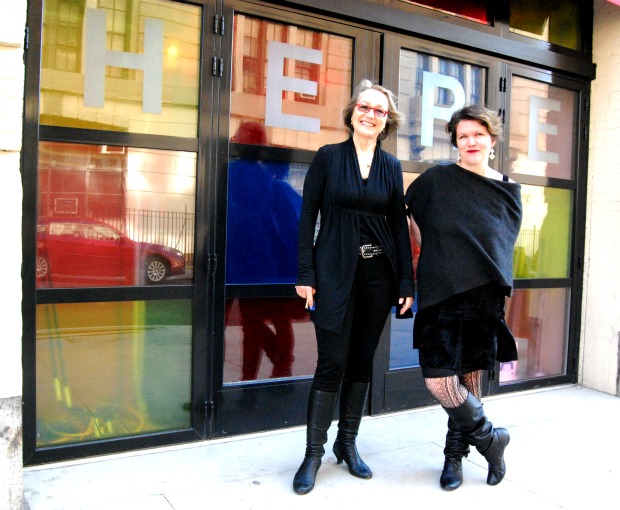 HERE Arts Center Producing Director Kim Whitener, along with Artistic Director Kristin Marting who co-founded HERE Arts Center in 1993.
"It was such an ambitious project. If we knew what we knew after we opened, we would have never done it," Marting said. "And it was sort of this naive, like, 'We can do this!' energy that we had that made HERE open."
HERE Arts Center is now a place for artists to develop their work through residencies and for other companies like New Georges and Target Margin to stage their own productions. (In March, Target Margin, for example, will stage a production of "Uncle Vanya" there.)
When their paths don't cross through work, the artistic directors at HERE, New Georges and Target Margin meet at a regular poker game where they discuss challenges and share business models for keeping costs down. Those include low ticket prices ($25 and under), working on a project-by-project rather than a seasonal basis, doing co-productions with other theater groups and getting funding from a variety of sources (individuals, foundations, the Department of Cultural Affairs, the New York Council for the Arts, and sometimes, the National Endowment for the Arts).
Bernfield says although she's thrilled that New Georges is doing well 20 years after the company was founded, she still hasn't figured everything out, like how to continue to draw audiences in the age of the internet.
"I think people really want to stay home and Netflix things," she said. "And really demanding an audience by saying, 'Look we have an event we're putting on, this is gonna be something you can't miss' is becoming more and more what has to happen."
Bernfield says her team of three permanent staffers and dedicated volunteers is doing just that, and works hard to make sure their innovative plays and events are worth coming out for: "If you're able to let people into a core of emotional reality or emotional truth, people always connect to it and can follow it, as long as there's that way in."
New Georges' 20th Birthday Bash is on Friday from 7 P.M. to 12 A.M. at 3LC Art & Technology Center at 80 Greenwich Street. Get more information here. See a slideshow of plays produced and developed by New Georges, Target Margin Theater and HERE Arts Center below.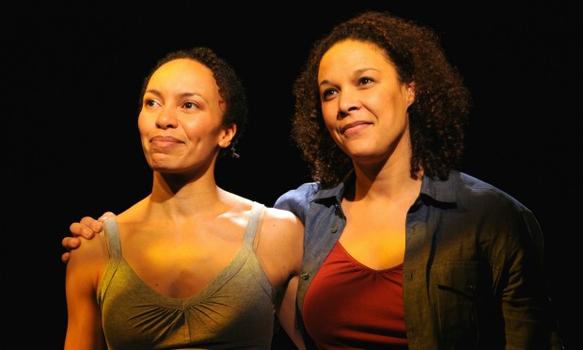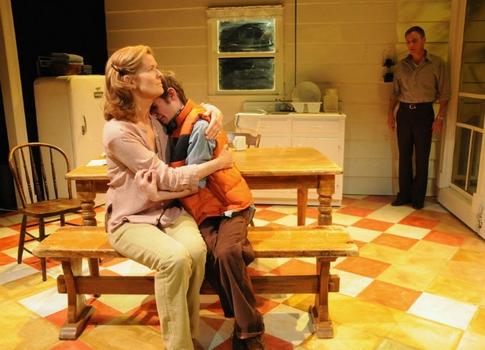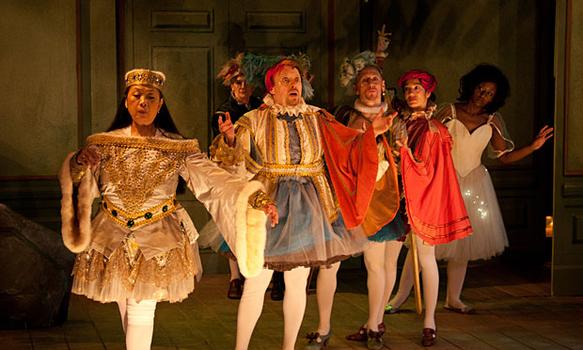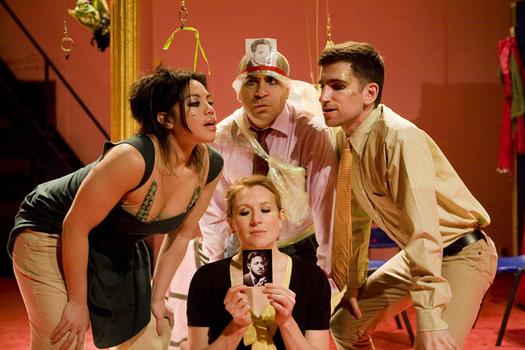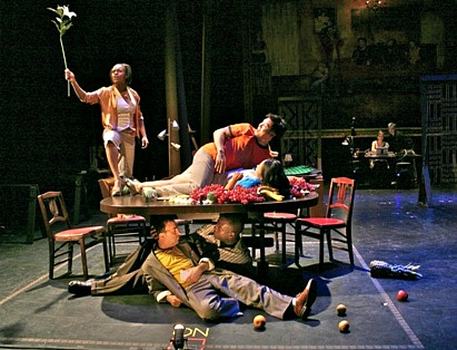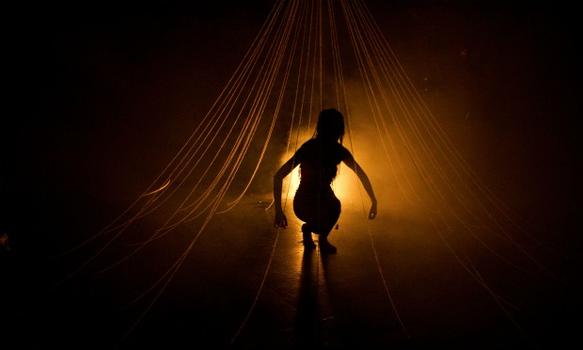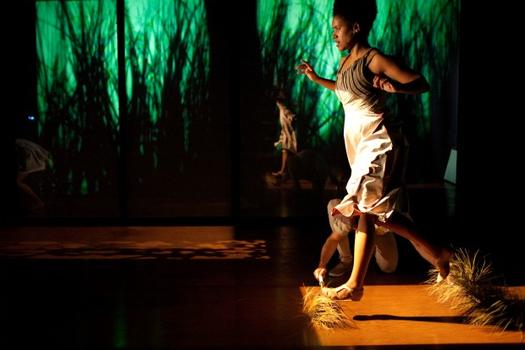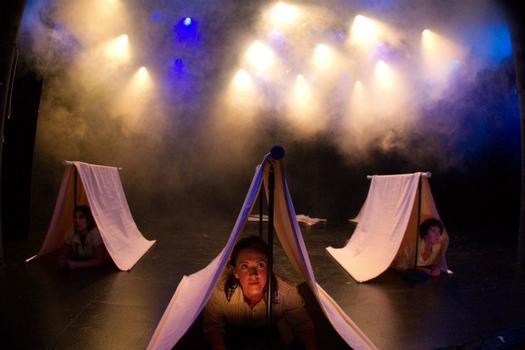 of