What to See (and Not to See) at the 2012 Whitney Biennial
Every two years, the Whitney Museum of American Art marks the rising tide in contemporary art in America with its Biennial show. This year the museum celebrates its 76th Biennial, which opens on Thursday. The exhibition was curated by the Whitney's long-time photography curator, Elisabeth Sussman, and freelance curator and writer Jay Sanders.
Sussman and Sanders chose to fill the vast four-floor exhibition with the work of 51 artists. The pieces are by a wide range of visual artists and filmmakers -- from Andy Warhol and Werner Herzog to the virtually unknown Chicago-based sculptor Cameron Crawford and the deceased painter Forrest Bess.
While the show is a survey of contemporary work that has no formal theme, the work at this year's Biennial did have a decidedly political feel to it: work touched on themes like Occupy Wall Street and the labor conditions of Pennsylvania miners, for example. And while some of the exhibition feels uneven and underwhelming, there are very bright and ambitious moments, some of which I've listed those below.
Five pieces to check out at the Biennial:
"THIS COULD BE SOMETHING IF I LET IT" by Dawn Kasper For her piece, the Los Angeles-based artist Dawn Kasper moved all of her worldly possessions to the third floor of the Whitney Museum. Littering the walls and floors where conventional "artworks" might hang are Kasper's televisions, books, bed, clothing, drawings, photographs, and the artist herself. Kasper, perhaps taking a tip from Marina Abramović, who sat in MoMA's atrium for three months in 2010, has been living in the Whitney gallery space since February, and will remain there for the duration of the Biennial's three-month run. During opening hours, the convivial artist will be holding studio visits, making new work and playing experimental music for viewers. It is the ultimate "process" piece -- unfolding, evolving, and becoming realized in real time and space. It also speaks to the all-too itinerant and nomadic life of the contemporary artist.
"Oregon Trilogy" by Kelly Reichardt Kelly Reichardt is a filmmaker that you might not normally expect to encounter in the Biennial, or at any fine art museum show. Her recent feature films, Meek's Cutoff (2010), Wendy and Lucy (2008), and Old Joy (2006) were all screened in movie theaters, and star recognizable actors in lead roles like Oscar nominee (and Marilyn Monroe look-alike) Michelle Williams. This year the curators of the Biennial's film program, Thomas Beard and Ed Halter, disregarded the outdated conventions that separate "art" from "non-art" films, and as a result, Reichardt's so-called "Oregon Trilogy" feels right at home in the Biennial. Each of the three films engage historical narratives of the West through the stranded, wandering lives of their subjects and feel distinctly American in that sweeping, lonely, and beautiful way. Reichardt's films will be screened at the Biennial from April 25 through 29.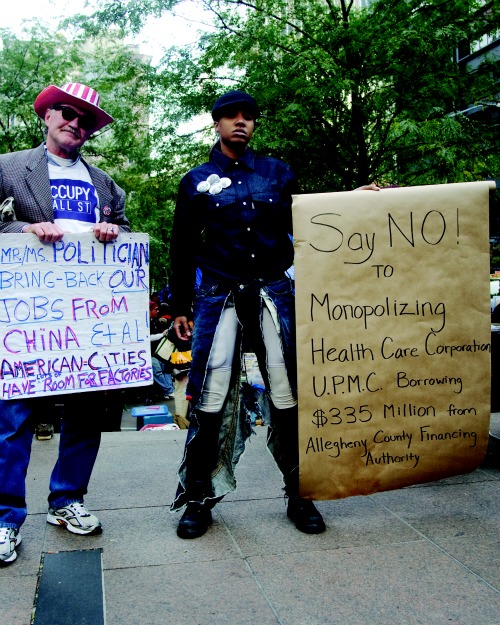 "There's No Place Like Home" by Andrea Fraser Andrea Fraser's "There's No Place Like Home" is a provocative and poetic catalog essay written during the Occupy Wall Street protests several months ago. Fraser is known for critiquing the exclusive models of commerce in the fine art world, and in her piece, she points out that many patrons of the Whitney, and buyers of costly art in general, are themselves financial industry executives. She also addresses the contradiction of staging an expensive museum show during still-tough economic times. The essay also includes reference to other artists who have have undertaken politically charged content in their work, from LaToya Ruby Frazier (see one of her photos at right) to Kate Levant. An especially timely piece to check out, given Occupy Wall Street's recent "Occupy Museums" call to action.
Photo: "Corporate Exploitation and Economic Inequality!" by LaToya Ruby Frazier
"Mary, Marie" by Moyra Davey Moyra Davey's "Mary, Marie" (2011) is art about the artifacts of correspondence. The piece is made up of 12 unfolded chromogenic prints pinned to the wall, which were taped, addressed, stamped and sent through the USPS to the artist's sister, mother and nieces. The "letters" are themselves photographs, each a close-up image made of a series of letters written by women's rights activist Mary Wollstonecraft, who is the mother of the author of "Frankenstein," Mary Wollstonecraft Shelley. The images show the tears, creases, nicks and scars from their snail mail journey, and each serves as a visual map of its own unique voyage. Davey is an artist who has long explored the fragments and markers of time: she collects diaries, old newspapers, and empty liquor bottles for her work. With "Mary, Marie," Davey captures a sense of time slowly and quietly moving forward through modes of personal communication.
"Untitled" by K8 Hardy K8 [pronounced KATE] Hardy is a founding member of the feminist queer artist collective LTTR, which has been active for over a decade. Hardy's photographs and sculptural objects have long critiqued gender conventions in advertising, and her work chosen for the Biennial also fits this bill. At first glace, Hardy's pieces look like fashion photographs of women's footwear. Take a step closer, and something goes immediately wrong: depth and orientation are confused and the colors take on a radioactive, murky look. To achieve this effect, Hardy used photogram techniques during their creation, as well as superimposing one photo on top of another. The resulting images, at once demented and cerebral, are hard to turn away from. Hardy will stage a fashion show during the Biennial's run (date forthcoming), which promises to share the same hedonistic critique.
One to walk on by at the Biennial:
Hearsay of the Soul by Werner Herzog It is hard not to be a fan of Werner Herzog -- his films are earnest, often emotionally wrenching, explorations into the capacity of the human spirit. However, his piece in the Biennial, Hearsay of the Soul, fell disappointingly flat. The piece is a series of simultaneous projections on multiple screens of paintings by the 17th century Dutch painter Hercules Seghers. As they fade slowly in and out of view the classical music of Dutch composer Ernst Reijseger plays. As a singular piece, the film is overly literal and undynamic. Seghers was a little-known contemporary of Rembrandt and his paintings have apparently had a profound effect on the life and work of Herzog, but he shouldn't imagine that demonstrating that literal influence alone is enough to convey meaning to viewers.
The Whitney Biennial opens this Thursday and runs through May 27. Check out photos of some of the pieces in the show below.

A word about the Biennial's film, dance and performance art pieces that will run throughout the course of the exhibition's three-month run: Members of the media were unable to see the majority of this programming, and thereby it was not accounted for in this round-up. Learn more about the film program here. Boxing Gym by Frederick Wiseman and These Hammers Don't Hurt Us by Michael Robinson will be worth the trip.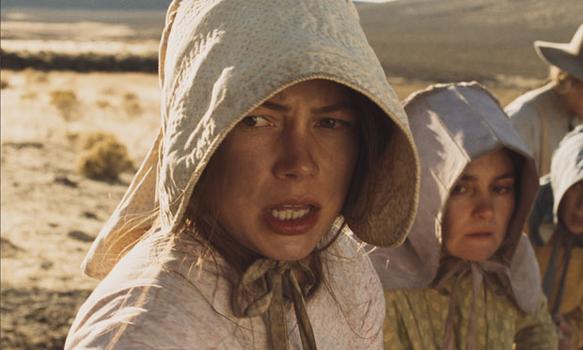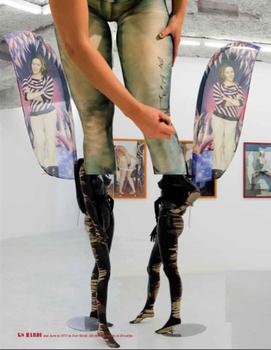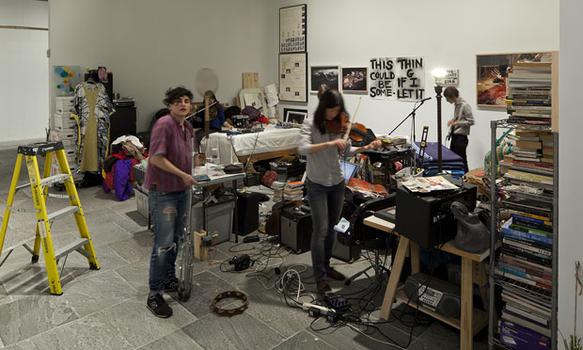 of