Residents Raise Concerns as Tappan Zee Bridge Construction Looms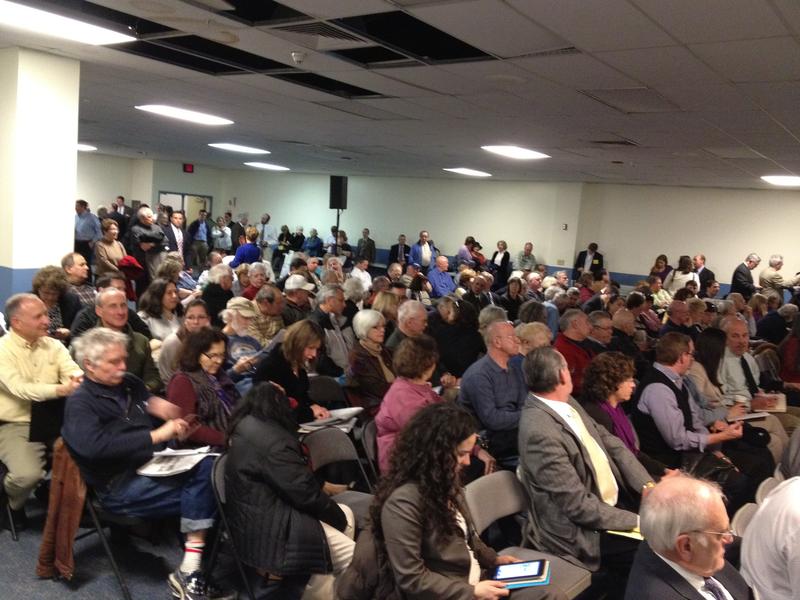 New York state needs to slow the Tappan Zee Bridge process down, add transit and make sure there are strong design standards in place, according to Rockland County residents at the first public hearing on the bridge project Tuesday night.
The state released its massive draft environmental impact statement (DEIS) totaling 23 chapters and 1,000 pages last month.
Catherine McCue, a resident of South Nyack, said she didn't have enough time to digest the report and wants the public comment period — currently scheduled to end on March 15 — to be extended.
"We are really struggling to understand what this is, and to have good knowledge about what is being proposed here," she said. "It's like a fast-moving train that's on a collision course ... because we don't have the information that we need to feel that this is in scale with the community which has to live with this project."
It's not clear what the new bridge will look like but the state is considering two options: an arch design and a cable-stayed design. The state has said it will design the bridge so as to not preclude transit — but that it can't afford to put transit on it right now.
C. Scott Vanderhoef, the Rockland County executive, said he was delighted that the governor was expediting the bridge but was concerned that mass transit wasn't a mandate on the project.
"You simply can't, at the last minute, think of some sort of mass transportation issue," he said. "Transit has to be a part of a consideration of this bridge – it cannot be an afterthought."
The state is using a design-build process, which it says will save money and time. But what that also means is that the company awarded the contract will have a certain amount of leeway with details — and that worries some residents.
"As the symbol of the lower Hudson Valley, there is no reason this bridge should not be the most beautiful structure in the New York metropolitan region," said Harriet Cornell, chairwoman of the Rockland County legislature.
Also packing the room: construction workers who don't want to see the project derailed. Ross Pepe is president of the Construction Industry Council of Westchester and Hudson Valley — although he said he was speaking on behalf of replacethetzbridgenow.org.
"Right now, New Yorkers need two things: jobs and a new bridge," he said. "The decision is easy…the decisive moment has arrived:  build the new Hudson River crossing now."
There will be another public hearing on the project Thursday in Westchester County.
Officials say the state aims to submit the final environmental impact statement to the federal government by July, and hopes to begin construction late this summer or early this fall.