Coney Island: Version 2.0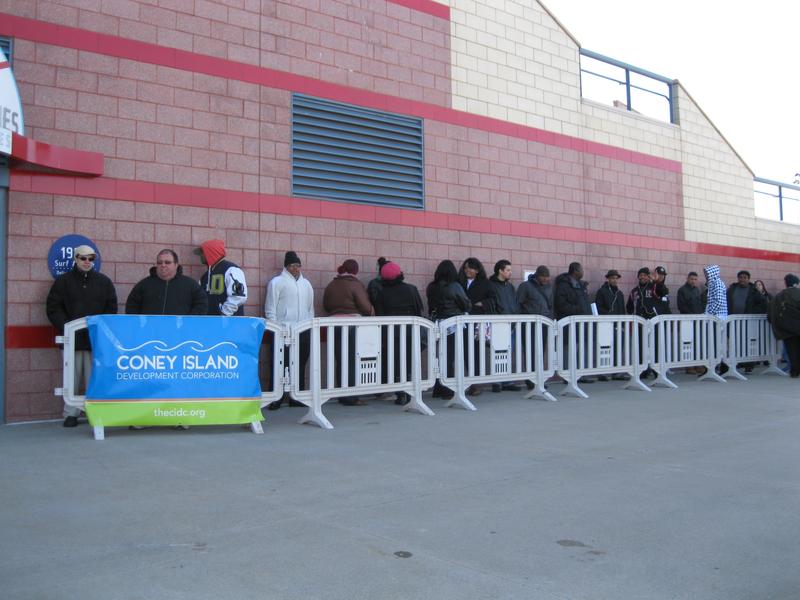 As spring nears, Coney Island is preparing for another season. Luna Park, the amusement park at Coney Island, is looking to fill 100 more positions than last year at the park and in the concession stands.
The first of four job fairs began on Tuesday at MCU Park, where job seekers were hoping to fill 450 open customer service, food and ride operator positions.
Other local businesses like Nathan's hot dogs will be looking to hire approximately another 100 people.
The outreach efforts are being led by the city's Economic Development Corporation.
Seth Pinsky, president of the EDC, said the annual job fairs help to serve many who live in that part of Brooklyn, where unemployment remains high.
"We wanted to create employment opportunities for residents here because there was such a need in the community," he explained.
This is the third year job screenings have been held in Coney Island.
Deborah Carter, president of the Tenant Association for Gravesend Houses, one of 9 complexes run by the New York City Housing Authority, supports the hiring efforts. However, she wishes more of her tenants could retain local positions. "They ask me why didn't we get the job?"
She said she hopes more residents will be hired this time around. More than 7,500 people live in public housing in Coney Island.
The city said last year, half of the jobs in Luna Park were filled by residents.
Alberto Zamperla, chairman of Central Amusement International, the boardwalk leaseholder, said the new employees will be helping to operate three new attractions this year — including a go-kart track and a 100 foot free-fall ride in the Scream Zone section of Luna Park. He said the company will be investing $15 million this year on improvements. In addition to rides, Zamperla said everything from signage to lighting will be getting a makeover before the season officially starts in May.
Zamperla and CAI also insisted that longtime boardwalk businesses like Paul's Daughter and Ruby's Bar and Grill undertake floor to ceiling upgrades as part of their long-term lease agreements.
Michael Sarrel, proprietor of Ruby's, said they're investing upwards of six figures this year to pay for all the remodeling, including installation of a new HVAC heating system, upgraded bathrooms, floors and counters. "Everything is being redone," he said.  One of the projects he's undertaking is re-purposing old planks he recovered from the boardwalk into the nearly 80-year-old bar.
"We'll use that historic wood to include a faux boardwalk on the ceiling," he said. "Our main focus is incorporating newness, but retaining some of the history."