I'm Changing My Name to Chrysler
Tuesday, February 28, 2012 - 08:00 AM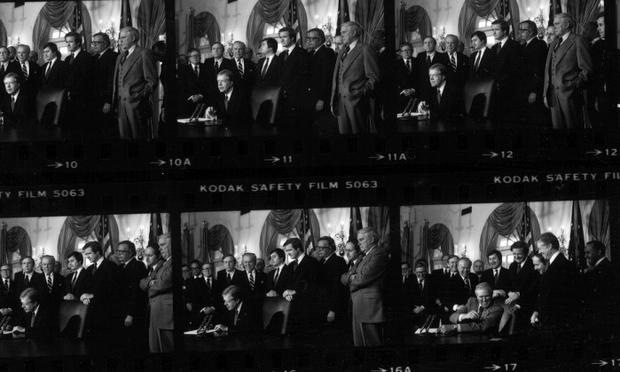 (Jimmy Carter Library, Atlanta, GA/archives.gov)
On the eve of the 2012 Michigan Republican presidential primary, Tom Paxton reminds us that people are corporations too.
Established in the year 2000, the New York Public Radio Archives are the station's physical link to its rich and storied past.

More

The Dave Sear Folk Music Collection

More

Recommended Links
In 1979, the Chrysler Corporation was in financial trouble. High gasoline prices, lagging auto sales, and international competition had led the Detroit automaker to the brink of bankruptcy. In response, Congress passed H.R. 5860, The Chrysler Corporation Loan Guarantee Act of 1979.
The legislation allowed the federal government to guarantee $1.5 billion in loans to Chrysler. It also provided an additional $2 billion in "commitments or concessions," which could be used by Chrysler for the financing of its operations.[1]
In this 1983 broadcast of WNYC's Folk and Baroque, Tom Paxton sings a live version of "I'm Changing My Name to Chrysler," a whimsical and biting commentary on the financial troubles the Detroit audio industry faced at the time. In 2008, Paxton rewrote the song to "I'm Changing My Name to Fannie Mae" to accommodate a more recent financial crisis.
Audio courtesy of The David Sear Folk Music Collection.
[1] Jimmy Carter: "Remarks on Signing Into Law H.R. 5860, the Chrysler Corporation Loan Guarantee Act of 1979," January 7, 1980. Online by Gerhard Peters and John T. Woolley, The American Presidency Project. http://www.presidency.ucsb.edu/ws/?pid=32978.
More in:
John Passmore is the Archives Manager at WNYC.