Mark Morris, Musical Explorer (and Choreographer), Returns to BAM
Starting Thursday, Mark Morris's company is dancing for three nights to two fascinating musical works, Beethoven's "Choral Fantasy" and Virgil Thomson's "Four Saints in Three Acts," at the Brooklyn Academy of Music.
Morris loves music.  Seems an obvious thing for a choreographer to love -- but this particular choreographer loves exploring music that is not necessarily "dance-friendly," and making it work for him.
"I think it was Mr. George Balanchine who said something about hearing the dance and seeing the music," Morris said in a recent interview (The Kennedy Center). "And I've always appreciated that sort of synaesthetic idea, that they're interlinked, that they're not necessarily dependent, but they're certainly symbiotic."
Morris was never one who subscribed to the idea, in vogue in the 1960s, that dance should be only loosely related to the music behind it. He loves the overt, specific connections that can be made between music and movement.
As for the music, the "Choral Fantasy" of 1808 is relatively short –roughly 16 to 18 minutes, depending on the performance – but it is huge.  It requires a full chorus, full orchestra and piano soloist.  If it isn't played in concert all that often, it is because there is nothing simple or practical about assembling a full chorus, full orchestra and solo pianist for a 16-minute piece.  But it is hugely appealing because of its melody: music historians are fairly certain that the tune that dominates the middle section of the piece is the precursor to Beethoven's most famous melody of many years later, the "Ode to Joy" that concludes the Ninth Symphony.  The piece has an extravagant nobility about it, and it had never occurred to me that anyone might want to dance to it.  I can't wait to experience it in a new context.  This will be its first public performance by the Mark Morris Dance Group.
You can listen to a clip from a classic old recording of the "Choral Fantasy" below (Toscanini conducts).
Morris's dance to "Four Saints in Three Acts" dates back to 2000, so, not a premiere – but it is performed infrequently.  The vocal work, music by Virgil Thomson, words by Gertrude Stein, was first performed in 1934 by a group called The Friends and Enemies of Modern Music.  It made history as one of the first and most popular American operas written completely in English, and done with an all Black cast (even though it was not about "Negro life," as it was then called).  The subject of the work is religious life, but not literally.  Thomson himself advised listeners that the work is an evocation of the "childlike gaiety and mystical strength" of those who devote their lives to a "non-materialistic end."  Which could be said of dancers, couldn't it?
You can hear a clip from "Four Saints in Three Acts" below (conducted by the composer in 1947).
Mark Morris Dance Group performs "Four Saints in Three Acts plus World Premiere (A Choral Fantasy)" at BAM this Thursday, Friday and Saturday.
Look below for a slideshow from the 2006 performance of "Four Saints in Three Acts" at BAM.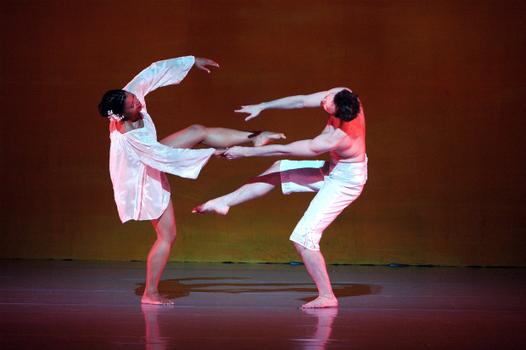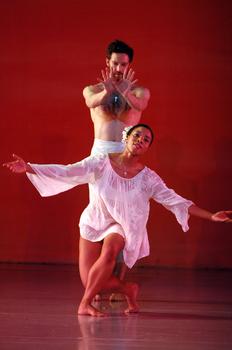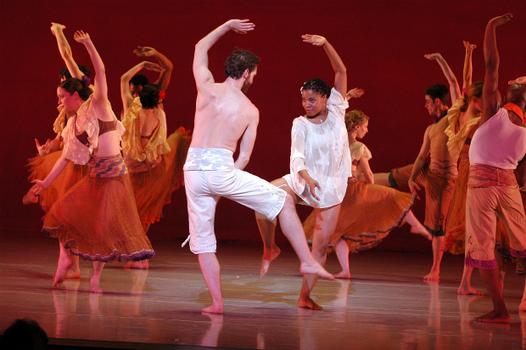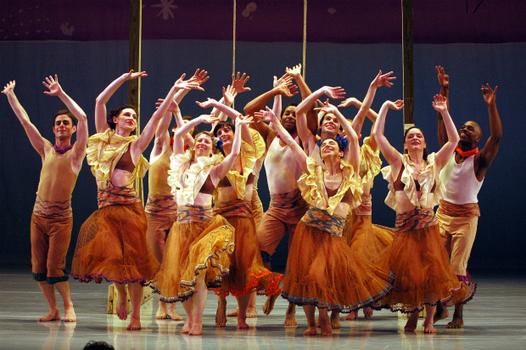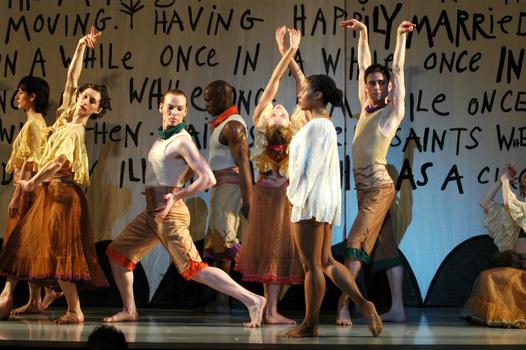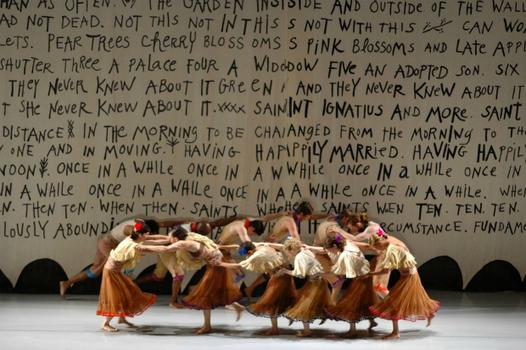 of