Last Chance Foods: Coffee Klatsch
American coffee culture has exploded in the past two decades. The brew draws devotees, as well as a flurry of opinions on how to make the best cup of joe. Some swear by French presses, while others are certain that vacuum brewers produce a superior beverage.
"It's less about one particular brewing method being the best for a coffee and more about following basic brewing procedures with any brewing method you use," said Katie Carguilo, an award-winning barista who is competing in the Northeast Regional Barista Competition and Brewers Cup on Saturday and Sunday. "Different methods will produce different results, and it's all about what you like the best."
French presses, for instance, make for coffee that is silkier because the metal filter does not capture as much sediment. What is certain, however, is that regular drip-brew coffee makers fail on one front.
"They don't get the water hot enough to brew the coffee properly," said Carguilo (pictured below), who works for Counter Culture Coffee. That results in cups of coffee she describes as tasting "flat." 
The proper water temperature should be between 195 and 205 degrees F.
"If you're making a cup of coffee at home, my general rule of thumb is to boil water, shut off the flame or the heating element, let the water settle down, and then brew the coffee with that water," she said.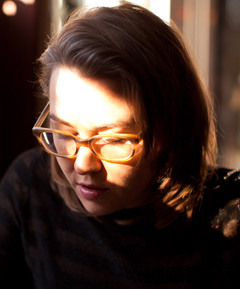 Carguilo also adds that it's important to use coffee that's freshly ground using a burr grinder, rather than a grinder with a whirley blade. That distinction is important enough that she recommends having a barista grind coffee using a burr grinder rather than doing it at home with a blade grinder. The reason? Burr grinders have an adjustable set of teeth that only cut the coffee once for even sizing. Blade grinders chop the coffee many times and result in grounds that are not uniform. That means the coffee loses its flavor more quickly and doesn't brew as well.  
Another basic principle to making the ideal cup of coffee is to use the correct grounds-to-water ratio. That's 1.6 to 2 grams of coffee for every ounce of water. A tablespoon is about 5 grams of coffee.
"It's all about the amount of dissolvable material — so what that water is actually going to be able to dissolve from the coffee grounds," explained Carguilo. "If you use too much coffee it won't dissolve enough flavor, and those cups of coffee will taste really sour and very papery. If you don't use enough coffee, it will dissolve too much flavor and those cups of coffee will end up tasting very bitter."
As far as storage goes, Carguilo dispelled another myth: Don't keep coffee in the refrigerator or freezer. Since it is very efficient at taking in moisture, coffee will absorb the smell of food around it.
"I like to think about coffee like I think about fresh bread," Carguilo said. "I only buy it in small quantities when I need it and try and use it within a couple of days because it really does get kind of stale and loses flavor afterwards." (But unlike bread, she does not keep it in the freezer.) 
Another lesser known fact about coffee is that it is a seasonal product.
"Coffee in general is the fruit of a cherry, and those cherries ripen once a year, after the coffee trees flower," she said. "And then it takes a couple of months to harvest all of the coffee cherries and process them and export them to the countries in which they're roasted. But in general the coffee will taste the best within about six months of making it to the roastery. After six months, it starts to lose its acidity or its fruitiness and freshness, and starts to take on more papery, woody tastes." (The photo by Fernando Stankuns below shows fresh coffee cherries in Brazil.)
That means that Brazilian coffee, for instance, may not be available year-round. To the relief of caffeine and coffee addicts, there will never be a month when in-season coffee is not available though.
"The nice thing about coffee is that anywhere in the world at some point in time coffee is always being harvested," said Carguilo. "So we're never going to run out."