Local Farmers Say Spring Weather Has Sent Wrong Signal to Plants
Sunday, February 26, 2012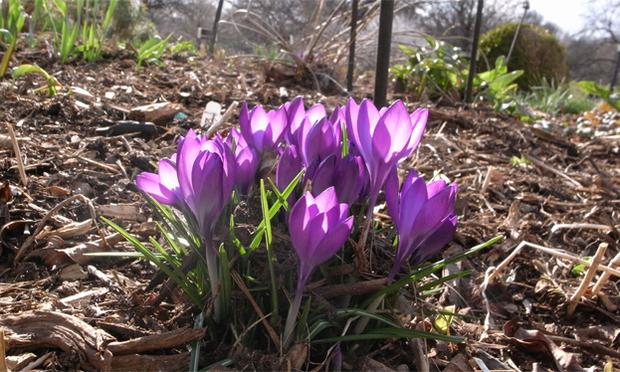 Spring officially begins next month, but uncharacteristically warm winter is sending a different signal to the area's plants, according to local farmers.
Ken Migliorelli of Migliorelli Farm in upstate  New York said it's the warmest season he's experienced since 2010, when trees were in full bloom by mid-April, nearly a month premature. The sap in the trees on his Tivoli, N.Y. farm have started to flow, he said, setting the stage for early budding.
"When it gets to a certain temp, you'll lose buds, which [means] you'll end up losing fruit," Migliorelli said.
But there is an upside to the warmer weather: more foot traffic through the city's farmer's markets. Migliorelli says he's seen a 30 percent sales jump over the previous winter, and he's already planting spring vegetables.
"We actually planted peas February 20," Fargione said. "And that's the earliest I've ever put peas in the ground."
Researchers say they'll be studying what long-lasting effects — if any — this winter will have on area growers. But right now, there's not much farmers can do but watch and wait says, Michael Fargione, a Regional Fruit Specialist with Cornell Cooperative Extension of Ulster County.

"If we have a very early spring, the odds we will have of killing frost after tree growth has started is higher," Fargione said. "There's no way to predict whether that's going to be the case."
But after flooding caused by Tropical Storms Irene and Lee last year, local farmers say the mild  winter has given them a chance to recover and reassess.

John Gorzynski, who has owned Gorzynski Farms since 1976, said he lost about 70 percent of his crops in the flooding that  followed the storms. An winter with barely any snow on the ground or ice on the lakes and rivers  has allowed him to get back to work, he said.

"It's given us time during the winter months when you can't be doing restoration type work to be doing that type of work," Gorzynski said. "Putting the fields back together again, and getting debris removed and fences back up."
More in:
Tracie Hunte, Assistant Producer, WNYC News

Tracie Hunte is an Assistant Producer in the WNYC Newsroom.