Amiri Baraka Reads "The Revolutionary Theater"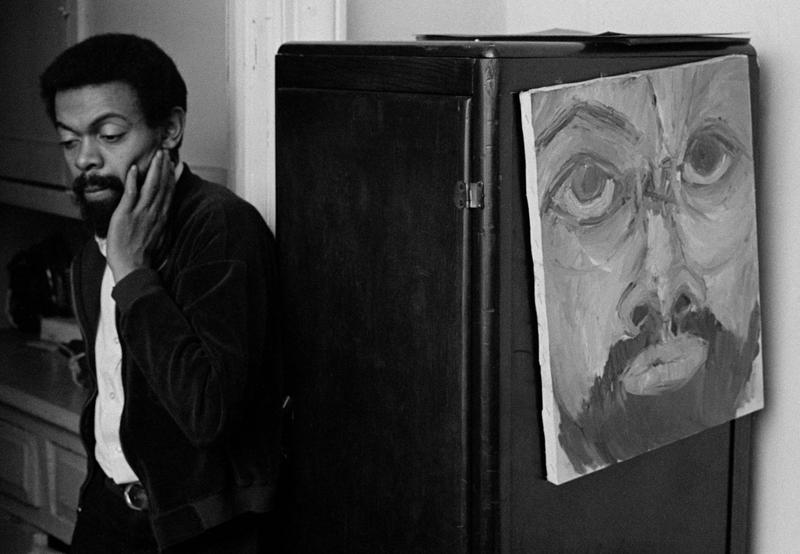 Amiri Baraka died January 9th after weeks of failing health. He was 79. A playwright, poet, critic and activist, Baraka was one of the most prominent and controversial African American voices in the world of American letters.  Speaking at the Overseas Press Club ( and airing on WNYC) in 1965 following the release of his Obie award-winning play The Dutchman, Baraka presented himself as a no-nonsense artist who was not about to compromise his message for anyone. The talk catches Baraka (still known as Leroi Jones) at the height of his radical voice in the 1960s and is critical because it was delivered just four days before the assassination of Malcolm X.
The writer and activist LeRoi Jones (who would later be known as Amiri Baraka) speaks here on February 17, 1965, four days before the assassination of Malcolm X, an event that catapulted him from a charismatic Greenwich Village maverick into a radicalized black nationalist in Harlem.

We hear the writer at a pivotal time for himself, and the country at large. By the end of 1965, Baraka will have divorced his wife, Hettie Jones (née Cohen), who was white; embraced a form of Black Islam; changed his name; married the poet Sylvia Robinson (later known as Amira Baraka); and moved uptown to open the Black Arts Repertory Theatre School.
At the time of this recording, Baraka was already considered one of the country's most promising new playwrights and an eloquent, fiery voice in racial politics; his Obie Award-winning play "Dutchman" had just finished a year-long run, and his commissioned essay, "The Revolutionary Theater," had just been rejected by The New York Times, prompting the Overseas Press Club's invitation to read it here at one of their weekly luncheons. The reading is followed by a sometimes contentious discussion.
The essay, also rejected by The Village Voice, and later published in Black Dialogue, proposes a "revolutionary theater" that "should force…change," representing "food for all those who need food…a weapon to help in the slaughter of these dim-witted, fat-bellied white guys who somehow believe that the rest of the world is here for them to slobber on." 
Listening to the soft, measured, dead-serious tone in which Baraka conveys such sentiments, it is clear that much of what was considered incendiary in 1965 is today simply a view -- whether our own or the world's -- that we take for granted. Even his theatrical conceits' most extreme imagery sounds eerily prescient to the contemporary ear: "We want actual explosions and actual brutality. An epic is crumbling and we must give it the space and hugeness of its actual demise."
His imminent break with the white literary world is foreshadowed throughout, as are links between culture and politics that have now entered the mainstream, though they sometimes lead him to conclusions that are still surprising:
Most white Western artists do not need to be political because usually, whether they know it or not, they are in complete sympathy with the most repressive social forces in the world today. There are more…fascists running around in the West today disguised as artists than there are disguised as fascists, but…the word "fascism" has been made obsolete by the word… "Americanism."
Later, asked if the two were synonymous, Baraka explains that "Americanism is a little worse because [it] beat the Nazis,…it's stronger." And because, he adds, America's dedication to its stated ideals are "…a lie… as most of the people on the earth can tell you." 
Born in 1934 in Newark, N.J.,  Baraka attended several predominantly white schools before transferring to Howard University, where he developed an appreciation of the blues as a vital, influential art form, an understanding crucial to his work. There, Baraka was also "shocked" into realizing how "the Negro could be…led into self-destruction and…would not realize that it was…society that had forced him into [it]." After serving in the Air Force and visiting Cuba, Baraka first won public notice in the early 1960s, with a volume of poetry, Preface to a Twenty-Volume Suicide Note, a book of essays, Blues People: Negro Music in White America, and a series of acclaimed dramas. A 1964 feature article in The New York Herald Tribune dubbed Baraka the "King of the East Village."
By the late 1960s, Baraka had moved back to Newark and his poem "Black Art" (with the line "we want 'poems that kill'") was becoming a manifesto of the nationwide Black Arts Movement, with which he became associated. He also played key roles in several national and international black conferences and political efforts. In 1974, he rejected black nationalism and proclaimed himself a Marxist, eschewing his earlier separatism, telling The New York Times, "It is a narrow nationalism that says the white man is the enemy....[it] is sickness, criminality."
Despite Baraka's political evolution, his ability to inflame has seldom wavered. In 2001, he published "Somebody Blew Up America," a long poem attacking the violence of Western imperialism, several lines of which created a controversy the following year when he was appointed New Jersey's third poet laureate. Because the lines suggest Israel's foreknowledge of the September 11, 2001, attacks, and Baraka did not deny such claims, the state sought to unseat him. Since it lacked legal recourse, it chose to abolish the position altogether in 2003. In the meantime, the city of Newark had named Baraka poet laureate of its public school system.
One of the most influential and prolific writers of the 20th century, Baraka is the author of over 40 books of poems, dramas, essays, fiction, and music criticism. He is an inveterate activist, and the founder of many arts and political ventures. Baraka has served on the faculty of numerous colleges and universities, including SUNY Stony Brook, where he taught for many years. He is a member of the American Academy of Arts and Letters and the recipient of countless awards and grants. His position as a cultural icon is reflected in such wide-ranging projects as a collaboration with the hip-hop band the Roots, the co-authoring of Quincy Jones's autobiography, and his appearance (usually as himself) in more than a dozen films, including Warren Beatty's "Bulworth." For the past 20 years he and his wife have run Kimako's Blues People, a community arts space in Newark.
Audio courtesy of the NYC Municipal Archives WNYC Collection.