Knicks Lose to the Miami Heat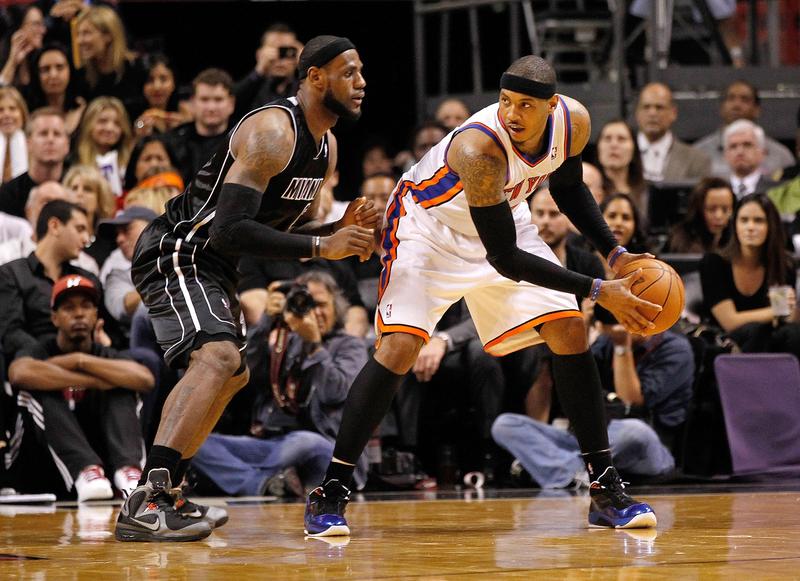 Jeremy Lin may have settled into his new downtown apartment but he looked anything but comfortable playing in Miami Thursday night.
Lin hit only 1 of 11 shots from the field for eight points and just three assists during the game. His eight turnovers accounted for half the Knicks team total as the Heat defeated the Knicks 102-to-88.
While saying all the right things during the pre-game interview to give Lin, the NBA's marketing dream, his props, Lebron James and the Heat no doubt welcomed the chance to put a damper on the Linsanity.
James scored 20, Dwayne Wade added 22, and Chris Bosh 25 as the All-Star Trio continued to dominate the Eastern Conference.  The Heat enter the weekend All-Star break with an eight game winning streak while the Knicks slipped back below .500 on the season.
As the media glare on Lin begins to dim, one bright spot may be newly returned forward Carmelo Anthony, who looked a bit more comfortable after sitting out the first two weeks of Linsantiy with a groin injury.  Anthony scored 19 points with seven rebounds. 
The newest Knick, J. R. Smith, also continued to impress with 14 points off the bench.
Lin, the unheralded, undrafted point guard, and Harvard grad, had been living the dream from his brother's and a teammate's couch  since coming off the bench earlier this month, to lead the Knicks to nine wins in 11 games.  He had been averaging 23.9 points and 9.2 assists with his aggressively creative style of play.
Still, Knicks fans hope Lin's new view of the Statue of Liberty from high up in the W New York Downtown Hotel, will provide some much needed Linspiration in the season's second half.