NJ Leaders, Others Seek Investigation of NYPD's Muslim Surveillance in Newark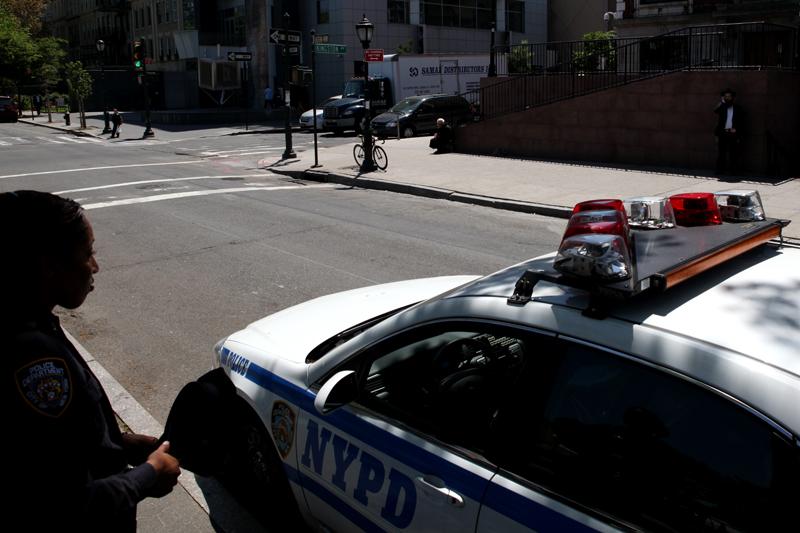 New Jersey lawmakers are joining the chorus of voices demanding an investigation into the NYPD surveillance of Muslims in Newark, N.J.
Senator Robert Menendez sent a letter Thursday to Attorney General Eric Holder and CIA Director David Petraeus demanding that they examine whether the NYPD improperly left New Jersey law enforcement officials out of the loop when it launched its monitoring operations of Muslim neighborhoods New Jersey's largest city.
The Associated Press reported this week that a 60-page file compiled by the NYPD listed "locations of concern" in Newark, all of which were Muslim cultural centers, shops, restaurants and schools.
"If it is the case that they were not informed, then something is desperately wrong when you have the police department of one jurisdiction of an entire other state come into a neighboring state and conduct such type of intelligence," said Menendez in an interview Thursday, "especially when that intelligence was driven not by any credible information of any violation of law, but simply by suspicion of a group because of their ethnic or religious background."
Several Calls for Investigation
In his letter, Menendez asks the federal government to "investigate whether appropriate procedures and protocols were followed with regard to informing New Jersey law enforcement officials about this operation."  His letter also requests an investigation about "whether the CIA was involved in operations in New Jersey, in addition to New York."
But NYPD Deputy Commissioner Paul Browne says all of the department's intelligence activities are will within the law.
"Not only are we meeting existing Constitutional requirements that exist everywhere in the country, but on top of that additional requirements under an agreement here in New York," he said.
On Friday, Mayor Michael Bloomberg defended the practice on his weekly WOR radio show. 
"The NYPD is trying to stop terrorism in the entire region," he said. "If we knew of a threat in Newark, we wouldn't say, 'Oh that's yours, you worry about it.'"
To settle of a federal law suit against the NYPD over its covert surveillance of activists in the 1960s, the police signed off on the so-called Handschu guidelines, named  for one of the plaintiffs. The guidelines were designed to protect the Constitutional rights of the general public but  were loosened in the aftermath of  September 11 attacks. 
Still, Congressman Bill Pascrell, Jr. of Paterson, NJ, and others rushed to back Menendez's call for an investigation.
"There's no reason for the NYPD to be engaging in a surveillance operation in New Jersey without first communicating with the U.S. attorney, the State Police and local law enforcement agencies," Pascrell said in a written statement.
Pascrell said he was equally concerned with what might have been ethnic or religious profiling by police.
"If we were simply looking into behavior which we had no idea was lawful or unlawful, that's really rolling the die, and that's when our fundamental principles suffer," Pascrell elaborated later in a phone interview.
Associated Press reporters Adam Goldman and Matt Apuzzo told WNYC on The Leonard Lopate Show that more than 30 members of Congress are calling on the Justice Department to investigate the extent of the NYPD's surveillance program.
Republican Governor Chris Christie has called on the New Jersey Attorney General to investigate the matter. The office of Attorney General Jeffrey Chiesa confirmed that "the matter is under review," but would not comment further. 
Meanwhile, the American Civil Liberties Union of New Jersey and other civil rights advocacy groups will be looking into possible legal claims for individuals who were under surveillance by the NYPD. Deborah Jacobs, executive director of ACLU-NJ, says there are potential claims for invasion of privacy, discrimination and racial or ethnic profiling.  They will also be investigating whether these claims can extend to people beyond Newark residents.
"We're concerned that Newark wasn't the only city that was infiltrated," Jacobs said.  "There are many large cities in New Jersey that have large Muslim populations, so Newark would not be the, I think, the first choice for any law enforcement investigation along these lines."
And Attorney Jethro Eisenstien, who represented the 1960s activists, says his legal team is back in federal court to press the NYPD to disclose the scope and scale of the department's intelligence program.
Growth of NYPD's Intelligence Division
Since early in his tenure as New York City police commissioner, Ray Kelly has sought to reinvent and enlarge the NYPD's Intelligence Division.  Law enforcement experts say Kelly sees that division as a rival to the FBI.  He hired a former high-ranking CIA official, David Cohen, to lead the division. Cohen has since assigned many members of the department overseas to help with counterterrorism efforts.
Menendez said any rivalry between federal and state investigators should be kept in check, and that it is a mistake for either group to proceed unilaterally when it comes to terrorism. 
"The only turf that all of our law enforcement and all of our intelligence agencies should be fighting for is the collective turf beneath our feet as a nation, not our jurisdictional turf, not our agency turf," he said.  "I'm of the view that the strongest intelligence is by the sharing of information, the sharing of resources and collaborative coordination."
New Jersey Says, New York Says
Newark Mayor Cory Booker says he was never informed by the NYPD about the surveillance.  Governor Chris Christie says he doesn't remember being told about the operations when he was the state's top federal prosecutor. 
"Certainly if the NYPD was over in New Jersey, I hope they were doing it in a way that coordinated with New Jersey law enforcement and federal law enforcement, so that we don't have people tripping over each other," said Christie in an interview on Fox Business Network Thursday morning. 
Deputy Commissioner Browne said the NYPD's  intelligence gathering was done with the complete cooperation of Newark's police department. "Newark police officials were aware and briefed, before and afterwards, and  a Newark police liaison accompanied NYPD personnel," Browne elaborated.
A Newark official told the AP that Garry McCarthy, who was the Newark police director at the time and now heads the Chicago Police Department, received the 60-page report from the NYPD but never distributed it to anyone else.
McCarthy may have been the only individual fully apprised of details.  Current Newark police director Samuel DeMaio, who had been deputy chief of the department under McCarthy, said his understanding was Newark police officers drove members of the NYPD around Newark, but was not informed about the particulars of the NYPD's surveillance plans. 
With the Associated Press