Cartoonist Jules Feiffer Probes the Intellectual Depth of Comics and Pop Culture, 1965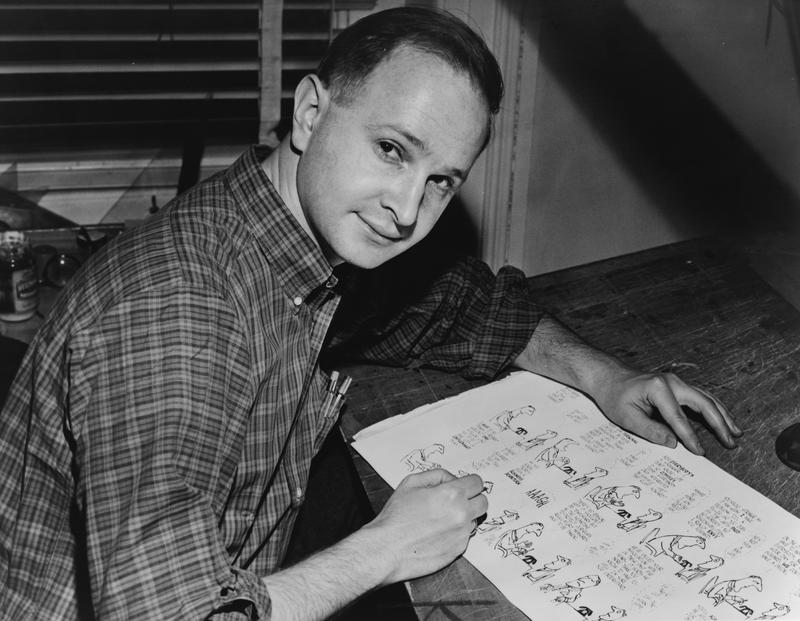 At a Books and Authors Luncheon featuring such literary establishment figures as the historian Arthur Schlesinger Jr. and the literary critic Alfred Kazin, a 36-year-old cartoonist gets up to speak. 
"In his book, Starting Out in the Thirties, Mr. Kazin cites some of the writers who influenced him as a boy. They include Blake, Lawrence, Emerson, Whitman. The writers who influenced me as a boy were Jerry Siegel, author of "Superman"; Bob Kane, author of "Batman";  Jack Cole, author of "Plastic Man"; and Will Eisner, author of "The Spirit.'"
Thus Feiffer signals a shift in the critical discourse shaping this country's arts at the time. Known then as the satiric cartoonist for The Village Voice, puncturing pomposity with his scratchy yet somehow sinuous-looking line drawings, Feiffer both delineates the growing  interest in pop culture, how we "take the pulse of a time by its second-rate arts," while at the same time issuing a prescient warning of how elevating such products of mass media entertainment will lead to a culture based on "ersatz nostalgia."
Born in 1929 to immigrant parents, Feiffer was obsessed with cartooning at an early age. By 16, he was apprenticing to Eisner and two years later began his first comic strip, "Clifford" (1949-51), though after a two-year stint in the Army, his art took a more satiric turn. In his 42-year run in The Voice, his strip eschewed the easy targets of Southern bigots and red-baiting politicians to focus on what he saw as members of the smug East Coast intelligentsia, on faux hipsters and self-absorbed feminists as they struggled to deal with the social upheaval and searing conflicts of the day.
Looking back, he recalled: "It was easy to go after the bigots. And I do that too from time to time. I mean, the open bigots. But it was the white liberals who were not being dealt with." Not content to be "merely" a cartoonist, Feiffer branched out into illustration (his drawings for Norton Juster's The Phantom Tollbooth are considered as classic as the text itself) and theater, where his play "Little Murders" was produced in 1967. In 1971, he wrote the screenplay for "Carnal Knowledge," a landmark movie of that decade, about which The New York Times wrote:
Although "Carnal Knowledge" is often pricelessly funny and accurate, it is about as warm and lovable as a confession made on an analyst's couch. That is to say that warmth and lovability are beside the point of the film, which is merciless toward both its men and its women in order to reach some kind of understanding of them, of their capacities for self-delusion, and for the casual infliction of pain.
Feiffer also published one of the earliest graphic novels, Tantrum (1979).
But it is still as a social critic with a pen that he is most well-known. In 1986 he was awarded the Pulitzer Prize for Editorial Cartooning.
More recently, he has turned his attention to children's literature. Followers of his often corrosive cartoons and dramas may be surprised to find such a gentle and, at times, even whimsical sensibility. He explains:
Kids' books allowed me to let out what my children and my friends saw but my readers and my theater audiences never got a look at, which was this other side of me. What I loved about it, in addition, was it allowed me to go back to my roots and take off from the Sunday supplements I loved as a kid. Because books like Meanwhile… (1997) and books like The House Across the Street (2002) are basically cribbed from the Sunday comics that I read as a kid.
Audio courtesy of the NYC Municipal Archives WNYC Collection.