In Brooklyn Enclaves And Beyond, Syrians Overcome Fear to Voice Opposition to Regime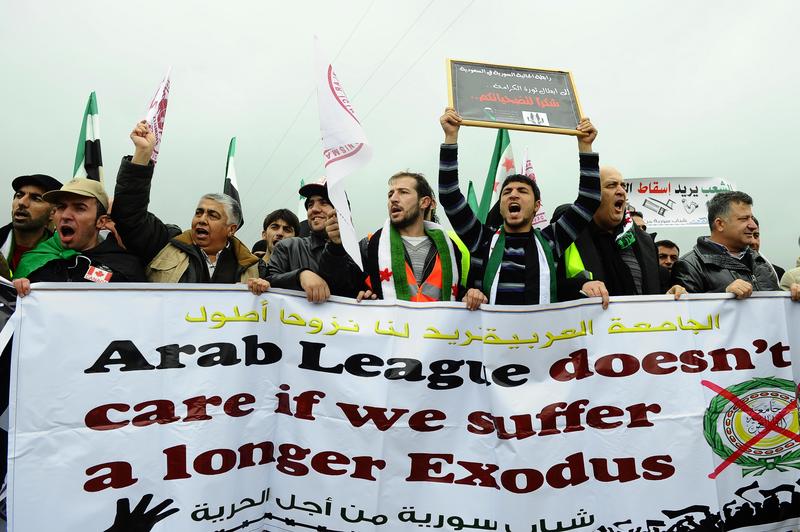 At a hookah cafe in Bay Ridge, Brooklyn, between puffs of flavored tobacco, Hassan, who is Syrian, watches a soccer game on his cell phone.  He nervously wraps a rubber band around his finger. The 20-year old has already lost a cousin and four friends since protests erupted in Syria 11 months ago.
Hassan, who declined to give his last name for fear that he will endanger his family in Syria, says his mother is constantly waiting for bad news from home.
"She's expecting a phone call at any second from her family to tell her 'your brother got killed, your sister got killed, your nephew,'" he said. "I'm talking to you, she could be getting a phone call."
President Bashar Assad's regime has cracked down on protesters across the country, harshly shelling the center of the opposition in Homs, where hundreds have died. The U.N. estimates 5,400 people have been killed by the regime, but activists argue the death toll is more than 7,300.
Hassan is from the coastal city Latakia, but has lived in New York for 10 years. He says a cousin defected from the army 4 months ago when he was asked to kill civilians. Hassan says he hasn't heard from him since, and thinks that he is probably dead or in jail.
Hassan goes to protests every week in the city and has become active on Facebook — posting videos and opinions critical of the Assad regime.
He had returned every summer to Syria, but because of his public dissent abroad, he fears returning. Still, he has no plans on stopping, saying he has to exercise his freedom of speech. And he's not the only Syrian exile to feel this way.
Fehmi Khairullah, 52, left Syria in 1995. As he explains it, for years Syrians abroad were afraid to publicly criticize the regime out of fear that their family in Syria will be targeted, interrogated or imprisoned. "People are scared, and moreover if they want to visit the country they will be incarcerated and taken into custody from the airport," he said.
Khairullah, who was a doctor in Syria, now heads a protest group called the Syria First Coalition. It started with less than 50 members last March, when peaceful protests first broke out in the country. It has swelled to 600-700 members now.
They have held protests at the U.N. and around the city. Khairullah says once people saw the daily bloodshed in Syria they were compelled to join. "They had to come out of the dark and come in public and say we are against the regime and we need to regain our freedom and most important our dignity," he said.
The group met once a week in Clifton, N.J,, but has increased to meeting twice a week as violence has escalated. Members are heading to Washington, D.C., on Friday to lobby politicians to intervene and send medical and food aid to the country.
Khairullah praised Republican Senators John McCain and Lindsey Graham for publicly speaking out against the regime.
At the hookah cafe, Hassan also hopes there will be international intervention to stop the violence. "I really wish this is going to stop, that they will do a small step to save the people's lives, we don't want more people to get killed."