Cardinal Dolan: Lent, Like Spring Training
Baseball and Lent have about as much in common as cracker jacks and a communion wafer. But the head of New York's Archdiocese used America's pastime as a way to explain Lent – beyond giving something up for 40 days — to the congregation at St. Patrick's Cathedral on Ash Wednesday.
Timothy Cardinal Dolan gave his first mass in New York since returning from Rome, where Pope Benedict XVI elevated him and 21 others to the College of Cardinals on Saturday to a packed church.
His message focused on the opportunity for spiritual renewal during the Lenten season, much like spring training provides for baseball.
"Good news is spring training for the Yankees has begun, right" said Dolan, who explained the team is now concentrating on the essentials of baseball, getting back to basics.
"Lest you think your new Cardinal has flipped his lid in talking about spring training for the Yankees on Ash Wednesday, I simply point out that Lent is spiritual spring training," Dolan said.
Stressing the themes of prayer, penance and charity, Dolan said Lent gives Catholics 40 days to get back to the essence of Christian living.
"Our enemy is not the Boston Red Sox. Our enemy is not even the St. Louis Cardinals. Our enemy is Satan and sin and selfishness," said Dolan adding that the victory on Easter was not a pennant or a World Series Championship, "our victory is eternal life."
Dolan then blessed the ashes, which are marked on the foreheads of worshippers as a symbol of repentance.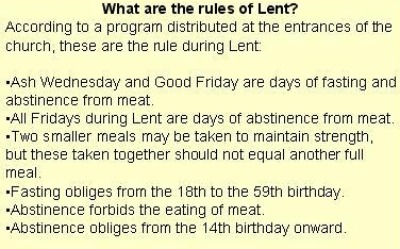 The mass was well received by worshippers who came from New York and beyond.
"Beautiful, I cried as a matter of fact," said Josephine Mazzara, 39, who came from Astoria, Queens with her husband Sal and their two children, Gabriella, 9, and Sal Jr., 12.  "My husband looked at me and asked, 'Why are you crying' and I said, 'Because it's very special.'"
Arturo Marin was there with his new wife Karen. The couple came from Mexicali, Mexico, two days ago to celebrate their honeymoon in New York.
"We are very excited to be in a beautiful cathedral and the center of Catholicism in New York," he said.
Marin added he would never forget this day, seeing the new cardinal, being New York for first time and it was also his birthday. He turned 42.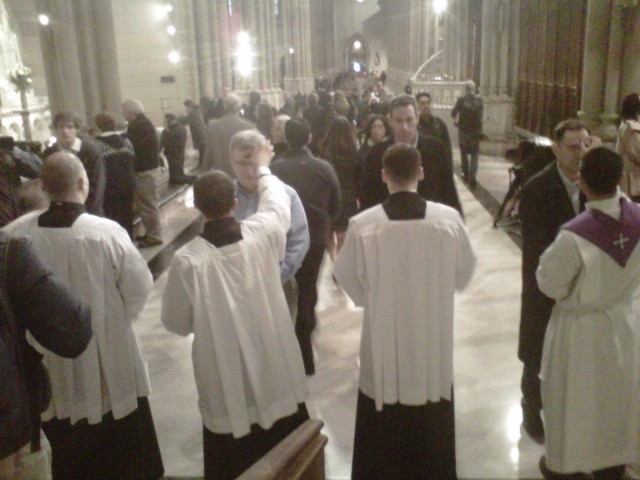 (Photo: People lining up for the blessing on Ash Wednesday. Brigid Bergin/WNYC)