Niche Market | Stained Glass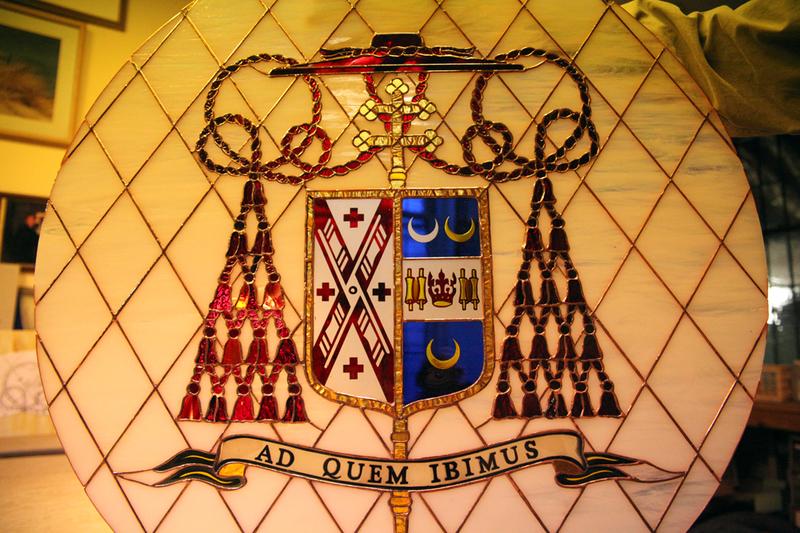 New York is a city of specialists from foodies to academics, laborers to shopkeepers. Every Wednesday, Niche Market will take a peek inside a different specialty store and showcase the city's purists who have made an art out of selling one commodity. Slideshow below.
Sunlites Stained Glass
114-24 Rockaway Beach Blvd.
Rockaway Park, NY 11694
Timothy Dolan's elevation to the status of cardinal in the Catholic Church on Saturday has had far reaching effects — even on the interior architecture of Saint Patrick's Cathedral. The Catholic rituals of heraldry dictate that a circle of stained glass illustrated with Dolan's coat of arms be installed in the ceiling of his private sacristy — the room where sacred vessels and vestments are kept.
Stained glass craftsman Patrick Clark, 58, owner of Sunlites in Rockaway Park, Queens, was tasked with creating the ecclesiastical artwork. On Friday, the pony-tailed Clark was busy at work bonding hundreds of tiny pieces of colored glass together, like an exceedingly fragile jigsaw puzzle. As a "very religious pagan" and a practicing Catholic, Clark says the ability to express his faith through art and participate in a 2,000-year-old tradition is the most exciting part of his occupation.
"The whole history of the Church is about being a patron to the arts. Whenever you think of anything religious, or you picture a saint, or you picture heaven, or the nativity, all you're seeing is something some artist painted, and in most cases artists that were commissioned by bishops and priests and the church to draw stuff," he said.
Clark fell in love with the artistry of stained glass while treasure-hunting as a teenager in Vienna, Austria. His family moved to Europe, from Spokane, Washington, for his father's job with the International Atomic Energy Agency, and he spent his free hours tromping around abandoned villas and buildings, rescuing stained glass windows. After returning to the U.S. for college, Clark took a Parks and Recreation class on staining glass. It started as a hobby while he worked with troubled youth, and eventually he opened a small shop and the craft became his full-time job.
Clark arrived in Rockaway Park over 25 years ago for a job — restoring the windows of St. Rose of Lima Parish — and never left. He fell in love with the unique geography of the Rockaway Peninsula, nestled between the Atlantic Ocean and Jamaica Bay.
"Brooklyn is the City of Churches and a lot of the work is church work. I just found lots of things to do — Spokane doesn't have nearly so many churches," Clark said.
Sunlites is housed in what was once a salty Irish pub. Clark kept the bar, but now instead of doling out pints it serves as a display area for his secular and sacred glasswork, as well as jewelry by local artists. About half of his clients are churches and temples needing restoration, the rest are residential customers who desire new stained glass designs for their homes. Depending on the complexity, the price of a new stained glass window could be anywhere from a few hundred to tens of thousands of dollars.
Clark has three full-time employees and a few more who work part-time. Following the legacy of craftspeople before him, Clark means to pass on his trade. Chris Dyson, 32, saw an ad for an apprenticeship in the Rockaway's local paper, The Wave, back in the late 1990s. "I came in and started sweeping and have been here ever since. I've learned how to do so many different things," he said, while using a thin blade to restore an old church window.
For the most part, stained glass artists don't actually "stain" glass. The word "stain" refers to an obscure technique used to create a gold color sometimes used for halos. Clark purchases colored glass from U.S. and European companies, then designs and fabricates his art.
Before starting work on Cardinal Dolan's coat of arms, Clark did substantial historical research on each symbol requested by Dolan, which include crescent moons, scrolls, a red hat and tassels.
"A bunch of different elements have to work together so that the final project is magical, which is always what we're trying to do—make some magic."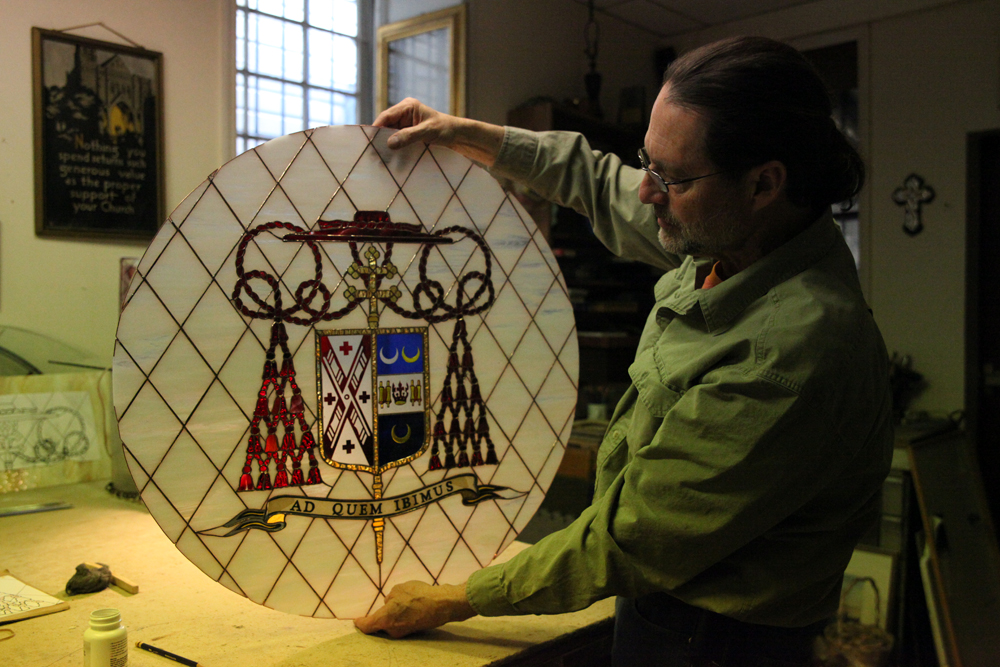 Interview with Patrick Clark, owner of Sunlites Stained Glass.
What are the symbols on Timothy Dolan's coat of arms?
In the center you've got the shield, which is like an old armor shield, which has a big cross with the windmill from New York, for the archdiocese and on the other side, his personal symbols which are the crescent moon, two are gold and one is white, and then a red crown in the middle with two ancient looking scrolls, one on either side of the crown which symbolize the books of Timothy. And then it's surrounded over the top with a really big red hat, the galero, with these draping tassels coming down on both sides and a big bold cross right behind it, like a miter which really shimmers with iridescent gold glass. And underneath it all is a banner with his motto, because all coats of arms have a motto. He has a motto written in Greek, "Ad Quem Ibimus." It's a quote from the Bible saying "Where do we go?" And the answer is, "We go to the Lord."
What is the actual process of making stained glass?
What we do first is draw a design, which is drawing a pattern, in stained glass you call it a cartoon...That's the exact size of the stained glass. When you draw this, you must know every little piece you draw, you must be able to cut it out. Because you can only cut certain shapes out of glass...So I'll have a huge sheet of red glass, a huge sheet of gold glass, whatever, and we will get the glass, lay it over the pattern so you can see the lines through the glass and take a glass cutter.
So once you've made that cut you can pick up that piece of glass and it's still one piece — nothing happens until you try and break it. And then when you pull it apart or tap it or break it, the break of the glass follows that scratch line. So every piece you score it, you break it on that line, you cut all these little piece of glass, then you lay all the little piece of glass on that pattern we drew like a jigsaw puzzle, so you have all these little pieces, fitting together in the pattern. Then you take every single piece and you grind and carve the edges so they're not sharp anymore and then when that's all done you wrap every single piece of glass with a copper tape or a foil. This is the Tiffany style of fabrication.
Then you get a soldering iron and solder. Then you get liquid flux, which is a chemical which allows the solder to stick to the copper. You get a soldering iron, it's 425 degrees, and you melt the solder right on and it sticks to the copper and it doesn't stick to the glass. That's how the whole thing sticks together. You coat every little edge of copper around every piece of glass with this solder and it melts and as soon as you're done melting with a soldering iron it hardens up real quick, and that's essentially it.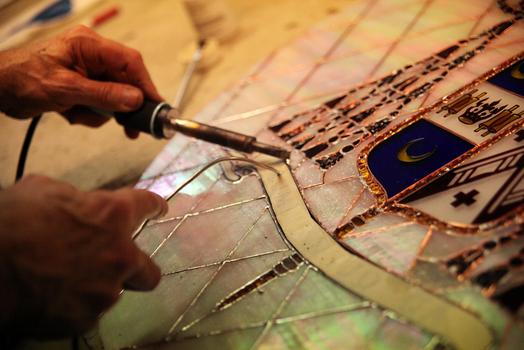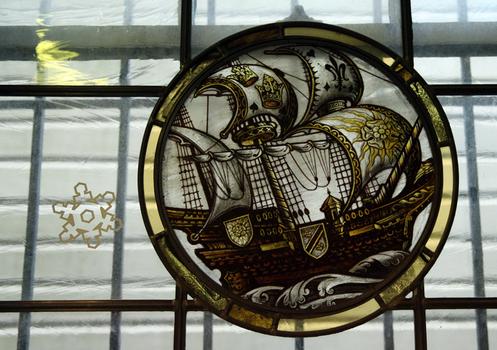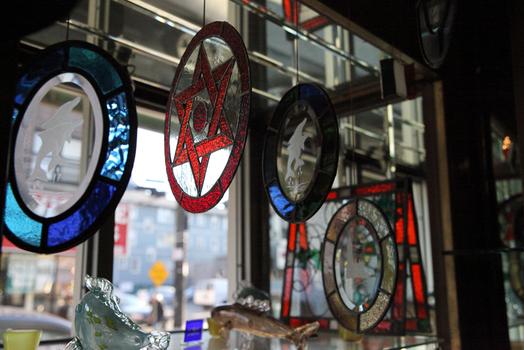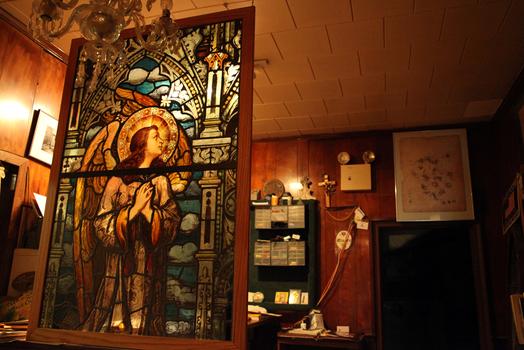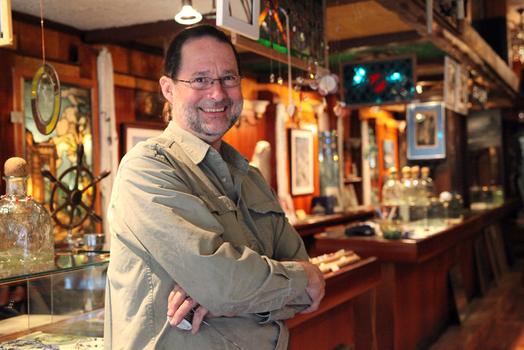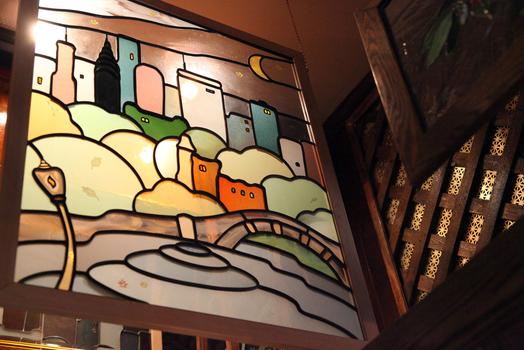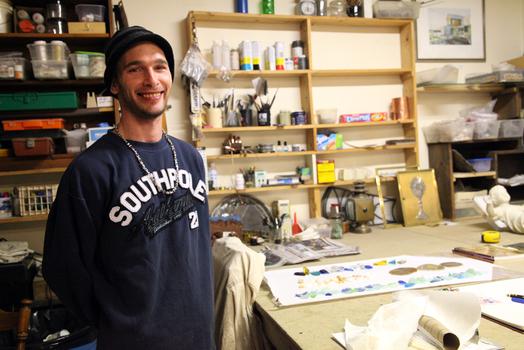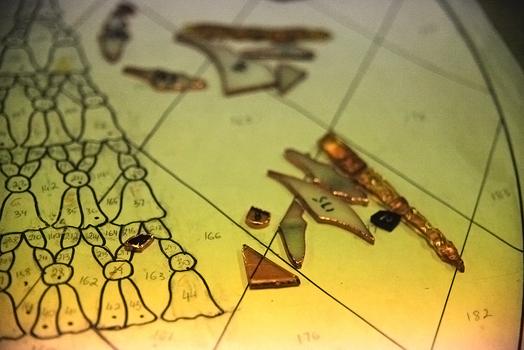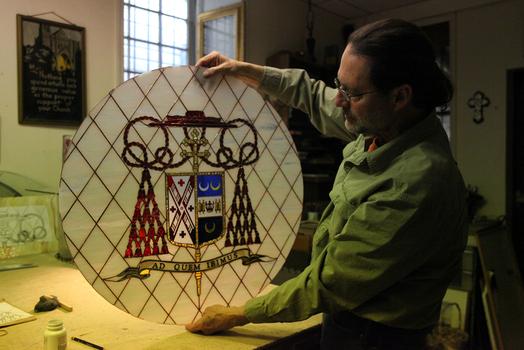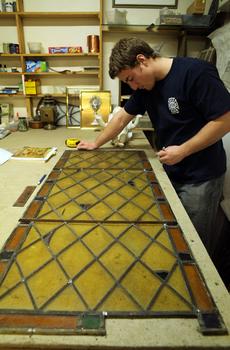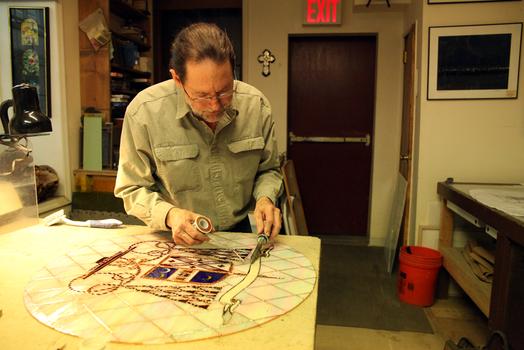 of