Mourners at Ramarley Graham Funeral Demand Justice
The funeral for Ramarley Graham, the 18-year-old, unarmed Bronx man shot by a police officer who said he thought Graham had a gun, was both a celebration of a young life cut short and also a call to action.
Hundreds of mourners packed Crawford United Methodist Church on White Plains Road on Sunday for the more than 3 hour service. The teen, who was known as "Marley" or "Elmo,"  was remembered as a jokester who adored music, animals and video games. His sister Leona Virgo said he could sometimes be irksome "he might leave the phone off the receiver after talking to his girlfriend" but he was also someone who could be relied on for all sorts of things, like hooking up a stereo or changing a light bulb and especially hanging out.
His cousin Selena Brown called Graham a romantic who met his girlfriend Jasmine on Valentines Day in 2008 and often walked her to school.
Civil rights activist Al Sharpton, who was supposed to eulogize Graham, instead spoke at the beginning of the service because he said he was also going to attend Whitney Houston's funeral. He called the killing in Graham's home an unnatural and inexcusable act. He said the shooting proved that the police can still operate beyond the realm of accountability. "If he's not safe, none of us are safe," Sharpton said.
When Sharpton vowed justice would be done, the crowd stood up and applauded.
The names of other New Yorkers also shot by police, like Amadou Diallo and Sean Bell, were mentioned by many who spoke and called for more accountability in the NYPD. "It seems like it always happens to us," said Reverend Harold Morris, Sr., and that sentiment echoed throughout the service.
New York City Councilman Larry Seabrook said he has attended a number of funerals for police officers. "I went because it showed a level of respect, duty and responsibility," Seabrook said.
Seabrook wondered why Mayor Michael Bloomberg and Police Commissioner Ray Kelly did not in turn attend the funeral. "It's about respecting human life and it's important that they should be here – where is your humanity?" Seabrook concluded by saying that Graham's life was taken illegally by an illegal act.
The NYPD has said the officer involved in the shooting and his sergeant have been reassigned to desk duty while the incident is being investigated. But Minister Kirstin John Foy and others at the funeral called for criminal prosecution in the case. Foy urged mourners to remember how they felt about Graham's killing the next time there is an election. "If this upcoming election is not about police accountability, then we will be here again and again," said Foy.
As the church sang "Amen" and concluded the service, an announcement was made about the funeral procession. Instead of going straight to Woodlawn Cemetery for the burial, the cars would be taking a detour to drive by Graham's former residence and the 47th precinct before continuing to the cemetery.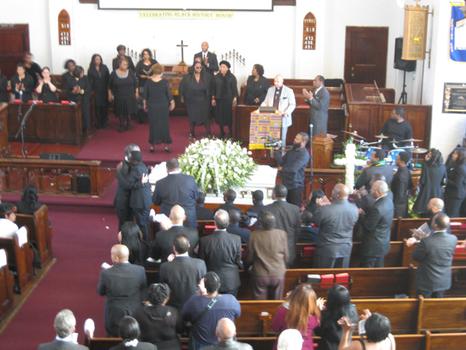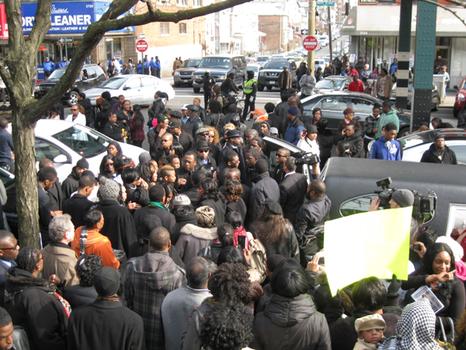 of