Who Had the Better Week—Cuomo or Christie?
Both rock stars in their own right, both trying to right their states' ships, and both building serious momentum for a potential presidential run. Every Friday, we'll look at who's week will look better on a résumé come 2016.
Chris Christie
Same-sex marriage
Both houses of the New Jersey legislature passed bills legalizing same-sex marriage in the state this week, but proponents didn't score enough votes to override Governor Christie's promised veto.
On the one hand, this might leave Christie room to run in 2016 as the red governor in a blue state, who defended socially conservative principles from an overreaching legislature—let the people decide, not politicians! On the other hand, suggesting that same-sex marriage should be on a ballot instead, because he thinks "people would have been happy to have a referendum on civil rights rather than fighting and dying in the streets in the South," causes Rachel Maddow to make this face.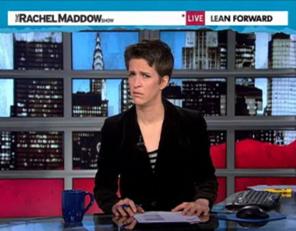 He's not going so far as to say the state should ban same-sex marriage, so he's taking a more moderate position than most of this year's Republican presidential candidates. But given that soundbite; the recent gains made by same-sex marriage advocates in California, Washington, and New York; and what a difference four years can make...
Government waste
Christie renewed calls for New Jersey towns to share more services, citing the duplication of services from town to town as the second leading cause of high property tax bills. Studies show consolidation saves taxpayer money. A record of saving money and streamlining government? That'll do.
Polling problem?
A new poll shows New Jersey voters warming up to President Obama, while Christie's favorability ratings in the state remain mostly static. Sixty percent of NJ voters view Obama favorably, up from 52 percent in November. Only 47 percent view Christie favorably.
The rock star status Christie enjoys nationwide kind of dilutes the importance of NJ polling, but it never looks good in a national election when your home state doesn't swing your way.
Half-staff for Whitney?
Christie caught flak for his decision to fly flags at half-staff at state government buildings in honor of recently-deceased NJ native Whitney Houston. Detractors argued that honor should be reserved for members of the military, first responders, and elected officials. And that she was on drugs, which, well, we'll leave you to decide the strength of that one. Ultimately, the whole thing's pretty ticky-tacky.
→ Chrstie's Week: -2
---
Andrew Cuomo
Education deal
Governor Cuomo brokered a deal between the state and its teacher unions regarding evaluation-based salaries. For some advocates, the deal is disappointing—even Cuomo admits there's more to be hammered out between the state and the union—but politically, Cuomo again gets to look like the adult in the room.
The move also saves $700 million that U.S. Education Secretary Arne Duncan said the state would have to return if it didn't fulfill its Race to the Top requirement. Money saved, compromise forged—Cuomo's executive résumé just got a little bit longer, even if New Yorkers remain split on his handling of the issue.
Mr. Popular
Cuomo's favorability rating remains high at 69 percent, according to a recent poll by Quinnipiac. Cuomo continues to have the best job rating of any governor in the seven states surveyed by Quinnipiac, viewed favorably by both Democrats and Republicans, men and women, urban and suburban. Another Quinnipiac poll out this week found voters trusted Cuomo more than the teachers' union. Great numbers to campaign on, if the honeymoon doesn't end too soon.
Foreclosure van to the rescue?
Last week, on the same day that NY Attorney General Eric Schneiderman agreed to a $26 billion mortgage abuse settlement—which Schneiderman held out on until it was strong enough for his liking—Cuomo directed the Department of Financial Services to "assist homeowners dealing with foreclosure or the risk of foreclosure."
Really? The same day?
And while Schneiderman helped secure billions of dollars in mortgage relief, and argued for a tougher deal than was initially offered, Cuomo's offerings is to "send staff and our command center," to tell homeowners to "seek help as soon as you have a problem."
Feels a little bandwagon-esque, no? And kind of silly, as State Assemblywoman Helene Weinstein observed, considering Cuomo's plan involves little more than an actual wagon. "All that I've seen from that unit has been a van," she said. "Obviously, sending a van with staff to talk to homeowners...isn't going to solve the problem."
Pursuing mortgage fraud looks good, but Eric Schneiderman's already fighting this battle—and it looks like he's doing a pretty good job. Looks more like an attention grab than anything else.
UPDATE: Cashing in on 'Linsanity'
On Friday afternoon Governor Cuomo announced yet another compromise, this time between MSG Network and Time Warner Cable. The standoff between network and cable provider has resulted in a blackout that kept Knicks fans across the state from watching sudden phenom point guard Jeremy Lin lead the team to a 7-game winning streak.
It's unclear whether Andrew Cuomo really did anything here (it's more a testament to "Linsanity" than anything else), but it looks like it's a victory he'll claim nonetheless. And it's good fodder for memes (h/t Megan Finn).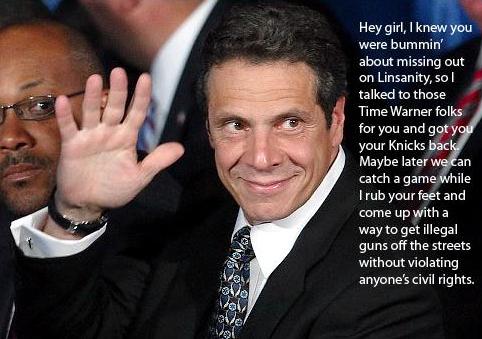 Verdict: Style points, but that's it
→ Cuomo's Week: +2
→ Final Score: Cuomo 2 — Christie -2