A story this week on "All Things Considered" on why the best chocolate is the one you eat last has me thinking about my own personal food preferences.  Feel free to chime in with yours.
I really liked the flat white coffee that I had at Toby's Estate in Williamsburg, Brooklyn earlier this week.  But I've been starting to sample more espressos, to get a sense of coffee in its purest form, and I have to say, the milk in my coffee is starting to get in the way.  I actually liked the espresso of decaf, single origin "Guatamalan Ghosttown" more.
I like the sesame and poppy seed bagels I bought from Bagelsmith in Williamsburg earlier this week.  They were dense and chewy and big, but not scary Ess-a-Bagel-big.  But I like the bagels from Park Slope's Bagel Hole more.  They've got a slightly tangy flavor that I love.  They're smaller, sure, but that's a good thing.  Perhaps that will lead the industry back from silly calorie-saving notions like scooped-out bagel halves.  (A place in Hoboken smashes them; customer testimonials say they taste better that way. Yeah, like melted ice cream tastes better than a big, thick scoop.)  
I like the banana and chocolate chip cake at the Little Cupcake Bakeshop on Prince Street, primarily because it's got Nutella frosting.  But I like the Dreaming Princess cake more.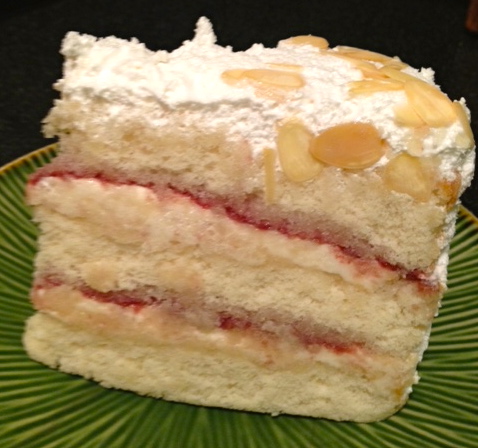 First, the girlie name: gotta love it.  "I'd like a dreaming princess cake, please, with a sprinkle of fairy dust on top.  Have the unicorn bring it over to that table by the window."  Second: it's an airy marriage of almond cake with raspberry preserves and vanilla buttercream in the middle, frosted with meringue.  The banana and chocolate chip cake was dense and moist...so moist, it was almost like eating the batter.  
Not that there's anything wrong with that.
I like the sweet-savory tastebud tussle caused by chicken liver mousse and strawberry jam.  I had some on a toasted sesame bagel (from Bagelsmith) this morning.  I got the idea from an old New York Times Magazine recipe for foie gras and strawberry jam sandwiches.   It helps that the excellent mousse, from The Meat Hook, was garlicky and super savory, and the strawberry jam from Brooklyn small batch jammer Anarchy in a Jar wasn't Smuckers-sticky-sweet.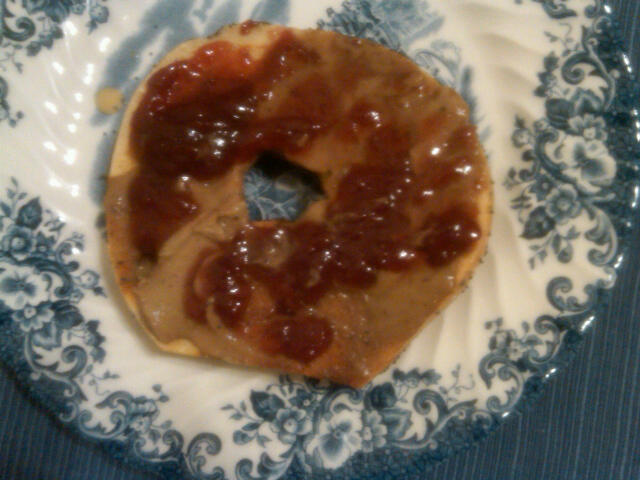 But — and you knew one was coming — I like the umami tongue wrestling that goes on between cashew butter and white miso (fermented soy bean paste) spread on toast.  This idea came from David Chang, of Momofuku, who wrote somewhere about the deliciousness of peanut butter and white miso.  The back-of-the-nose smell of the miso adds a whole new sensory level to breakfast.  Talk about about a wake-up call. 
We're big on "best of's" and comparisons.  What's in your "best of" category this week?