Tiny But Mighty: Pekingese Palacegarden Malachy Wins 'Best in Show' at Westminster
"It's the year of the Golden Dragon," said Dr. Iris Love, which traditionally brings "happiness, health, enjoyment, wealth, whatever you desire."  Last night at the Westminster Kennel Club Dog Show, at Madison Square Garden, it brought what she most desired, a Best-in-Show win for a 4-year-old Pekingese named Palacegarden Malachy.
Love, a well-known New York-based archaeologist and dog fancier, co-owns Malachy with Sandra Middlebrooks and his handler David Fitzpatrick.
Fitzpatrick says his luxuriant partner, the leading toy dog in the country for the past two years, is, "Just a great dog … in his full maturity. He's four years old and he's got character, he's got showmanship, he's got charisma, and he's a correct little Peke; I don't have to do much except take good care of him."
Best-in-Show judge Cindy Vogels, of Greenwood Village, Colorado, agreed.
"He was just on his game tonight," she said. "He's a beautiful dog. He just exudes breed type, but tonight he went out there on the floor, and was flawless … There's a standard of excellence by which every breed is judged, and he conforms to that standard so magnificently, plus his demeanor was flawless." 
So that you have a better sense of what Vogel's talking about, The American Kennel Club standard for the Pekingese includes these criteria:
The Pekingese is a well-balanced, compact dog of Chinese origin with a heavy front and lighter hindquarters. Its temperament is one of directness, independence and individuality. Its image is lionlike, implying courage, dignity, boldness and self-esteem rather than daintiness or delicacy.
At the post-show press conference, Vogels hefted the tranquil Malachy, who seemed interested only in the recreational potential of the wind screens on the television crew shotgun mics.
"Traditionally, the Pekingese is picked up by the judge, because when you pick them up, they should feel like a lot of dog," she said. "And trust me, he does."
There is a sense of quiet lavishness about Malachy. His opulent coat cascades over his small form, and his striking black mask peers out like the center of a sunflower. Fitzpatrick calls him, "very regal," in keeping with a breed that at one time (the Peke lineage dates back to the eighth century Tang dynasty) could be owned only by royalty.
A number of reporters commented on the contrast between the Pekingese, whose correct gait is somewhere between a roll and a waddle, and the speed and fluidity of most of his competitors for top honors.  And indeed, the Best-in-Show competition, which features the winners of the seven groups by which the American Kennel Club classifies dog breeds, is always a study in diversity.
Last night's lineup was no exception. Some upsets earlier in the show made the outcome even less predictable than usual. The Hound Group winner was a personable Wire-haired Dachshund named GCH Raydachs Playing with Fire, with a charmingly grave expression, and he definitely got the mosh pit vote from the excited Madison Square Garden spectators.
There was also a warm welcome for the Herding Group winner — a German Shepherd named GCH Babheim's Captain "Cappy" Crunch — possibly fuelled by a renewed interest in the breed following the publication of Susan Orleans' bestselling "Rin Tin Tin." "Cappy" was bred in Mexico, and one of his owners is a 15-year-old girl. 
The Non-Sporting Group winner was a striking Dalmatian, named CGH Spotlights Ruffian, whose traditional spots seemed almost to dissolve in the spotlights, making him a living representation of his name. Co-owner Barbara Lyons described him as loving and friendly, making him a great ambassador for this (Disney not withstanding) sometimes wary breed. 
There was a great show of support inside the "fancy" for Doberman Pinscher GCH Protocol's Veni Vidi Vici, who was winner of the Working Group. If you remember your school Latin, her name translates to "I came, I saw, I conquered," and breeder, owner and handler Jocelyn Mullins felt she was destined for greatness.
A win for this pair would have been a first for a breeder, owner and handler. And to my untutored eye, she was the dog to beat last night, standing with that kind of supernatural stillness common to great dancers.
Dog showing has become increasingly global, so it was not surprising to have one English entrant, Kerry Blue Terrier bitch GCH Perrisblu Kennislain's Chelsey.
Terriers hold the record for most Best-in-Show wins at Westminster, and she was a great example of this breed's combination of tensile beauty and contained energy.
There is only one Best in Show, but the award for best working Mom definitely goes to Sporting Group winner GCH Shadagee Caught Red Handed. The luminous Irish Setter, the oldest dog on the floor at six years, has just returned to competition after giving birth to 16 puppies!
Vogels paid the usual homage to all the competitors in a poised speech from the floor of the Garden before announcing her pick last night, also rejoicing in the fact that she was originally from Long Island and so was a "hometown girl" returning to New York. In a conversation with me later, she said judging Westminster was "a huge thrill," and that "It means a lot to be here tonight."
After the usual round of post-Westminster media appearances, David Fitzpatrick plans to take Malachy back home to Pennsylvania, where he will be a family pet — albeit a pampered one — and will have to face off only against the local squirrels.
See a slideshow of Malachy and the other alpha dogs below.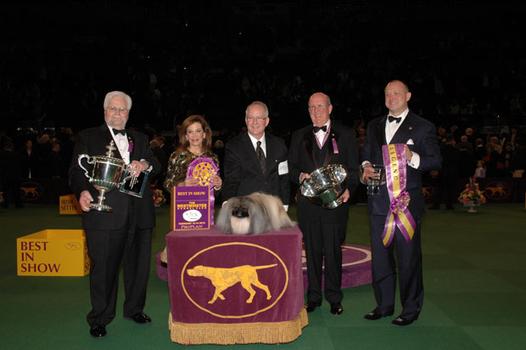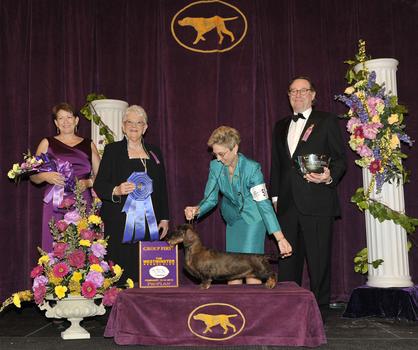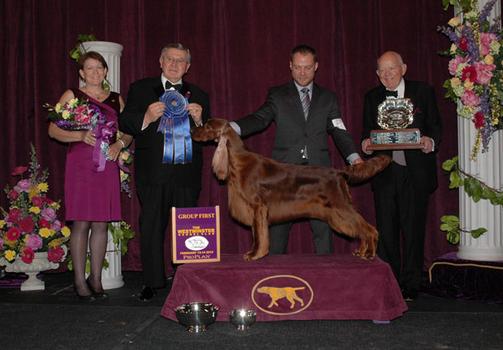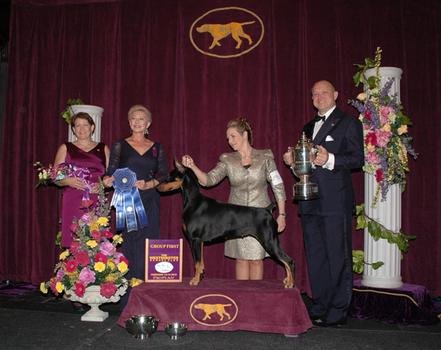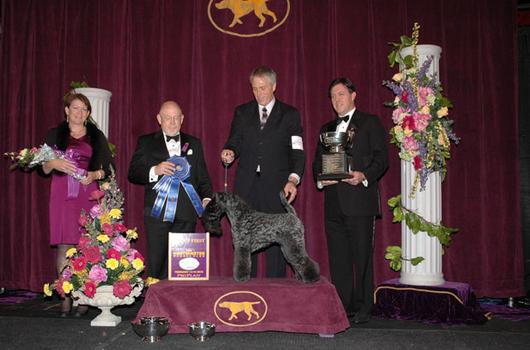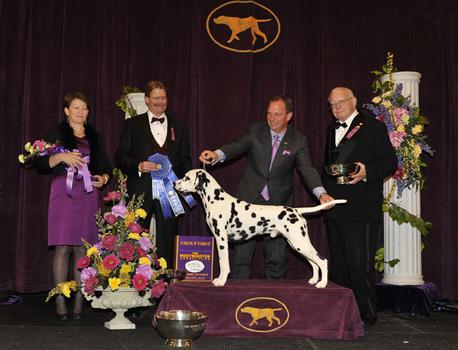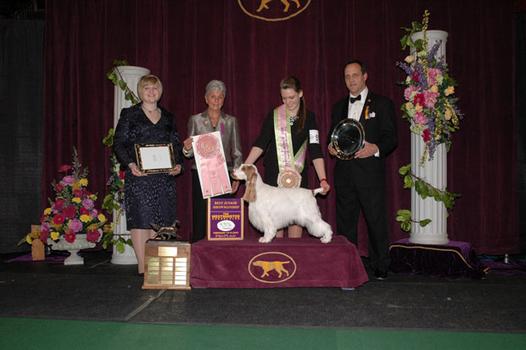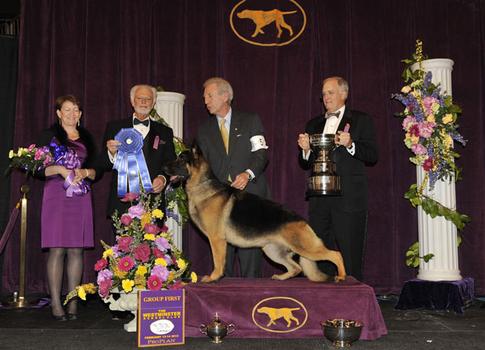 of