A Farewell to Whitney Houston: A Look at Staging a Private Funeral for a Public Figure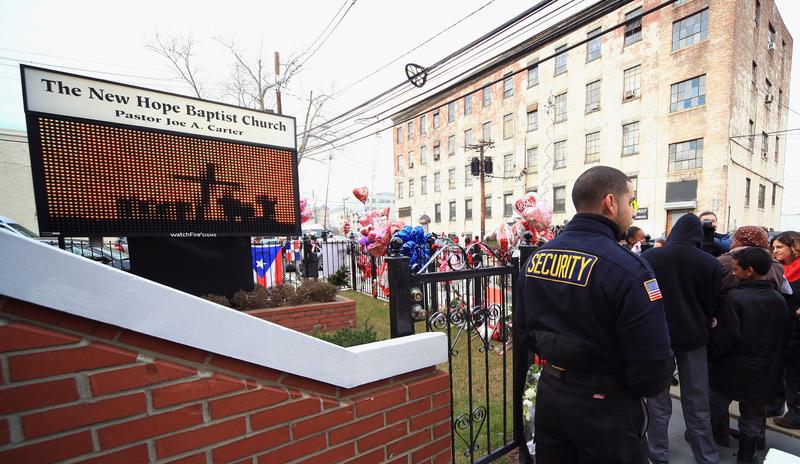 Whitney Houston's family plans to hold a private funeral service on Saturday for the singer at New Hope Baptist Church in the Newark, where Houston first sang in the church choir as a youngster.
Reports that that the service would be open to all and held at the Prudential Center this weekend were quashed when employees at the Whigham Funeral Home in Newark said that the family opted instead for an invitation only funeral.
An expert in arranging a private service for a public figure is Dominic Carella, vice president of the Upper East Side's Frank E. Campbell Funeral Home, which has overseen celebrity funeral preparations for decades. They've helped to arrange funerals for icons such as Jacqueline Kennedy Onassis, John Lennon, Brooke Astor, Heath Ledger and Biggie Smalls.
Making Arrangements
Carella, who's been in the bereavement business for 22 years, said the most important concern is always the family's wishes.
After meeting with the family and coming up with an overall plan, the next step is meeting with church pastors and addressing what their concerns and requests are, according to Carella. For instance, is there a certain entrance guests will use?
Overseeing media and security is also multi faceted process
"What I've learned is that being clear with the media and others up front about the plan cuts down on the chaos. For instance, when we handled the preparations for the Badger family it was a private service but still, there were hundreds of press stationed outside. I said lets work with them and we passed out a prepared statement from the family. Otherwise, sometimes the media can get out of control," said Carella. The three Badger girls were killed in a Christmas Day  fire in Connecticut this past December.
Then you've got to do a 'walk though." Sit down with the police department. How will the casket arrive? Will the VIP's have their own security detail?
The Guest List
Making the list of invitees is next. Carella said they normally work with managers and publicists to create a VIP list. The list can change on a dime and more often than not,  it's  constantly revised.
Usually for security purposes, guests will have a password to use when they arrive or a special ID card. Sometimes guests will receive an email with the particulars of the service and the password.
Also, seating charts aren't just for weddings. They're key at a high-profile funeral. "Celebrities will often arrive with their staff and want to be seated next to someone else in the church, you have to prepare for that," said Carella.
Security and Privacy

Another wrinkle in keeping tight security is keeping cell phone cameras at bay.
The 30 full time employees at Frank E. Campbell must adhere to a no cell phone policy at the funeral home. Instead, they drop them at lockers on the way into work.
And flower deliveries can only be left at a special entrance. "In the past when a paparazzi or someone else was trying to break security,"  Carella revealed, "they'd pose as a flower delivery person and try to enter the chapel, but it's never allowed."
He said he cringed when he saw pictures of the last meal Whitney Houston ate in her hotel room all over the web. "It's a crime scene; these are things you need to protect."
The Manhattan funeral home has been in business in the city for more than a century, with time comes experience, Carella said. "Sometimes smaller, less experienced funeral homes don't know what they're in store for."
If he were staging an event like the Houston funeral on Saturday, Carella said he would use a minimum of 25-50 security people outside. It would be divided in different sections. The street would be closed, except to VIPs and there would be a separate holding area for cars. Employees would also man all the doors, with police on hand to help control the crowd and the media.
Inside, he said he'd staff a minimum of 20 people with a number of plain–clothes "spotters" on hand to make sure nothing out of the ordinary is happening.
Carella said when thousands attended the public viewing of Salsa star Celia Cruz, his spotters confiscated dozens of cameras when visitors attempted to break the no strict pictures policy.
"We always try to be one step ahead in our thinking — sometimes that keeps me up at night," Carella said.