NJ Hometown Remembers Whitney Houston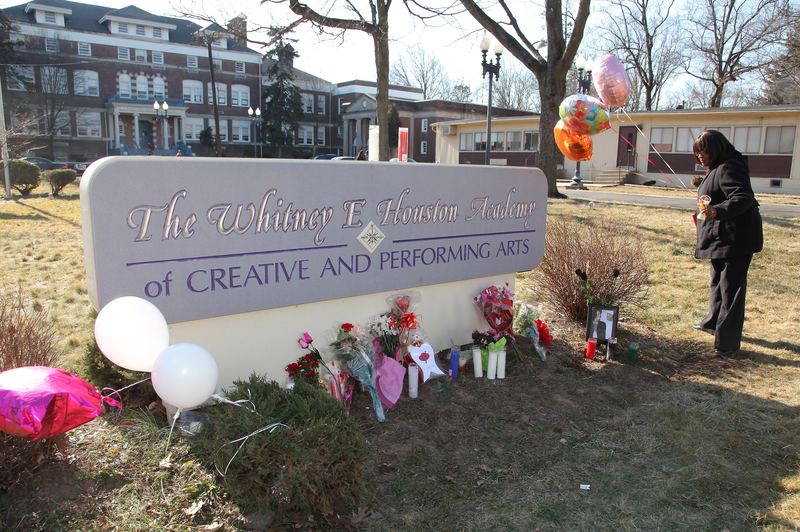 Pop star Whitney Houston's funeral service will be held Saturday in the New Jersey church where she first showcased her singing talents as a child.
The owner of the Whigham Funeral Home in Newark says Houston's funeral will be held at noon at the New Hope Baptist Church in Newark.
Houston was found dead in her hotel room in Beverly Hills on Feb. 11.
Her body was returned to New Jersey late Monday.
Earlier that day, students and faculty held a service for Houston, a former student at the elementary school that bears her name, The Whitney E. Houston Academy of Creative and Performing Arts.
A procession of more than 400 children walked from the school to Houston's childhood home a block and a half away on Dodd Street in East Orange, N.J. Afterward, they convened on the campus lawn for a program that included poetry, Houston's music and releasing 48 balloons — one for each year of her life.
Houston's sudden death on Saturday left many in the community she called home shocked. She was a well-established figure in the area, even before she became a Grammy Award-winning star.
Henry Hamilton, principal of the school for 41 years, was at the helm when Houston transferred there in the first grade.
"She was well liked by other students, and was rather quiet," he said. "Her nickname was 'Nippy'. She had the only swimming pool on the block, so all her friends would come over and use the pool. They told me they'd often go into the basement and sing and role model some of the superstars at the time."
He said Houston was in the school choir but he never suspected she'd pursue a career in music. "I didn't see the potential I saw in her older brother Gary," he said. "I was wrong and I'm glad I was wrong."
Hamilton said they dedicated the public school, once called Franklin Elementary, to honor the school's most famous graduate in 1997.
Now his office is filled with memorabilia and pictures from when Houston and then husband Bobby Brown attended the ceremony, and when he awarded her with a plaque for being the greatest singer in the world. He uses them to show students what they can accomplish. "I show them the trophies and plaques and say this is what you can become one day but in order to be successful you have to plan well."
Steven Lovell Mclean was one of those students. The 22-year old was in the second grade when the school was renamed for Houston. The encounter with her 15 years ago had a profound affect on him. "Soon after hearing her sing, it also became my passion. The music teacher introduced us and said this is who I should be studying," he recalled.
Mclean is currently pursuing a music career and studying voice performance at New Jersey City University in Jersey City. He said there are reminders of the hometown girl everywhere. "It's a sad day, but we're also celebrating her life, her music and what she's done for the state. She's like the Queen of New Jersey and the good thing is she always came back, she always showed her love."
Cynthia Thomas, a pre-K and kindergarten teacher's assistant at the Whitney Houston Academy, recalled meeting Houston in East Orange about 30 years ago. "She and her friend Robin Crawford knew my cousin.  She would bring her cat named E.T for my daughter to play with." Thomas said. "She was down to earth and sat around with us and enjoyed a big plate of my mom's spaghetti."
But after hearing Houston sing, Thomas believed she'd become someone well known. "It was amazing to hear such a little girl with a big voice and it's like wow, that was my friend way back when, you know?"