Last Chance Foods: Zesting Up Winter Cooking with Citrus
Midwinter can get monotonous when it comes to seasonal eating. While February may seem like root vegetables as far as the eye can see, there's one seasonal ingredient that can put some zing into otherwise starch-heavy dishes. Citrus-like oranges, grapefruits, lemons and limes are in season in Florida and provide a wide variety of flavor profiles to liven up winter cooking.
"The acid or the sweetness, depending on what you want to add to that dish, can really kind of add a brightness ... often lacking in produce that's available in the winter," said chef Rienne Martinez, who recently taught a class on using citrus at The Brooklyn Kitchen. "The acidity of a summer tomato can kind of be mirrored in adding a little squeeze of Meyer lemon juice or lime juice."
Her number one tip is to use the zest, which can be added to salads, cocktails, or used to finish meat dishes. It can also be used in baking. Just be sure the zest is mixed into the liquids or beaten into the eggs so that it distributes evenly. 
Once the fruit is divested of its outer skin, it should be kept cold and used within a few days. Otherwise, citrus should be kept at room temperature if it's going to be used for cooking.
"It's easier to extract the juice if it's not cold," Martinez explained. "Same thing with the zest. The oils are going to be easier to release into what you're cooking."
In addition, rolling oranges, limes or lemons on the counter helps to break up the pulp and makes for easier juicing.
When it comes to juicing gadgets, though, Martinez eschews fancy gadgetry.
"My preference would be an old fashioned reamer," she said.
Handheld reamers allow for maximum efficiency while avoiding a problem that can sometimes be caused by hinged reamers.
"You very often times get the oil into the juice when you're using a hinged one, and it can add a little bit of bitterness," she added.
Martinez also makes it a point to use organic citrus to avoid pesticides, like the fungicide that was recently found in orange juice imported from Brazil. The report has demand for organic, Florida-grown citrus skyrocketing, according to Mary Mitchell, who supplies Brooklyn Kitchen with citrus from Eagle's Nest Grove in Crescent City, FL.
"It has tripled my orders," said Mitchell. "I have one region of a grocery store that I normally send about 12 palates of juice oranges to, and they're taking 40 a week."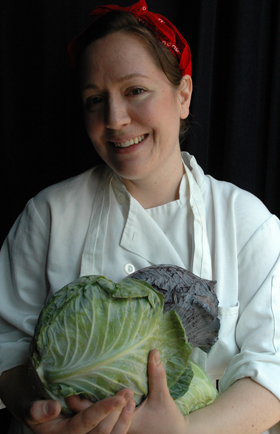 Nonetheless, Mitchell has encountered one unexpected difficulty with her citrus crop this season: 60 percent of it was stolen in the middle of the night. She attributed the theft to professionals, who knew to stay away from the road, her house and even her security cameras.
"You can imagine the look on my face when I drove out there to see where the color was," Mitchell recalled. "I just locked up my brakes in the middle of the highway. There was no fruit that had been there the night before. I'm like, I kept walking back out there looking like, 'I don't believe this. My fruit's gone.'"
Fortunately, Mitchell's loyal backers are willing to cover the cost of the theft, and she's able to carry on until next year's crop. But her difficult experience is just one more reason to appreciate the bright, tart flavor of citrus fruit this season.
Try Martinez's recipe for Cara Cara Orange and Fennel Salad below.

Cara Cara Orange and Fennel Salad
3 cara cara oranges
2 fennel bulbs
½ bunch flat leaf parsley
½ red onion
1/3 cup olive oil
1/8 cup champagne vinegar
Salt and pepper to taste
1 TB toasted coriander cracked
Zest the oranges into a bowl add in the olive oil, vinegar, coriander and salt and pepper. Mix well and reserve. Section the oranges, pull the leaves off the parsley and thinly slice the fennel and onion. Combine all and dress with the reserved vinaigrette. Serves 6