Police Shooting of Unarmed Man Has Community on Edge
UPDATE: Police Commissioner Kelly has ordered a top-to bottom review of street-level narcotics enforcement procedures, WNYC confirmed Thursday.  The review is a response to the department's discovery that Officer Richard Haste, who shot Graham, had not been properly trained.
Ramarley Graham was shot and killed by an NYPD officer a week ago in the Bronx. Police followed  the 18-year-old into his apartment believing he had a gun, but no weapon was ever found.  There's been a passionate outcry by the community about the killing — especially because it happened inside the teenager's home.
A day after Ramarley Graham was killed, a candlelight vigil was held for him on 229th street, in the Wakefield section of the Bronx. It quickly  morphed into a rally, with the crowd chanting "We want justice!"
"I'm here because my neighbor got killed by a police officer in his own home," said Sharla Buchanan, who lives across the street from the Graham family. It's that detail — that the shooting took place inside Graham's home, one he shared with his grandmother and younger brother — that particularly upset Buchanan and others at the rally.
 "The NYPD should have done what they were trained to do," fellow neighbor Ainsley Lewis said. "They weren't trained to kick down the house without a warrant and go inside someone's house and kill them."
(Photo: Sharla Buchanan and Ainsley Lewis protesting the shooting death of Ramarley Graham. Kathleen Horan/WNYC)
Law Professor Jim Cohen, who teaches at Fordham University School of Law, said the location does matter in cases like these. Cohen thinks if police thought Graham was carrying a concealed weapon, they should have stopped him on the street and searched instead of permitting him to go into his home.
Cohen said in certain cases when police believe a dangerous crime is being committed, officers in "hot pursuit" may enter someone's house but they must have strong circumstances to enter.
"It is not routine at all for the police to invade a home absent legitimate cause. That said, it's also not unheard of. So I think the community has a legitimate fear for their families," Cohen said.
It's not clear how often the police enter a suspect's home without a warrant during an investigation.
The NYPD said they thought Graham had a weapon, but only marijuana was recovered from the second floor apartment.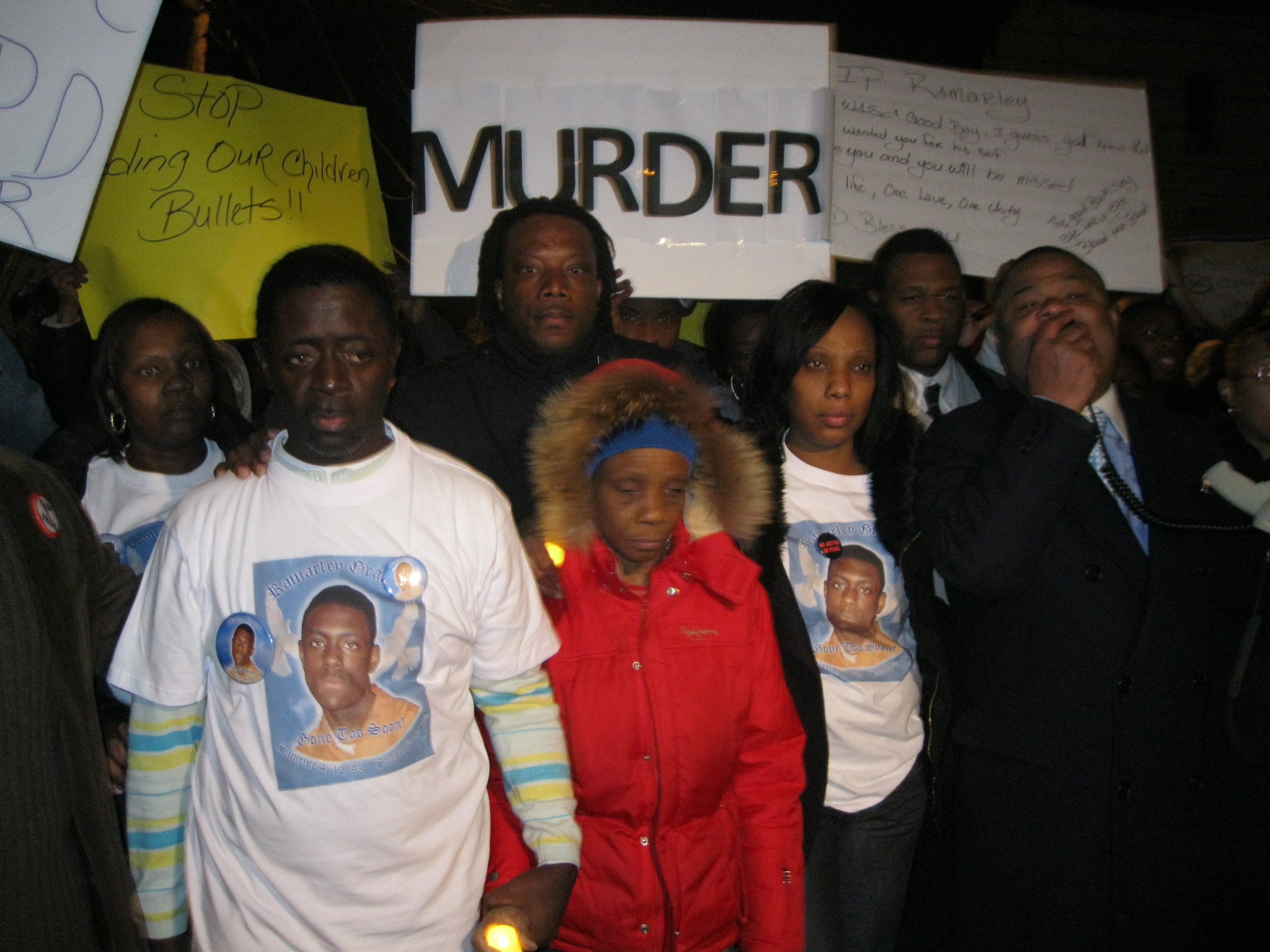 At a second rally held in the neighborhood on Monday, Graham's mother, grandmother and father led the impassioned crowd to the 47th Police Precinct.
Outside the station house, Graham's sister, 22-year-old Leona Virgo, balanced on the shoulders of other protesters, told the crowd the shooting is about their brothers as well. "It's not just about Ramarley. It's about all black young men."
(Photo: Ramarley Graham's Family: Franclot Graham (father), Patricia Harley (grandmother) and Constance Malcom (mother) leading the community march to the 47th precinct. Kathleen Horan/WNYC)
Another detail that has alarmed some in the community is Graham's age. Justina Piggot has a 14-year old son. That's what brought her out to the rally. Piggot said he has already been stopped and frisked by police once.
"My child is very good not bothering nobody," she explained, "was just going to walk to the park to work out with his father. So I am just here for my son. If I don't stand here in support then it could have been my son [who was killed]."
Leanette Po said she also worries for her five teenage boys.
"Our kids have no justice none at all. It's unfair, they should be punished and I hope it won't be shoved under the rug because they are cops, " she said.
The NYPD has said the killing is being investigated and the shooting officer and his sergeant have been placed on restricted duty.
Ramarley Graham's family said they're still arranging details for his upcoming funeral.