A Sneak Peek at Films in the 2012 Whitney Biennial
Since 1975, The Whitney Museum of American Art has included a film program in its Biennial show. This year, in an unprecedented move, The Whitney tapped two outside film curators — Ed Halter and Thomas Beard of Light Industry — to select the Biennial's 75 films and film-related events. The works will be screened at the museum from this Thursday through May 27.
WNYC's Carmen Winant talked to the two founders of the film and electronic arts space in Greenpoint, Brooklyn about what they chose and the intersection of visual arts and film.
WNYC's Carmen Winant: When were you asked to curate the film program of the Biennial?
Ed Halter: We initially met with Jay [Sanders] and Elisabeth [Sussman] in December of last year. We spoke at length about contemporary cinema, and cinema's relationship to the art world. They asked us to collaborate on the film program soon after, which was very exciting.
Thomas Beard: Our situation is a little unprecedented. In the past, Whitney curators – such as John Hanhardt and Chrissie Iles – have overseen the film programs for the Biennial. But I believe we are the first curators specific to film to come in from the outside. During our meetings throughout the process, we spoke a lot about how film had worked, or not worked, during previous iterations of the exhibition. 
CW: What has been the best part of curating the Biennial film festival, or the most unexpected?
EH: One interesting thing about the Biennial programming is the diversity of films that we have been able to include. The Whitney is a place that years ago in the '70s and '80s would premier independent feature films. We all wanted to make sure the program had all kinds of cinema [so] documentary and feature films are a part of the show as well. We wanted to include a wide range of what constitutes cinema today, and put these in conversation with visual art and performance in a way that happens all too rarely.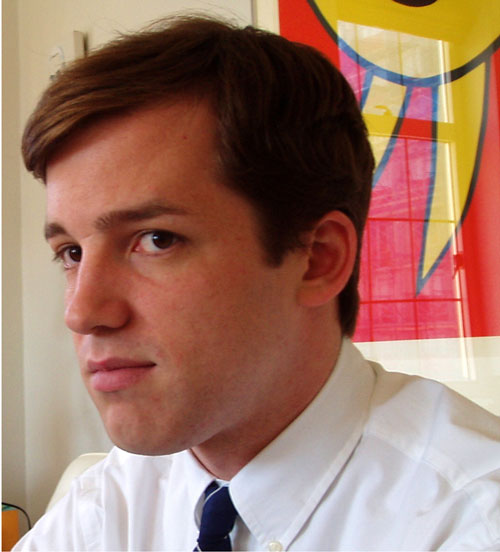 CW: I noticed that an unusually high number of the Biennial's artists are also filmmakers this year.
TB: Yes, as with dance. Also, week-long runs are being given to each artist in the second floor video gallery. So, for example: one week, Luther Price will be the only artist showing, another Kelly Reichardt.
EH: Many of the artists in the Biennale this year will not be on the walls of the galleries, but be doing events: film, performance, music, dance, and so forth. 
Photo of Thomas Beard by Wayne Koestenbaum
CW: That is really interesting. I find often that museums don't consider optimal viewing standards for video and film, instead grouping them by default with the "two-dimensional work."
EH: This is a big issue for us. Cinema is a social space and a demands a specific mode of exhibition. When you go to the movies, you buy a ticket. The film has a specific start time, you watch it until the end. And then you go discuss the film with your friends. We insist upon that structure – with various permutations – at Light Industry, and were interested in translating it to the Whitney. In the art world, the default mode is often to install a looped film on a small monitor in a corner. That can be really unsatisfying and aesthetically incorrect.
TB: That is, when the work isn't designed specifically as a loop, which a lot of video and film is not.
EH: Right. Often you have no idea what you are watching, and when it started. We insisted that, in cinema exhibited in the Biennial, everything has start times. You can schedule your visit to the Biennial perhaps around a performance or film you would like to see.
CW: What moved you to start Light Industry?
EH: Thomas and I felt that there was a gap in film programming that would bring together experimental cinema, documentary and the academy – all these things that we loved in one place.
TB: The timing was right for a place like Light Industry. In New York there are so many venues. But what we found is that the audiences for the art world and contemporary cinema did not overlap as much as we would have liked…With Light Industry, we try very deliberately to bring these communities together.
Before co-founding Light Industry in 2008, Halter ran the New York Underground Film Festival. He currently teaches at Bard College in Annandale-on-Hudson. Thomas used to work for Cinematexas in Austin. He also has had curatorial projects at Artists Space and Gladstone Gallery.
See what films are playing at the 2012 Biennial here. Below, watch a trailer for one of Halter and Beard's favorites in the Biennial, These Hammers Don't Hurt Us, by Michael Robinson.