What the Prop 8 Decision Means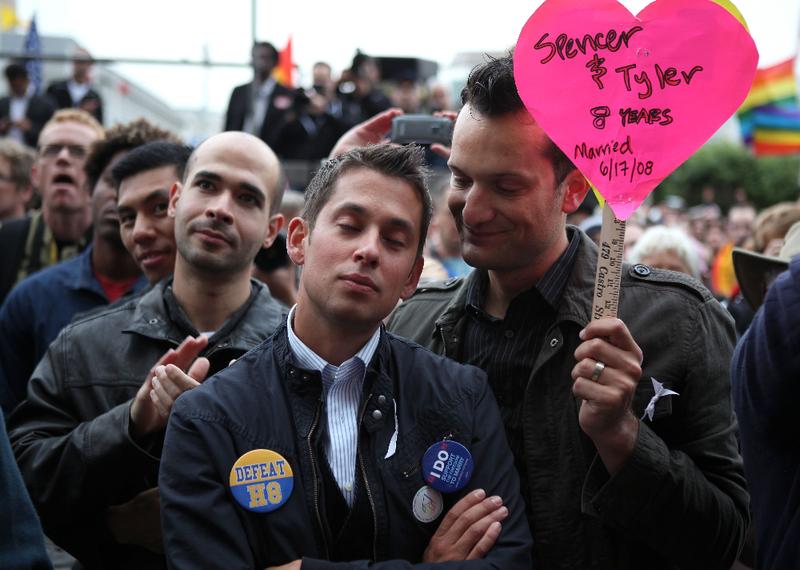 A U.S. Appeals Court ruled Tuesday that California's Proposition 8 is unconstitutional. But ironically, the decision overturning the ban on gay marriage is so exact that it might not have the wide legal influence marriage equality experts hoped for.
"The way the Ninth Circuit crafted the opinion very carefully using the Romer case, it is unassailable and it follows what the Supreme Court has said," said Ted Boutros, a member of the anti-Prop 8 legal team, at a press conference. He said it was so well done the Supreme Court might not take up the case.
What he meant was that the decision was made on very narrow grounds. "It's not some broad, grand statement about equal protection under the law, or whether marriage is a fundamental right – it stays specific to overturning Proposition 8," said John Culhane, a professor of law at Widener University School of Law in Delaware who writes frequently about gay and lesbian issues.
That is, the court didn't take on the hardest question: Do gays and lesbians have the constitutional right to marry? A positive answer to that question – if it were then to be echoed by the U.S. Supreme Court – would likely have lead to a Loving v. Virginia type moment, with all gay marriage bans across the country instantly swept away.
Instead, the appellate court compared the Prop 8 case, over and over again, to Romer v. Evans, a Supreme Court case that is, in Culhane's words, "an oddity."
In a standard Equal Protection case – say, that of women being denied entrance to VMI – a court figures out if  "those being excluded are a minority and if the state has a compelling reason to exclude them," Culhane said. "It was expected that the court would weigh in on the question of whether gays and lesbians are a disfavored class – no appellate court has said so. State Supreme Courts have, like Iowa and California, but not an appellate court, and that would have been important. But they avoided all that."
Instead, in what Culhane calls a "genius" bit of reasoning, the Ninth Circuit said Prop 8 is like Romer, an example of a case where a group had a right (in this case, marriage; in the Romer case, things like housing protections) and it was surgically stripped away from a disliked minority.
This kind of narrow reasoning is harder to overturn – and as a bonus, the Romer decision was written by Anthony Kennedy, making it more likely that his crucial fifth vote would go toward legal gay marriage in California, should the case go to the Supreme Court. But narrow means that it won't affect the marriage rights of other states, even those in the Ninth Circuit, unless they have the same peculiar circumstances: gays and lesbians are declared constitutionally able to marry by the judiciary, they actually marry (in California, 18,000 couples did) and then a state referendum says they can't.
Still, though it isn't the windfall activists might have been hoping for, the decision is nothing but a win for marriage equality. The appellate decision, the end of Don't Ask, Don't Tell, and recent polls are "all signs of a sea change in the perception of the American public," said Peter Hanson, Assistant Professor of Political Science at the University of Denver.
"There's often talk about politics drifting to the right," he added. "That may be true on economic issues, but it's not on social issues, particularly same-sex relationships. And there's no sign that trend toward accepting these relationships is slowing."
This means that eventually, narrow reasoning or no, countrywide gay marriage may be inevitable. And that sense of inevitability will only be helped by gay marriage coming to California.
"Even if the decision stays as it is, decided on these narrow grounds, something like one out of nine Americans live in California, so it's potentially huge," Culhane said. "Eventually, there will be acute pressure around inter-state issues, as people who marry in California move elsewhere. At some point, there will be a critical mass."