Opinion: After Another Santorum Surge, Will GOP Ever Rally Around One Candidate?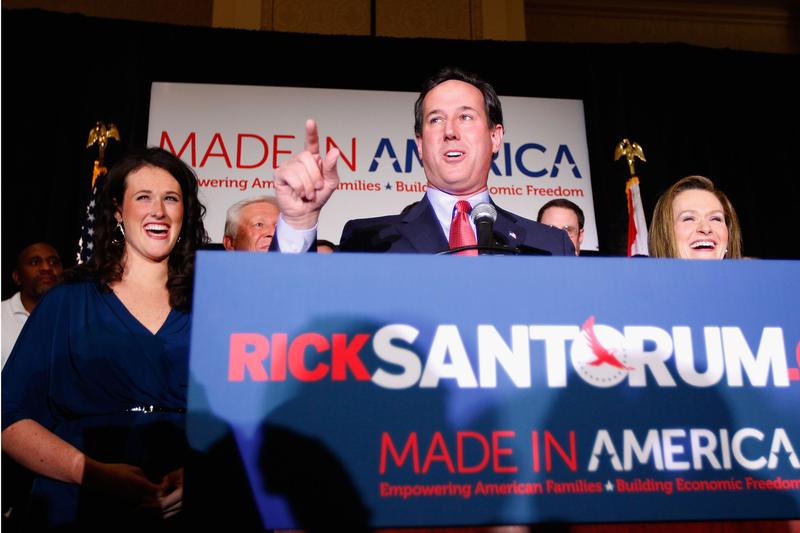 The triple-header victory by Rick Santorum on Tuesday was a huge rush for the candidate, but also raises much larger questions about the 2012 GOP field.
Santorum, with modest funding but a lot of heart and energy, blew away his opponents. In Minnesota, his 45 percent left the others in a blizzard. Ron Paul's 27 percent keeps him alive and is consistent with the percentages he's been getting. (The revolution lives!)  Mitt Romney had 17 percent, which is a weak and disappointing showing. Worse yet, Newt Gingrich only got 11 percent. That should be alarming.
In Colorado, Santorum's 40 percent to Romney's 35 percent was a solid showing. Gingrich and Paul trailed, barely in double digits. In Missouri, Santorum finally broke the GOP barrier and hit 55 percent—more than twice what Romney harvested. Paul had 12 percent and Gingrich didn't play.
This now propels Santorum to "front runner" status, at least in the eyes of the media. He has won four states (remember, he actually won in the Iowa caucuses) Romney won three: Florida, New Hampshire, and Nevada. Of course, "front runner" requires you to maintain that position, and this year I'm not betting five cents, much less $10,000, on who will be in the lead after Super Tuesday.
Remember that the Santorum victories were non-binding, so the delegate count is not altered (but Iowa also awarded no delegates). Santorum has very little money against Romney—but money, as I've said before, is not everything. Otherwise, Santorum would not have won four contests.
"Santorum is the most likable of the four," as a friend told me,"and he has a Huckabee smile! You can't buy that no matter how big your SuperPAC."
Let's now raise the larger issues demonstrated by events over the past two months. The critical question is: who do Republicans actually want to see as their candidate?
For several weeks there was a musical chairs of winners from Iowa to Nevada. It looked like Romney was getting some real "front runner" traction after the Nevada caucuses. However, polls showed that many Republican voters were not enthusiastic about him. He was the least bad of a field of four who continued to elbow each other as they scuffled for attention.
There's another problem. Newt Gingrich has huge negatives, even while a segment of the GOP base is enthusiastic about him and thinks him a sharper candidate against Obama in November. Gingrich is mad as hell, and many feel that there is more than politics at work with Gingrich pressing a vendetta against Romney.
The fourth candidate, Ron Paul, has been declared a non-Republican who should be running as a Libertarian. Unfortunately, Paul nevertheless still wicks off enough GOP voters in these contests to shrink the victories of the other three.
It's an extraordinary year when GOP voters seem divided into four distinct groups with some regional factors added. Are these divisions deep and irreconcilable? In other words, once this is over and the GOP gets a candidate to run against Obama, will the differences vanish into thin air? Will Gingrichites then enthusiastically vote for Santorum, or Romneyites support Newt in November if he gets the nomination?
I don't know the answer. The standard spin is that Hillary Clinton's supporters were mad as hell when she lost the nomination in 2008—but they voted for Obama in November. I'm not sure the divisions between Clinton and Obama were as deep and raw as the one's between Gingrich and Romney.
We will anxiously wait to see what misfortune in SuperPAC ads now descends on poor Rick Santorum!