Explainer: Where the States Stand on Gay Marriage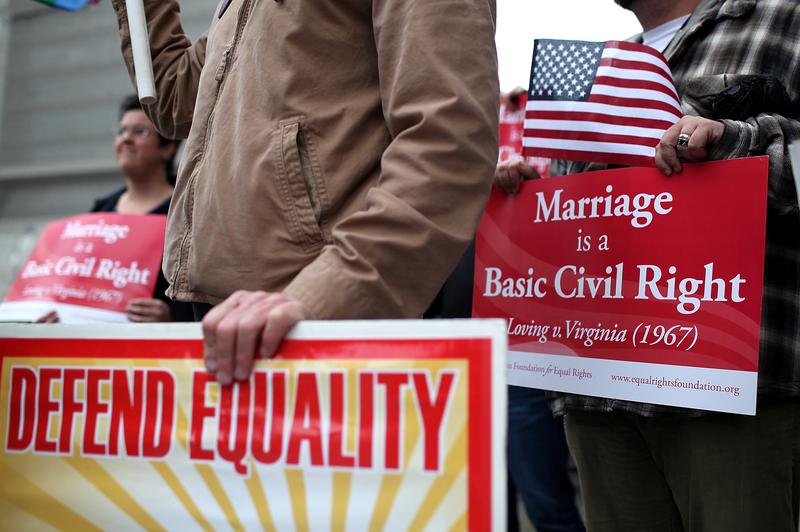 California's Proposition 8, a law banning same-sex marriage in the state, has been ruled unconstitutional by a federal appeals panel. Meanwhile, a bill to allow same-sex marriage in Washington state has passed the State Senate and is on its way to the House.
California love
The ruling in California upheld the decision of former district court Judge R. Vaughn Walker, who in 2010 ruled that Prop 8 was unconstitutional. With the appeals panel's blessing, Prop 8 looks to be overturned, unless opponents of same-sex marriage decide to file another appeal with the U.S. court of Appeals for the 9th Circuit, or the U.S. Supreme Court.
The Supreme Court has never ruled on the constitutionality of same-sex marriage.
Washington: on the verge
Washington state is expected to legalize same-sex marriage in the not-too-distant future, and the process is similar to what happened in New York state last summer.
Last week Washington's Democrat-controlled State Senate passed a bill allowing same-sex marriage. The vote was 28-21. Passing it in the House, which is also controlled by Democrats, is expected to be even easier. Governor Christine Gregoire, also a Democrat, is a proponent of the legislation and presumably would sign it right away.
That's a lot like New York's experience legalizing gay marriage in 2011: Democrats in the legislature pushed a bill favored and eventually signed enthusiastically by the Democratic governor. There's one crucial difference: New York's State Senate was controlled by Republicans, and some conservative Democrats in the Senate didn't vote with their party to legalize. The dominoes eventually fell in dramatic fashion, but no such nail-biter is expected in Washington, where Democrats hold all the cards. The path to legalization looks clear.
Both California and Washington currently allow domestic partnerships.
New moves for more states
Other states have moves on the horizon, though not all in the direction of legalization:
Minnesota expects to have a referendum on a constitutional amendment banning same-sex marriage on the ballot come November. Same-sex marriage is already prohibited by statute in the state.
North Carolina is in the same boat as Minnesota, but would go further by having the amendment prohibit civil unions and domestic partnerships too. 
Maryland and Maine have bills making their way through the state legislatures that would legalize same-sex marriage.
Colorado could vote on allowing civil unions in the state this year.