Federal Transportation Bill Could Cut MTA Funding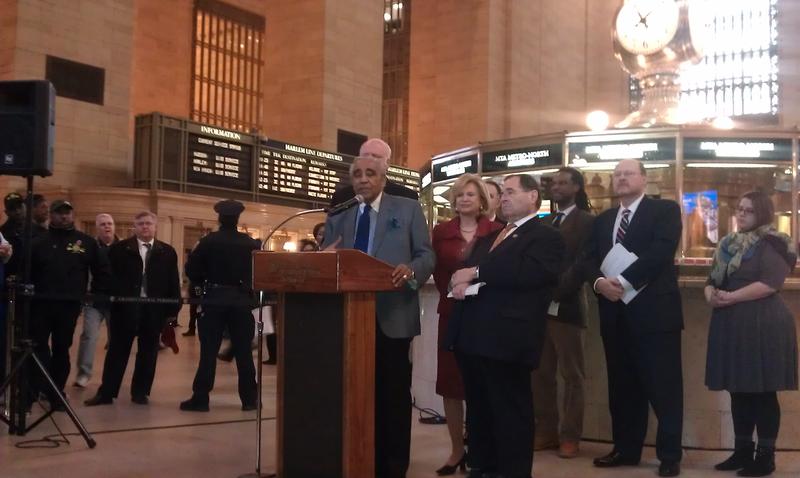 There's more alarm about last week's House of Representatives vote to change the way public transportation is funded. A group of New York area lawmakers and transportation officials denounced the Republican sponsored bill at a news conference Monday at Grand Central Terminal. They said the bill would slash $1.7 billion dollars from New York State coffers.
The group painted a doomsday scenario, in which major projects, including the Second Avenue Subway, could be halted in their tracks, service could deteriorate and fares would head skyward.  "Over time if you don't repair the system, if we don't get the money necessary to do the repairs and renovations of the system, it will raise fares," said MTA Chariman Joe Lhota.
It's relatively rare for an MTA chief — especially one that has been on the job for a couple of months — to speak out on politics. Lhota, a Republican who was a deputy mayor to Rudy Giuliani, was joined at the news conference by Democratic  Reps. Joe Crowley (NY-7), Charlie Rangel (NY-15), Jerrold Nadler (NY-8) and Carolyn Maloney (NY-14).  Consumer advocates and Union officials also spoke out against the bill. The group said the proposed legislation would adversely affect urban and suburban commuters across the country.
The Republican bill proposes to eliminate the Surface Transportation Assistance Act, signed into law by President Ronald Regan in 1983. That legislation created a dedicated funding source for public transportation through a Federal tax on gasoline. The proposed bill would change that structure. 
"This [new] bill would keep the gasoline tax revenues for highways, but eliminate it for mass transit," said New York Rep. Jerrold Nadler, who represents parts of Manhattan and Brooklyn.  "So we would no longer have a reliable source of funding, you'd have to go and beg Congress every year for appropriations and who knows how that would turn out."  
A spokesman for the House Transportation and Infrastructure Committee, Justin Harclerode, responded: "Republicans are not anti-transit, but we do recognize that the Highway Trust Fund is paid for by highways users, and cities and local governments must look at developing a similar user fee system for transit users."
Lhota also warned that the proposed bill could halt construction at some of New York City's biggest transit upgrade projects, called mega-projects.  They include expansion of the Second Avenue subway line and the East Side Access project, which would connect Long Island Rail Road's Main and Port Washington lines in Queens to a new LIRR terminal beneath the existing Grand Central Terminal.  Also at risk, said Lhota, is the Fulton Transit Center project, which is building a new station at the corner of Fulton Street and Broadway, and seeks to improve connections to six existing Lower Manhattan subway stations.
"If this bill goes forward, we'll have to make some serious decisions because of the lack of funding, what will continue, what will move forward and at what pace," Chairman Lhota said.  "It will also affect track work and renovations," he added.
House Republicans are expected to bring the legislation to the floor some time next week.  A separate Senate version of the bill is expected to be introduced later this week.
For more on this story go to Transportation Nation.