Giants Super Bowl Parade Prep: Getting the Ticker-Tape Ready
As the New York Giants ride up the "Canyon of Heroes," waving to admiring fans, shredded paper, once ticker tape, now recycled unprinted newspaper, will rain down on the Super Bowl champs.
"There's nothing like the old ticker tape, it wasn't as long and a little shorter and the paper flew better—but this serves a purpose," said Joe Timpone, senior vice president for Downtown Alliance, who is overseeing distribution of shredded paper for confetti.
Half a dozen workers stuffed 40 clear plastic bags with a total of about 2,000 pounds of shredded paper donated by Atlas Materials and Packaging, a Red Hook based recycling plant, which often uses the paper for pet bedding.
John Cioffi, the manager at Atlas, said he pushed the city into buying paper after he heard about enthusiastic fans tossing their paychecks and payroll sheets out windows during parades. Cioffi's distinctly off-white brand of ticker tape is 24-30 inches long and about half an inch wide.
As an avid Giants fan, his plant has supplied paper for Giants parades in the past, as well as Yankee parades and previous Veterans' parades. "At the last parade, we could tell which one was ours from the long strips hanging from trees," he said.
Downtown Alliance said there will be about 300 sanitation workers and Alliance workers in total, cleaning up after the parade, but the good feelings will linger long after.
"We're stuck with about three weeks of paper still being blown off the ledges of the buildings. It just stays up there until we get some real windy days and then the paper comes down, sometimes you think it's snowing outside, that's how much paper is coming down," Timpone said.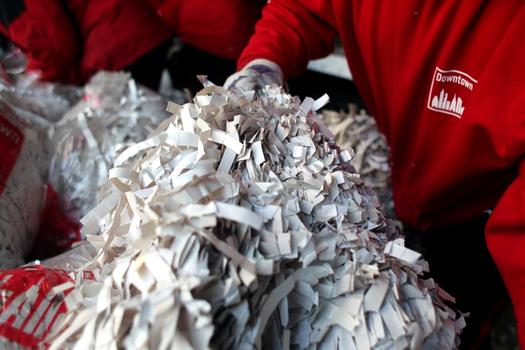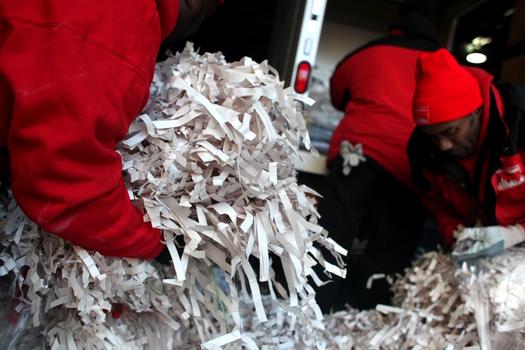 of